With its unmistakable texture, mochi is an easy-to-love Japanese dessert. It's chewy and stretchy, and it pairs with all sorts of dishes—savory or sugary! But we particularly love digging in when mochi is wrapped around something sweet, such as ice cream or fresh fruit.
Video: A Super-Sweet Batch of Strawberries & Cream Mochi Bears
You might assume that making mochi at home is difficult and opt to hit the grocery store for premade varieties instead. But the reality is that whipping up homemade mochi is actually rather simple. With our step-by-step instructions for creating delicious strawberry mochi shaped like adorable bears, you'll be making your own in no time.
You'll find this strawberry mochi recipe to be both straightforward and versatile. Instead of fresh strawberries, consider mixing strawberry jam into whipped cream for a lighter, fluffier dessert. If you'd like more of a bite, try making ‌ichigo daifuku‌, which calls for wrapping strawberries in ‌anko‌ (sweet red bean paste). Alternatively, add matcha or food coloring to the dough to create uniquely colored mochi.
No matter how you twist it, you'll end up with yummy strawberry-flavored rice cakes that are nothing short of sweet and spectacular. Have fun with this recipe and make it your own!
Quick Recipe Overview
‌SERVINGS‌: 6 mochi bears
‌‌PREP TIME‌‌: 30 minutes
‌COOK TIME‌: 3 minutes
‌‌DECORATING TIME‌:‌ 15 minutes
‌‌TOTAL TIME‌:‌ 45 minutes
Things You'll Need
Medium microwave-safe bowl

Whisk

Small bowl

Plastic wrap


Knife

Rubber spatula

Bench scraper


Rolling pin

Toothpick or piping bag


3/4 cup ‌shiratamako‌ (can substitute ‌mochiko‌ flour)

1/2 cup water or any type of milk

2 Tbsp. granulated sugar

1/4 to 1/2 cup whipped cream

Cornstarch or potato starch, for dusting

3 to 4 fresh strawberries, diced


1 Tbsp. milk chocolate, melted

1 Tbsp. white chocolate, melted
How to make Strawberry Mochi Bears:
1. Combine shiratamako, milk and sugar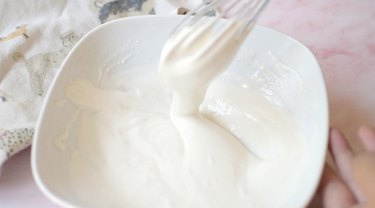 In a medium microwave-safe bowl, combine ‌shiratamako‌, milk, water and sugar. Whisk for a few minutes, or until shiratamako is completely dissolved.
Tip
Add 1/4 to 1/2 cup whipped cream to a small bowl and freeze for at least 30 minutes. This will make it easier to wrap the mochi later on.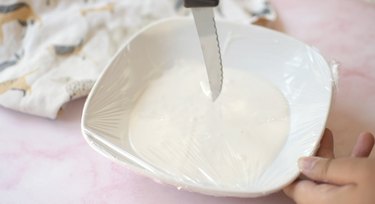 Cover bowl with plastic wrap and poke a few holes in the top using a knife. Microwave for about three minutes, stirring with a rubber spatula every minute. The mochi mixture should turn from white to a bit transparent.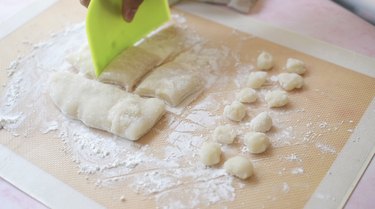 Tip
Try not to use too much cornstarch! The mochi will be difficult to wrap later on because dough will not be as sticky.
Transfer cooked mochi to work surface lightly dusted with cornstarch. It will be very hot, so allow mochi dough to cool for a few minutes.
Remove about 3 Tbsp. of mochi dough, then split this into 12 balls to be used for bears' ears. Divide remaining mochi into six equal balls.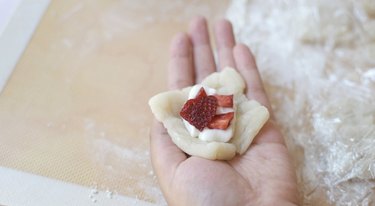 Using a rolling pin, flatten one of six balls, making sure edges are thinner than middle. Add 1 to 2 Tbsp. of whipped cream. Place diced strawberries in the middle.
Tip
When working with one piece, cover the rest with plastic wrap to prevent drying.
Bring edges together to close mochi, ensuring filling stays inside. Place mochi on lined plate and repeat with remaining five balls.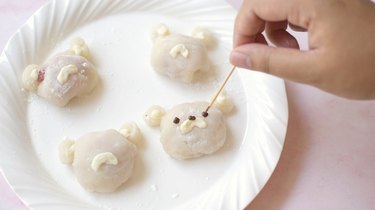 Use water to glue ears onto each mochi. Add bear faces with toothpicks or piping bags with melted chocolate. Store mochi in airtight container in fridge for up to 3 days and enjoy!
We can ‌bear-ly‌ believe how tasty (and cute) these sweet strawberry mochi treats are. The best part? They can be replicated in all sorts of designs with all sorts of delicious twists—simply let creativity (and your taste buds!) guide you.