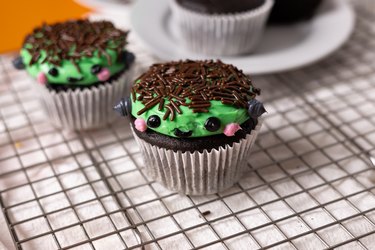 If you're like us, you can't get enough "cute-ified" recipes, especially when it comes to desserts. This fascination with adorable eats doesn't stop at Halloween! That's why we whipped up these anything-but-creepy Frankenstein cupcakes that are undeniably ‌kawaii‌.
This Halloween cupcake tutorial is pretty straightforward, calling for nothing more than store-bought cake mix, frosting and embellishments. If you have a favorite homemade cupcake recipe on hand, though, feel free to whip up that and simply follow our decorating instructions.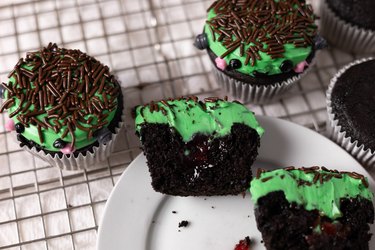 For our cupcakes, we dyed store-bought devil's food cake mix (standard chocolate cake mix would also work) with black food coloring. After baking, we filled the cupcakes with cherry jam to create a fake blood effect. Looking for even more pizzazz? Add an array of Halloween treats to the batter! Think: marshmallows, Oreos, chocolate chips and other sweets you have on hand (even if you have to dip into your Halloween candy stash).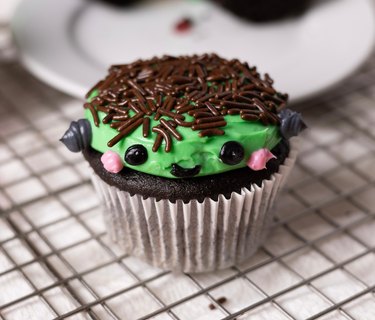 Ready for a ‌monstrously‌ delicious batch of cupcakes that will be the talk of any Halloween party? Let's bake!
Video: "Kawaii" Frankenstein Cupcakes for a Monstrously Delicious Treat
Quick Recipe Overview
‌SERVINGS‌:‌ ‌24 cupcakes
‌‌‌‌PREP TIME‌: ‌5 minutes
‌BAKE TIME: ‌18–21 minutes
‌‌‌‌‌DECORATING TIME: ‌‌‌‌15 minutes
‌‌‌‌‌TOTAL TIME:‌ ‌40 minutes‌
Things You'll Need
2 cupcake pans

24 cupcake liners

Knife or cupcake corer

Spoon

4 piping bags

Chocolate boxed cake mix (we used Duncan Hines devil's food cake mix)

Black food coloring

Cherry jam

Chocolate sprinkles

Store-bought frosting (green, pink, gray and black)
‌1. Follow boxed cake mix steps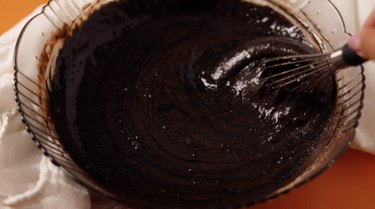 In a large bowl, combine cake mix ingredients. Add a few drops of black food coloring and whisk batter until no dry spots remain.
2. Scoop batter into cupcake liners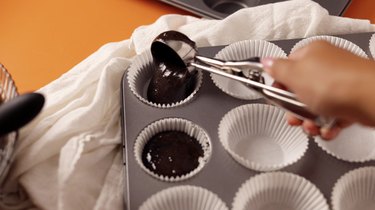 Scoop chocolate cake batter into cupcake liners until about 3/4 full. Bake according to cake mix instructions.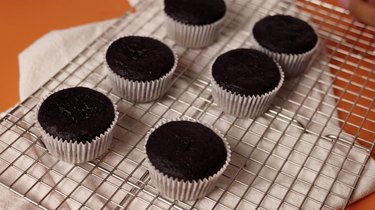 Bake cupcakes according to box mix instructions. Let cool in cupcake pan, then transfer to wire rack to cool fully.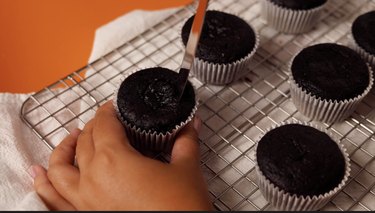 Use a knife or cupcake corer to remove the middle of each cupcake.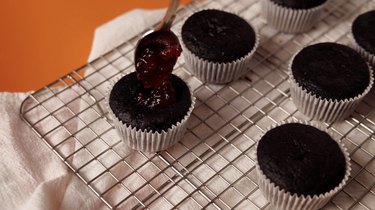 Use a spoon to add cherry jam to the middle of each cupcake.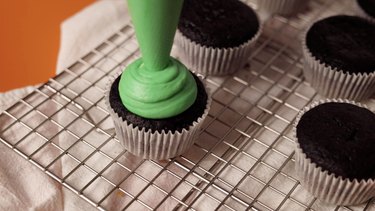 Pipe a large dollop of green frosting on top of each cupcake. Smooth the top with a clean knife.
Tip
If you can't find green frosting, buy vanilla frosting and dye it with gel food coloring.
7. Dip cupcakes in chocolate sprinkles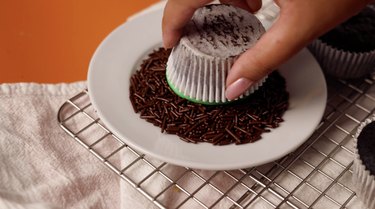 Lightly dip each cupcake into chocolate sprinkles. This will be Frankenstein's hair!
Tip
For a slightly different look, replace black frosting eyes with mini candy eyes, which can be found on Amazon.
8. Add facial details with frosting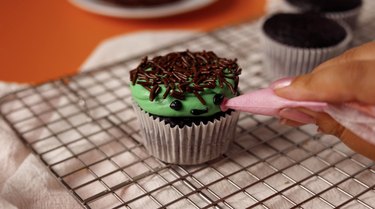 Pipe on black frosting for the eyes and smile, pink for blush and gray for Frankenstein's bolts. Store these tasty Frankenstein monsters in an airtight container for up to 3 days and enjoy chilled or at room temperature.
These adorable chocolate cupcakes might just be the cutest Halloween treats you've ever enjoyed. Just don't be frightened if you find yourself eating the entire batch!