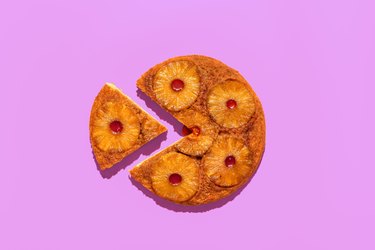 If you ask us, dessert makes just about everything better—and indulging in a sweet treat with retro vibes is especially delightful. Even if you didn't have a grandma with a prize-winning peach cobbler recipe, we guarantee you can name at least one dessert that makes you nostalgic for an earlier time...even if it's from a time before you were born. (You don't have to have lived through the 1950s to crave its most iconic dessert, Baked Alaska!)
With this in mind, we've scoured social media to find modern takes on "vintage" desserts. Our roundup of updated dessert recipes from TikTok perfectly combines the classic with the creative—and you might just discover a new fave treat!
1. Pineapple Upside-Down Cupcakes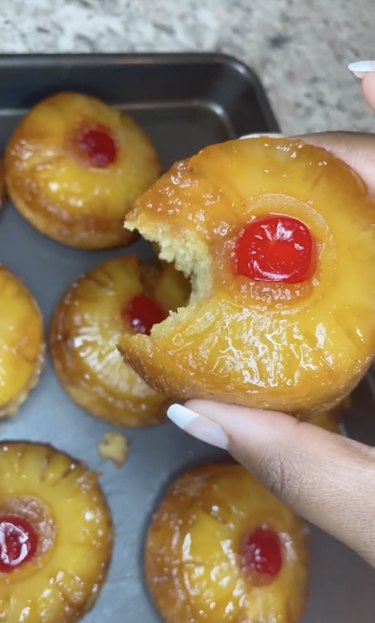 Pineapple upside-down cake is just as gooey and delicious today as it probably was at many a 1950s dinner party. TikToker @chefmilliemill shares a simple recipe for pineapple upside-down cupcakes topped with brown sugar–glazed pineapple rings and maraschino cherries. Transforming this classic dessert into cupcakes makes them easy to freeze. We recommend making a big batch and thawing a cupcake whenever the craving strikes!
2. No-Bake Berry Ice Box Cake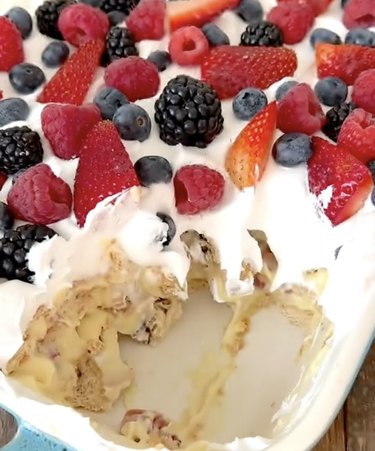 Ice box cakes first hit the sweets scene back in the 1920s and '30s, and they're a winner for good reason. The classic layered dessert is the OG no-bake cake. In other words, no oven is needed: It requires only a refrigerator (hence the name "icebox cake"). If you're wondering what all the fuss is about, try this easy berry ice box cake from TikToker @thesaltycooker, who with a few simple ingredients achieves fantastic fruity flavor that would make your great-grandma proud.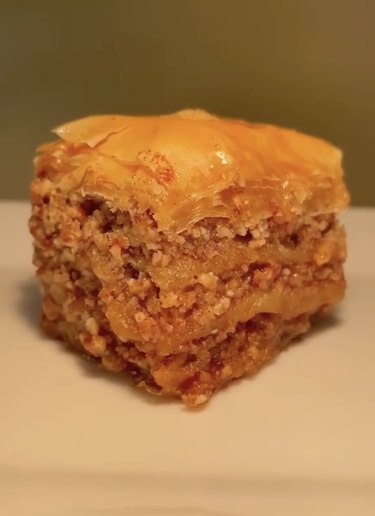 Traditional baklava uses a filling made with walnuts and/or pistachios. TikToker @thecookseye pulled inspiration from a Greek grandmother and Southern heritage to make this twist on the classic. Swapping in pecans and adding bourbon to the glaze gives this recipe a dash of Southern influence without losing any of the buttery, crunchy sweetness you'd expect from baklava.
4. Mini Mocha Baked Alaskas
Baked Alaska ‌and‌ coffee? Sign us up! If you've never tried Baked Alaska, let alone tried to make it, this mini version from TikToker @youthsweets is a great starting point—and it's got the updated flavor of mocha! You'll make your own coffee ice cream, followed by a chocolate sponge cake, which are combined and frozen to create mini Baked Alaskas. From there, you'll make meringue from egg whites and "bake" the covered dessert with a crème brûlée torch for a finishing touch. We promise it's less intimidating than it sounds!
5. Banana Pudding Brownies
There are many ways to put a twist on traditional banana pudding. Think: banana pudding cakes, cookies and blondies. But considering how well bananas and chocolate go together, combining banana pudding with gooey brownies seems like a no-brainer. TikToker @yeaimtiff demonstrates a super-simple method that uses boxed brownie mix, banana pudding mix and (of course) vanilla wafer cookies.
6. Raspberry Jell-O Pretzel Salad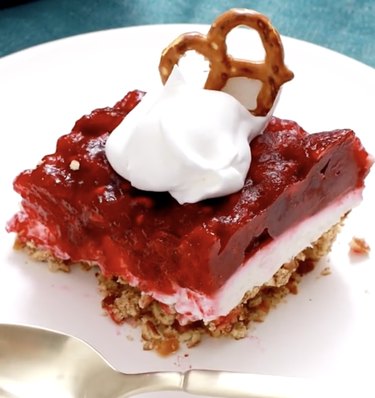 If you've ever been intrigued by those slightly mysterious Jell-O recipes filled with various fruit chunks, this recipe is for you! You can make your very own oddly intriguing Jell-O desserts with the help of TikTokers like @culinaryhill, who shows off an easy-to-follow recipe for raspberry Jell-O pretzel salad. Don't knock it 'til you try it!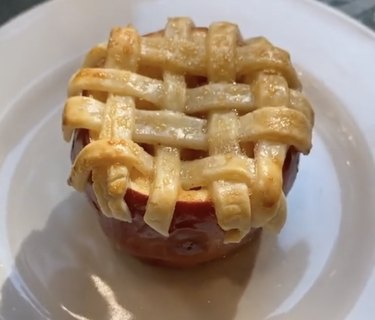 If traditional apple pie isn't apple-y enough for your tastes, you're going to love baked apples topped with pie crust. Yes, you read that correctly: apple pie apples! This method, demonstrated by TikToker @matthewinthekitchen, is a bit labor-intensive because you have to hollow out an apple for each confection. Using store-bought pie crust to make the crispy lattice topping will save you time, though—and look as impressive as if you'd made the crust from scratch.
8. Chocolate Fondue Board
Cheese boards and dessert boards are everywhere—how about a fondue board? Fondue was a peak 1970s dish, but there's nothing retro about the over-the-top board TikToker @elsiecamxco assembled. This version uses a basic fondue made with semisweet or dark chocolate, but you could always swap in at least some white chocolate or make multiple pots of different chocolate types.
Fill your board with sweet and savory dippers. Think fresh fruit, graham crackers, marshmallows, toasted pound cake cubes and pretzel sticks, plus a few out-of-the-box additions like crispy bacon strips or spicy popcorn balls. Feed a party of ten or make a fondue board for a party of one—heck, make it for dinner when you need a mood lift.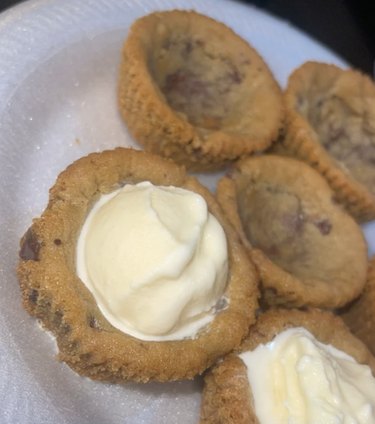 When you're talking quintessentially nostalgic desserts, chocolate chip cookies are always going to be on the list. After all, biting into a warm cookie is the dessert equivalent of a hug.
Making cookie bowls, à la this TikTok recipe from @dvnil0w_eats, lets you recapture that childhood feeling—while adding ‌even more dessert‌ to your dessert. Fill cookie bowls with vanilla ice cream, hot fudge and whipped cream to make sundaes. For an easy flavor change, swap in a different cookie dough. Think: chewy peanut butter cookie bowls filled with chocolate pudding or shortbread cookie bowls filled with lemon meringue pie filling.
Last but certainly not least, here's a recipe that brings together three absolutely classic retro recipes: Key lime pie, cheesecake and sugar cookies! TikToker @freshbeanbakery shows off the simple steps for whipping up Key lime cheesecake sugar cookies, complete with fresh lime zest and loads of homemade frosting. You'll want to make these over and over again.