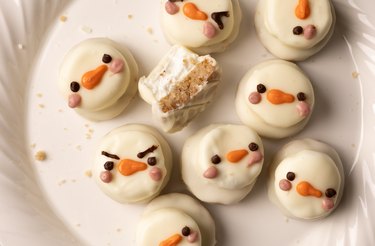 Did you know Mallomars Pure Chocolate Cookies are a seasonal item? That's right: Nabisco's Mallomars are available in stores for only a few months each year, so hard-core fans of the sweet marshmallow-y treat often find themselves stocking up before they're gone for the season. If you want to indulge year-round, we've got you covered with a homemade Mallomars-inspired recipe in the form of cute snowmen.
We revamped this reconstructed s'mores cookie by baking a simple homemade graham cracker shortbread. It's quick and requires only a few ingredients, minus any leavening like baking soda or baking powder. Instead of going through the fuss of melting gelatin and whipping up marshmallow fluff, we opted to top each cookie with store-bought marshmallows. Afterward, we completed each treat with a sweet white chocolate coating, then added snowman faces with candy melts.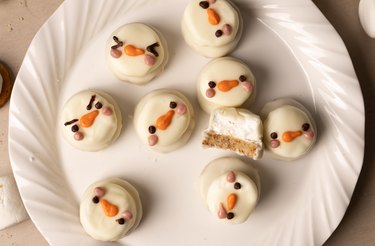 Of course, you can always make this cookie recipe your own by changing up the design. For example, coat cookies in dark chocolate or decorate with Christmas sprinkles for a holiday touch. You can also be more selective with store-bought marshmallows and chocolates: Specialty items devoid of allergens, artificial flavor, high-fructose corn syrup, canola oil, palm oil, soy lecithin and more work just as well for these DIY Mallomars.
Ready for a fluffy and fantastic treat? Let's bake!
Quick Recipe Overview
‌SERVING SIZE:‌ ‌30 Mallomars-inspired snowman cookies
‌‌PREP TIME‌: ‌‌10 minutes
‌CHILL TIME: ‌1 hour
‌BAKING TIME: ‌10 minutes
‌‌DECORATING TIME: ‌‌10 minutes
‌‌TOTAL TIME:‌ ‌‌90 minutes
‌1. Graham Cracker Shortbread
Things You'll Need
Large mixing bowl

Whisk

Rubber spatula

Plastic wrap

Knife

Parchment paper or silicone mats

2 baking trays

Wire rack

1/2 cup unsalted butter, melted

1/2 cup granulated sugar

1 large egg

1 tsp. vanilla extract

1 3/4 cup all-purpose flour

7 full sheets of graham crackers, finely crushed

1/2 tsp. salt
1. Mix melted butter and sugar
In a large mixing bowl, mix together 1/2 cup melted butter and 1/2 cup granulated sugar until combined.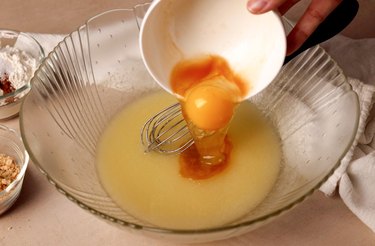 Whisk in egg and 1 tsp. vanilla until mixture is smooth.
3. Stir in dry ingredients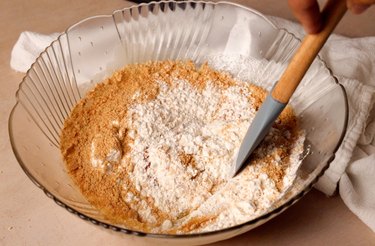 Add 1 3/4 cup all-purpose flour, finely crushed graham crackers and 1/2 tsp. salt. Stir until no dry spots remain.
Tip
To finely crush graham crackers, blitz them in a food processor! If you don't have a food processor, place them in a food storage bag and crush with a rolling pin.
4. Shape dough into a log
Transfer cookie dough to a long sheet of plastic wrap. Wrap cookie dough.
Using your hands, shape dough into a log with about 1-in. diameter. Place cookie dough log in freezer until firm, about 1 hour.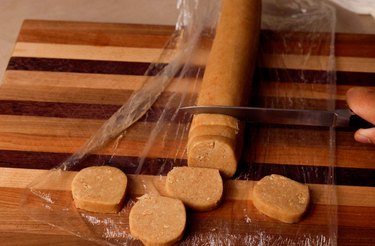 Remove cookie dough from freezer and reroll if you need to adjust shape. Using a knife, cut dough into 1/2-in. slices. Transfer slices onto lined baking sheet, about 2 in. apart.
Tip
If cookie dough is getting too soft, pop it back in the freezer for about 10 minutes.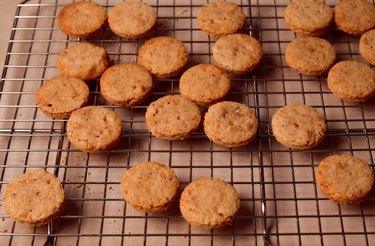 Bake at 350°F for 10 to 12 minutes, or until golden brown. Let cool on pan for 5 minutes, then transfer to a wire rack to cool.
Tip
Want a heartier shortbread with more dietary fiber? Swap out half of the all-purpose flour for whole wheat flour instead!
Things You'll Need
Wire rack

Baking tray

Knife

4 microwave-safe bowls

1 spoon

2 forks

3 piping bags

Scissors

Graham cracker shortbread

15 regular-sized marshmallows

1 cup white chocolate chips

1 Tbsp. coconut oil or cocoa butter

1 Tbsp. chocolate chips

Candy melts (orange, pink)
1. Cut marshmallows in half
Using a knife, cut marshmallows in half.
Top each cookie with cut marshmallow, sticky side down.
3. Coat in melted chocolate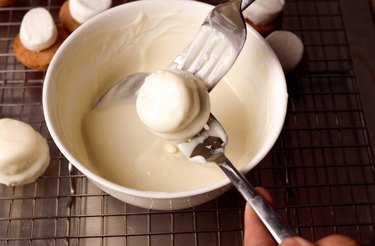 In a microwave-safe bowl, add 1 cup white chocolate chips and 1 Tbsp. coconut oil. Microwave in 30-second intervals, stirring in between, until melted. Let slightly cool.
Add marshmallow cookie to bowl of melted chocolate. Spoon sweet chocolate coating over cookie to completely cover. Using 2 forks, remove cookie and let extra chocolate drizzle off. Transfer coated cookie back to wire rack over a baking tray. Repeat.
Pop cookies in freezer for about 10 minutes, or until chocolate is firm.
Tip
Not a fan of white chocolate? Opt for milk chocolate or rich dark chocolate coating, then get creative with designs!
4. Decorate with candy melts
Melt chocolate chips and both kinds of candy melts in their own microwave-safe bowls, then transfer to separate piping bags. Use these to decorate the snowman faces. Store treats in an airtight container for up to 1 week. If you prefer them chilled, keep them in the fridge.
You might not be able to open a box of Mallomars at any given moment, but you can whip up our homemade version! These super-cute chocolate-covered marshmallow treats are ‌snow‌ delish.