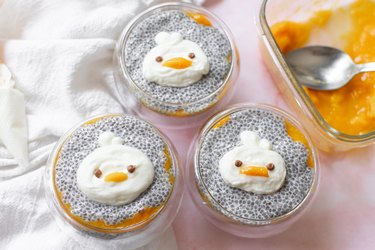 Looking for fun morning meal prep ideas or snack ideas other than overnight oats? Look no further than this cute mango chia seed pudding! It's packed with mango goodness (read: antioxidants) plus chia seeds that are packed with fiber and a good source of polyunsaturated fats, like omega-3 fatty acids.
Video: Mango Chia Seed Pudding With an Adorable Duckie Theme
This chia pudding recipe is also super versatile—you don't have to stick to tropical flavors. You can swap out the frozen or fresh mango for other fruit, add matcha or cocoa powder, change the type of milk and top it with anything you'd like. See? Versatile!
So, if you'd like to learn how to make mango chia pudding, let's get started!
Quick Recipe Overview
‌YIELD:‌ 2-4 servings
‌‌‌PREP TIME‌:‌ 5 minutes
‌‌CHILL TIME:‌ 30 minutes
‌‌DECORATING TIME: ‌10 minutes
‌‌TOTAL TIME:‌‌‌ 45 minutes
Things You'll Need
Medium mixing bowl

Small mixing bowl

Fork

Plastic wrap

Blender or food processor

Whisk or hand mixer

2-4 serving containers

2 piping bags

Paring knife

1 cup milk (can use dairy-free milk, like coconut milk, oat milk, almond milk, soy milk, etc.)

1/4 cup chia seeds

1 tsp. vanilla extract (optional)

2 ripe mangoes

1/8 cup heavy cream

1 Tbsp. powdered sugar

1/4 tsp. cocoa powder

Toppings of choice, like granola, fresh fruit, coconut flakes
How to make Mango Chia Seed Pudding:
1. Mix milk, chia seeds and sugar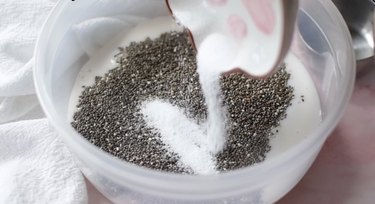 In a mixing bowl, add the chia seeds and milk. Use a fork to mix. If using vanilla, stir it in.
Let sit for 10 minutes. Stir again to get rid of any clumps.
2. Refrigerate chia seed mixture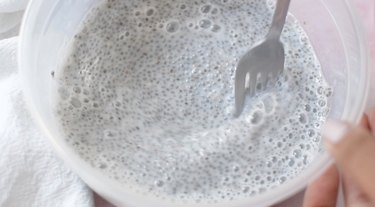 Cover the chia seed mixture with plastic wrap and refrigerate for at least 30 minutes to overnight. Over time, the chia seed mixture will thicken.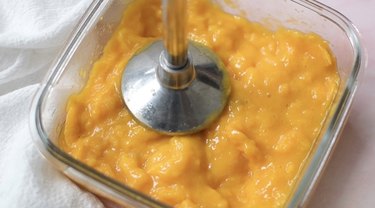 Peel and slice mangoes, discarding the seeds. Keep a large spoonful of mango to use later as decoration.
Purée remaining mango using a blender or food processor.
4. Assemble chia seed pudding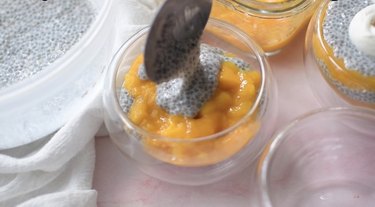 In each serving container, layer the chia seeds and then the mango puree. Repeat until you fill the containers.
5. Whip heavy cream and powdered sugar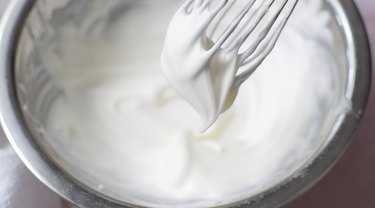 In a small mixing bowl, whip heavy cream and powdered sugar until thick but pipeable. Transfer to a piping bag and cut a medium tip.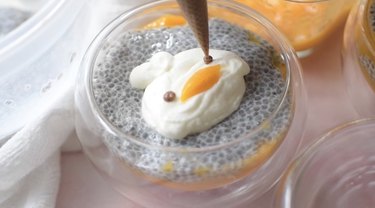 Use whipped cream to pipe on one duck head on top of each chia seed pudding. Mix leftover whipped cream with cocoa powder and then transfer to another piping bag. Use this for the eyes.
Use a paring knife to cut mango into duck beaks. Place on duck head.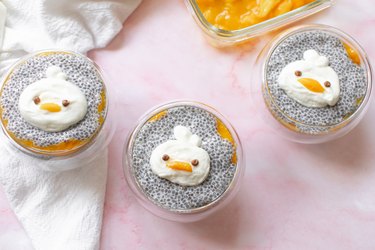 Cover with plastic wrap or store in an airtight container in the fridge for up to three days. Enjoy with granola, blueberries, raspberries, cashews or anything you'd like!