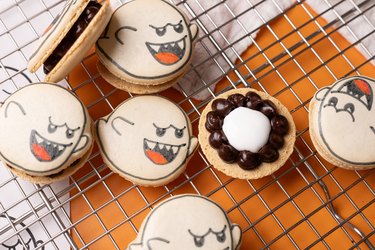 Do you have fond memories of playing Mario games during your younger years...or even to this day? You don't have to be a video game fanatic to have fun with Mario Party, Mario Kart, Super Mario Sunshine and just about every other iteration of the Mario series. The release of a Mario movie has only enhanced the nostalgia—and what better way to celebrate a beloved game than with a sweet treat? Enter: our recipe for macarons shaped like Boo from Mario!
Whether you're baking these Mario-inspired macarons on an average weekday or planning Halloween recipes in advance, the steps are relatively simple. In fact, you'll only make one batter color! All the important details are added post-bake with edible food markers (you can pick up your own pack on Amazon), so there's no need to make royal icing or melt chocolate. With this straightforward and playful Halloween cookie recipe, you'll be setting down your controller to enjoy Boo macarons in no time.
Video: Boo! Mario-Inspired Macarons for Halloween
Quick Recipe Overview
‌‌SERVING SIZE:‌ ‌12 Boo macarons (2.4 in. x 2.2 in.)
‌‌PREP TIME: ‌‌30 minutes
‌‌‌‌‌DRYING TIME:‌‌‌ 1–2 hours
‌‌‌‌COOK TIME: ‌‌‌15–18 minutes
‌‌‌‌‌DECORATING TIME:‌‌‌ 10 minutes
‌‌‌‌‌TOTAL TIME:‌‌‌ 2–3 hours
Things You'll Need
2 baking sheets

Parchment paper or silicone mats

1 large piping bag

Hand mixer or stand mixer fitted with whisk attachment

Large mixing bowl or bowl of a stand mixer

Rubber spatula

Scissors

Toothpick or cookie scribe

50 g egg whites

40 g granulated sugar

60 g almond flour

50 g powdered sugar

Gel food coloring (purple)
1. Whip egg whites, purple food coloring and granulated sugar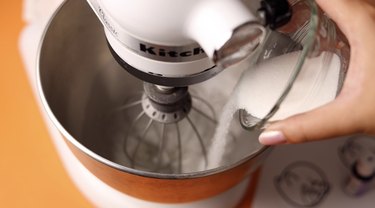 Set up tools and measure out all ingredients first. This will help you move through recipe more seamlessly.
Whip egg whites and food coloring on medium speed until foamy. Slowly add granulated sugar in 1/3 portions while whisking on medium-high speed.
Tip
The purple food coloring will offset the yellowness of almond flour later, which will yield white macarons!
2. Beat eggs until stiff peaks form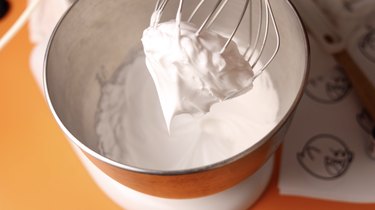 Continue whisking until stiff peaks form and you get a thick, glossy meringue as pictured above. This should take ‌‌‌‌‌‌at‌‌‌‌‌‌ ‌‌‌‌‌‌least‌‌‌‌‌‌ five more minutes.
Tip
Meringue should ball up onto whisk. When whisk and bowl are held upside down, meringue should not move.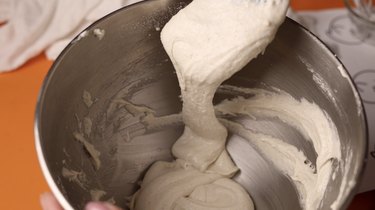 Sift powdered sugar and almond flour into meringue. Using a rubber spatula, mix dry ingredients into meringue, scraping sides and bottom of bowl often.
Mix until batter reaches a thick, glossy consistency and comes off spatula in continuous ribbons. Batter coming off spatula should melt back into remainder of batter in bowl within 20-30 seconds. Transfer to piping bag and cut a medium-large round tip with scissors.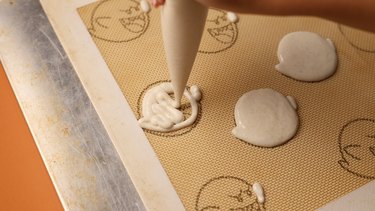 Use our Boo macaron template as a guide beneath parchment paper or a silicone mat to pipe design. We recommend starting with piping all the arms at once and then doing the bodies. This will let piped arms dry a bit, so once you pipe on the bodies, there will be more definition to the macaron.
Use a toothpick or cookie scribe to move batter around and pop any remaining air bubbles.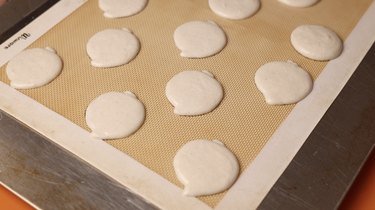 Let macarons sit out for 1-2 hours at room temperature or until dry to the touch. In humid rooms, this step might take longer. While waiting, skip ahead and make ganache (recipe below). Then, preheat oven to 310°F.
Bake cookies at 310°F for 10 minutes, turn the tray, drop temperature to 290°F and bake for another 6-10 minutes. This will help keep macarons white and lessen any browning.
To test if they're done, poke the side of one macaron. If it wiggles, they need more time. Let cool completely on a tray and then match macaron shell pairs.
Things You'll Need
1 medium microwave-safe bowl

Plastic wrap

1 medium piping bag

Rubber spatula

Scissors

50 g semisweet chocolate chips

50 g heavy cream
1. Microwave chocolate and heavy cream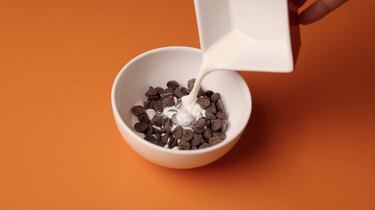 Combine chocolate and heavy cream in microwave-safe bowl. Microwave until melted, stirring every 30 seconds.
Cover ganache with plastic wrap and refrigerate until thick enough to pipe. Check ganache after 20 minutes and then every 5-10 minutes. Once set, transfer to piping bag and cut a medium tip.
Things You'll Need
Boo macaron shells

Milk chocolate ganache

6 Tbsp. marshmallow fluff piping bag with medium-large tip

Edible food markers (black, red or orange)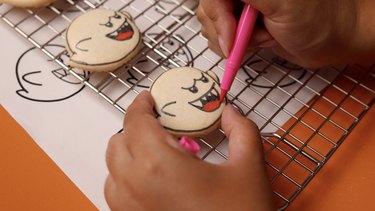 Use edible markers to draw Boo's design. Use black marker for body outline and face and then black or orange for tongue.
2. Pipe chocolate ganache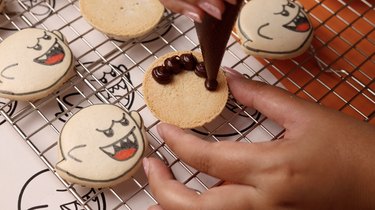 Pipe ring of chocolate ganache on bottom shell.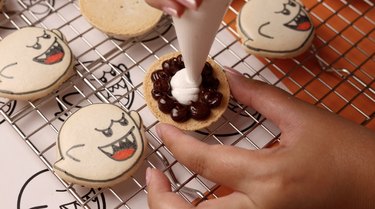 Pipe about 1/2 Tbsp. of marshmallow fluff in the middle of chocolate ganache ring.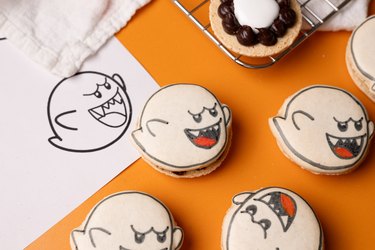 Top with matching macaron shell. Store your completed Halloween treats in an airtight container in fridge for up to five days or in freezer for up to one month.
Now that you have Mario-inspired bites to keep your family fueled, the real question remains: Who will win at Mario Kart?