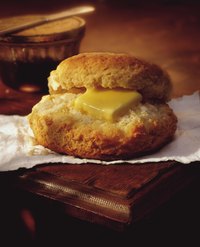 When it comes to homemade biscuits, baking them in the oven is the cooking method that usually comes to mind. However, avid campers know that they can cook biscuits just as easily in a skillet over hot coals. This method was also common when most people used wood-burning stoves and farming and ranching families prepared biscuits and most meals on the stovetop, as it required less firewood. Stovetop biscuits are still a timeless tradition in several parts of the country and are fast and easy to prepare.
Things You'll Need
All-purpose flour
Baking powder
Salt
Butter
Mixing bowl
Pastry cutter
Food processor, optional
Buttermilk
Whole milk
Cast iron skillet
Serving spoon
Spatula
Combine flour, baking powder and salt in a large mixing bowl. To make roughly a dozen biscuits, use about 1 3/4 cup flour, 2 teaspoons of baking powder and a dash of salt.
Cut cold butter into the flour with a pastry cutter or a food processor. Use one whole stick of butter for a dozen biscuits. The dough should be crumbly at this point.
Stir buttermilk or whole milk into the dough mixture. You need just enough to create a thick, stiff dough that is still slightly crumbly. Don't overmix it.
Melt butter in a cast-iron skillet on the stove over medium-high heat. Use just enough butter to lightly coat the skillet.
Drop heaping spoonfuls of the dough into the hot skillet, slightly spaced apart, using a large serving spoon. The biscuits will wind up tightly compacted in the skillet and touching each other as they rise.
Partially cover the biscuits cooking on the stove with a lid , letting a little air in. This will help the biscuits become slightly crisp. Let the biscuits rise and cook for about five to seven minutes, then check to see if they have browned on the bottoms. Flip the biscuits over with a spatula and cook for another five minutes or so, until the other side has browned as well. Serve hot.