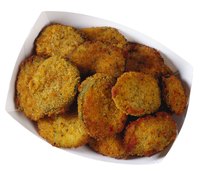 Freezing your favorite foods provides a quick heat-and-eat option for a busy day. Breaded summer squash works well as an appetizer or a side dish, so it provides a versatile option in your frozen meal-planning arsenal. Keeping the breading crisp requires quick freezing using the proper methods so it doesn't have time to become soggy. You can even make extra and only reheat what you need in the oven, minimizing the amount of effort needed each time you have a craving for breaded squash.
Things You'll Need
Paper towels
Cookie sheet
Wax paper
Freezer bag
Permanent marker
Place the cooked, breaded squash on top of a layer of two paper towels, arranging the squash so they aren't touching one another. Allow the squash to cool to room temperature as the towels absorb any excess oil from the breading to prevent sogginess.
Cover a cookie sheet with a piece of wax paper. Place the breaded squash slices on the paper so they aren't touching.
Place the cookie sheet in the freezer. Allow the squash to freeze completely, which can take two hours or more.
Transfer the frozen squash slices into a plastic freezer bag. Seal the bag closed, squeezing out as much air as possible. Label the bag with the contents and date frozen, using a permanent marker.