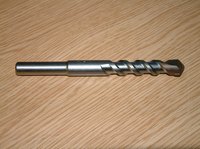 Metal drill bits are by far the most common type of bit and suitable for most purposes. The design of a metal drill bit depends on the material you need to drill a hole in, the type of screw you intend on inserting in the hole and the finish you want to create, such as a screw head either exposed or hidden beneath the surface. Choosing the right metal drill bit becomes easy once you are experienced at drilling a wide range of materials.
Check that a metal drill bit is the most suitable for a job. Metal drill bits can be used with wood, plastic, tile and stone. It is better to use carbide or cobalt bits when drilling other materials.
Pick a size of metal drill bit. This clearly depends on the job. Drill bits are still measured in fractions of an inch. A 1/8-inch bit is pretty standard for most house screws.
Select a specific metal drill bit design. A spur-point bit is useful for most jobs around the home, its design ensuring a straight hole. A tile bit, as the name suggests, is best for drilling ceramics. A flat wood bit creates a large hole, but requires a powerful drill. Masonry bits are suitable for drilling through stone.
Decide if you want the screw head exposed above the surface of the material. If you want the screw head hidden -- on a wooden cabinet, for example -- select a "stepped" drill bit. The drill bit widens the hole at the end so the screw head is hidden.