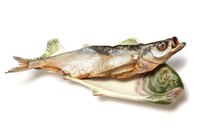 Essential oils, the pure essences of plants, have been used for thousands of years as perfumes, flavorings and medicines. These oils are squeezed out of plants using expression methods or distilled through water and steam, reports HealthLine. Unlike synthetic air fresheners, essential oils don't just mask odors, they appear to break down and remove odor molecules from the air. Essential oils are concentrated, and while they may seem expensive will last for a long time. Essential oils known to have a cleansing effect include lemon, peppermint and eucalyptus.
Things You'll Need
4 ounces water
20 drops lemon essential oil
6 drops patchouli essential oil
5 drops white thyme essential oil
Spray bottle
1 cup baking soda
18 drops essential oils (bergamot, lavandin or coriandor seed)
Air Cleaner
Mix water with lemon, patchouli and white thyme essential oils in a spray bottle.
Mist the air whenever foul odors are present, as you would an air freshener.
Open windows to provide ventilation.
Carpet Freshener
Mix 1 cup of baking soda with 18 drops of essential oils. Try lemon, bergamot, lavandin or coriandor seed essential oils.
Sprinkle the mixture on carpets. Wait an hour.
Vaccuum the carpets for a fresh, clean smell.