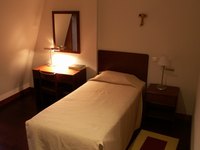 Whether your basement is in dismal shape or clean but sitting empty, you may consider designing a basement apartment to earn extra income through rent, serve as a bedroom for your teenager or in-law, or provide a place for friends and family to stay when they are visiting from out of town.
Hire an architect or draftsman to help you plan the apartment space most efficiently. If you have experience with renovation projects, take measurements of your basement and sketch a basic floor plan to guide the construction.
Consult with your local building department. Find out of your basement apartment renovation will meet code. In some cities, bedrooms are required to have a window to the outdoors. Before beginning construction, get all necessary permits.
Install pipes to accommodate a simple bathroom with a sink, toilet and possibly a shower. Check to see if wiring allows for new outlets, switches and cable connections. Again, check with your local building code to be sure you are in compliance.
Finish out the space. Unless you are experienced with do-it-yourself projects, hire a contractor. Your basement may currently have concrete floors and walls, so in order to create a livable space, install finished flooring such as wood, tile or carpet. Frame out the walls, cover them with drywall and paint them a light color to make the space feel larger and brighter.
Add furniture and decor. If your basement is small, consider a studio apartment arrangement with a daybed. For larger spaces, create a living area with comfortable couches, chairs and pillows. Finishing touches such as paintings, pictures and other decorative items will make your basement space feel more like home.