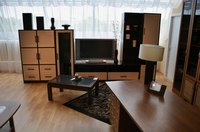 Decorate the wall where your TV is placed in a manner that is interesting, but not distracting. Leaving the wall blank is almost as distracting as having too much going on around your TV. Utilize the wall space around your TV to add to your decor so that the wall serves a purpose even when you aren't watching TV. The room will appear more inviting and pulled together if the decor on the TV wall relates to the color scheme or theme of the room.
Things You'll Need
Paint
Furniture
Wall decor
Houseplants or trees
Accessories
Paint the wall behind your TV a bold color to serve as an accent wall. The TV is typically the focal point of a family room or media room, so draw more attention to it with a colorful background provided by the wall. A bold wall color will serve to further the decor in the room, yet it won't compete with the TV. If bold colors aren't your thing, consider a neutral color such as cream, beige or light brown which will still add some color to the wall. Avoid busy patterns or wallpaper that might cause a distraction.
Place furniture around the TV if there's room. The TV can be placed on a TV bench or inside a television cabinet if it's a flat panel or smaller set. For larger TVs, consider large shelves or media center furniture. The shelving will provide a place to add decorative accessories and take up wall space. The furniture should match or complement other furniture in the room.
Hang wall decor around the TV that adds interest to the space, but doesn't compete with the TV. Frame the TV with small black and white pictures or create an arrangement on either side of the TV that aren't the same size and shape as the TV. For example, hang circular pictures or create diamond-shaped arrangements. If the TV is being hung above a fireplace, hang a collection of pictures in a long, vertical arrangement on the side. Create a visually appealing arrangement of wall art or pictures that aren't too busy so they won't distract from the TV.
Houseplants and trees add life, color and interest to a room (even if they're silk) and don't detract from the rest of the decor, or the TV. An empty block of space next to the TV can easily be covered up with a tree. Place houseplants on top of TV cabinets to add interest above the TV or on shelves surrounding the TV.
Add accessories to the shelves or fireplace mantel. Use bulky or hefty vases, statues or candle holders next to flat screen TVs to give the area depth. Use thinner or smaller items to counter larger, bulkier TVs.