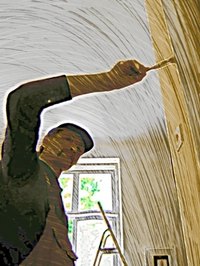 The electrical panel must remain accessible, but there is no rule that says you have to look at it. Put the electrical panel in its place the same way muralists hide unsightly features on buildings in plain sight. Incorporate the electrical panel into an appealing artwork customized to your taste and home décor. Painting leaves the electrical panel unimpeded--no hassling with a shadow box, cabinet or other large object during a power outage. Within a day or two, you can enjoy creative expression and relief from that blemish on your home's wall.
Look at murals and faux finishing books and websites for inspiration.
Plan your design. You could do a small feature such as painting a faux window or aquarium scene over the electrical panel, or paint the whole wall.
Hire an artist or get the materials to paint it yourself.
Obtain stencils if you prefer not to try freehand artwork. If the wall has any soiling or is in a kitchen where there is grease or other impurities on the wall, buy a wall-cleaning product designed to prepare the wall for painting. Hardware stores carry wall-cleaning products.
Clean the wall according to product directions. Rinse the wall and allow the wall to dry.
Paint the electrical panel with primer.
Pencil the design on the wall. Treat the electrical panel as part of the wall.
Paint your design. Go slow over the edges and surface changes on the electrical panel to create smooth lines and to add illusion.