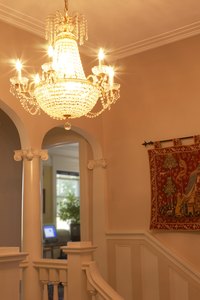 One of the easiest ways to add a touch of drama and glamour to any room in your home is by installing a crystal chandelier. When light reflects off the crystals, it sends prisms across the room. Over time, dirt and dust may accumulate on the crystals, making them less brilliant and unable to reflect as much light. Make your chandelier sparkle and shine again by cleaning it on a regular basis. Use a sturdy ladder or step stool when accessing the hanging chandelier to ensure safety during the cleaning process.
Things You'll Need
Ladder or step stool
Glass cleaner
Unplug the chandelier from its power source. Place a ladder or step stool directly under the chandelier.
Spray a soft microfiber cloth with glass cleaner until it is damp. Rub each crystal with the damp cloth gently to remove any dust or debris.
Spray the cloth with more cleaner as necessary throughout the cleaning process.
Polish each clean crystal with a dry microfiber cloth to make it sparkle and shine.