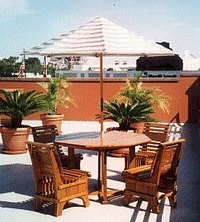 There is nothing more relaxing than sitting out on the patio on a beautiful day. I love to start my day outside with a cup of coffee, looking around to see what has bloomed in my yard and listening to the birds, it's so peaceful.
Since we spend as much time as possible in our backyards as we can, it may as well look beautiful. But you don't have to spend a lot of money for your patio to look great, here are some tips to get you started:
A great place to find bargains on outdoor furniture is at garage or yard sales. Remember to look past the dirt and grime, with a good cleaning and some spray paint, an outdoor dining set can look as good as new.

Another place to look for outdoor furniture is craigslist.org (See Link Below, Under Resources).
If you have decided to buy a brand new set of furniture, try to wait until after July 4th to make your purchase. This is when the stores will start marking down the prices of their summer patio furniture. The later you wait, the bigger the mark downs, but the selection will also dwindle, too.
Often times, stores that have their own credit cards, such as Lowe's and The Home Depot, will offer 10% off of purchases that are $299 or more. To qualify for the discount, you will have to put the items on their credit card. You usually will get 3 months to 1 year to pay off the balance, too. Just make sure to pay it off before the balance becomes due to avoid the finance charges.
Did you know that Aldi's sells Home and Garden items? You can find patio umbrellas, gazebos, gliders, bbq grills and much more. But if you see something that you want, you have to buy it right away because more than likely they will not get any more items in stock until next summer. The same goes for warehouse clubs, such as Sam's Club and Costco.

Now, that you have your furniture, it's time to add some accessories. A nice planter or urn full of annual flowers is always nice to have by every door of your house. If you have a deck, you can have some over the rail planters to add a splash of color to your outdoor space. To save money, you could start your annuals indoors in the winter and then transplant them when it warms up.
Do you entertain at night? There are all kinds of outdoor lighting that you can add to your patio space. How about lights for your umbrella? Or a candle centerpiece for your table. Use citronella candles to keep bugs at bay. Try some solar lighting in your landscaping for even more ambience at night. You can purchase any of these items at most big box stores, wait for a sale to save 20-30% off your purchase of home and garden items.