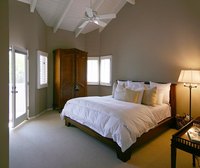 Your bedroom should be a calming space that encourages relaxation and romance. It's a challange, however, to create a calm, romantic mood in a small bedroom. Too many accessories, large furniture and even the wrong paint color can all work together to make your bedroom a place you'd rather avoid. Luckily, the right paint color and furniture arrangement can work wonders in making a small bedroom feel large, bright and comfortable enough to do more than just sleep in.
Things You'll Need
Furniture
Paint and painting tools
Curtains
Accessories
Mirror or mirrors
Lamps
Emphasize the height of the room. Choose tall, narrow furniture with simple, clean lines. Consider purchasing a queen-sized bed rather than a king. Opt for a tall dresser rather than a short, wide one. Hang a molding at the ceiling to draw attention upwards, and hang curtains that stretch from the ceiling to the floor.

Choose paint colors that make a small room feel larger. Cool tones such as greys and greens make smaller spaces feel more open. Painting the ceiling one shade lighter than the walls will further open up the room. Another option is to choose one wall and paint vertical stripes on it, using the ceiling shade of paint as the contrasting line shade. Vertical stripes will make the room seem taller and larger.
Decorate with light-colored linens. Bright or bold patterns on the bed will overwhelm a small bedroom. Instead, choose soft, light colors and stick with subdued patterns or none at all. Stick to clean, simple lines in your linens and accessories.
Use lighting properly. Too many ornate lamps will overwhelm a small bedroom. Instead, choose two simple, tall, sleek table lamps to flank your bed. This will direct light upwards and create height.
Accessorize carefully. Hanging one or two striking black and white photographs of your children on the wall is a much better idea than covering your dresser top with multiple frames. One floating shelf on the wall with three decorative sculptures is much better than a bookshelf full of knick-knacks. A mirror on the wall will open up the space and reflect light.
Create a fabulous closet. If you have a small bedroom, it pays to spend a little extra money on a closet organizing system. Doing so will eliminate the need for multiple dressers in the bedroom and allow you to put your clothing and shoes away neatly and out of sight.