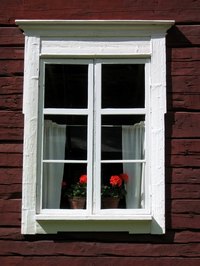 Your windows may sparkle and be crystal clear, but what about the track? A sliding window track can be a trap for dust, dirt and grime. If your window frame is in need of some extra attention, then check out this tutorial for cleaning window frames.
Things You'll Need
Sliding window track
Window frame
Vacuum
Garden hose
All-purpose household cleaner
Use your garden hose first to spray the outside of the sliding window track. Spiders love this area, and wind and rain all work together to trap dust and grime into the exterior window frames of your house. If the pressure of your hose isn't enough to remove the gunk, spray a mild detergent into the track to soak. You might need a scrub brush to loosen some of the matter, especially in the corners.
Vacuum the interior window frame with your hose end or brush end attachment first, to rid them of animal hair and dust. If you don't have a brush end attachment, use a stiff bristled paintbrush to dislodge the trapped dust and dirt.
Spray an all-purpose household cleaner into the sliding window track and wipe with a soft cloth until it looks clean. You might want to use a cotton swab in the cracks.
For the outside of the window you can use the same soft cloth or, if your frame is textured, a microfiber eraser-type sponge for cleaning window frames.