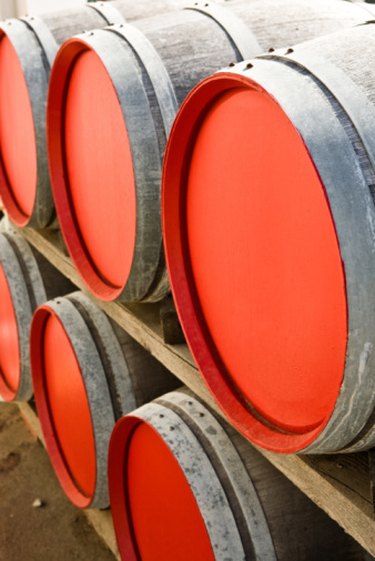 Empty beer kegs are popping up all over. Perhaps you came across one at a garage sale, or long-since forgotten down in the basement. Or maybe the retailer will not take it back for a variety of reasons including going out of business, or the keg is missing key tags or labels. Beer drinkers have come up with some ingenious ways to re-use empty kegs, including vehicles and cooking equipment.
Beer Keg Racing
Outlets that provide entertainment for stag parties often have their own, already modified beer kegs, but if you're talented in the garage, you may be able to outfit your own keg with go-kart gear to make a beer keg cart. With a wheel to steer, wheels on the base, and engine inside, you can make a low-speed vehicle to be used in races.
Always remember to follow rules of the road and be safe. Helmets are definitely recommended.
Gas Tank
From the 1950 to 1960s, hot rodders often found all kinds of strange things to use on their vehicles. Beer kegs were commonly seen as gas tanks, due to their liquid- and air-tight qualities. They can often still be found on farm equipment and personal projects, especially when the point is to use alternative options and to be creative.
Grill
An empty beer keg can be cut in half and with only a few cheap additions, turned into a unique charcoal grill. The bonus of using it in this fashion is that you essentially end up with two grills (or half a keg to use in another project). Screen to use for the grill can often be found fairly cheap and a rack for steaming and warming can usually be rigged as well.
If you want a grill with a cover, simply reconnect the two halves with a hinge and attach a handle to the top one. Vents can be added as well and a small amount of work can turn an old keg into a functioning grill that will surely work as a topic of conversation at any cookout.
Tables
A round tabletop could be attached to an empty keg create an end-table or small kitchen table. Set a rectangular tabletop over two kegs to make a larger table. However, the height would have to be considered and normal chairs or stools may not work as well if the table was intended to use as a dining table. As a side table or buffet table, however, a keg table could be perfect. If the table top was not permanently attached, the keg table could be put away for storage with minimal effort.
Always be sure to thoroughly wash out the keg (especially if the resulting table will be used for food) and consider something to weigh down the bottoms. A keg, even empty, is often heavy, but it is better to be certain that your table won't suddenly tip over. Clamps and brackets would be a good -- easily removed -- method to securing your table surface to the kegs.
For added charm, look for other found items to use as a tabletop. Perhaps a door, for a larger table.