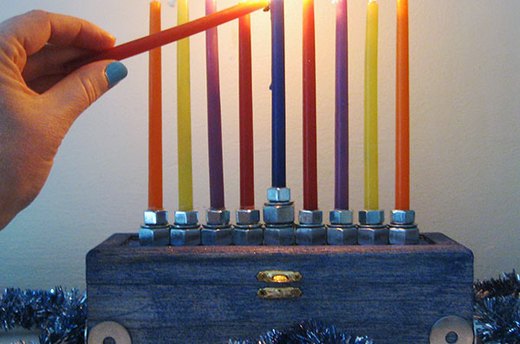 Lighting the menorah is the most important part of celebrating the Jewish holiday of Hanukkah. It commemorates the miracle that a day's worth of oil burned for eight days. The menorah consists of nine candles. One for each night of Hanukkah and a ninth called the shamash candle, which is used to light the other candles. In this tutorial, you can learn to build a modern menorah. With a few supplies from the hardware and craft store, you and your kids can get creative and have a unique piece for Hanukkah.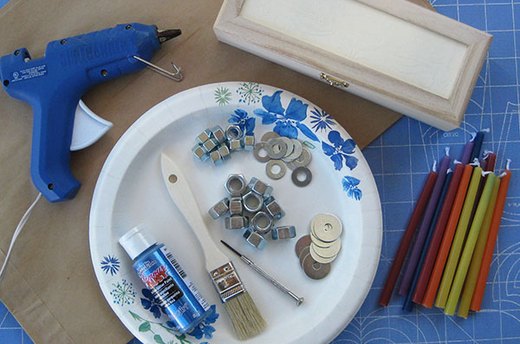 Supplies
Gather your supplies. For this project, you will need: an unfinished wood box, nine 3/8-inch hex nuts, ten 1/2-inch hex nuts, ten 1/2-inch washers, four 1-inch washers for decoration, paint, a paintbrush, a hot glue gun, a small screwdriver, and candles.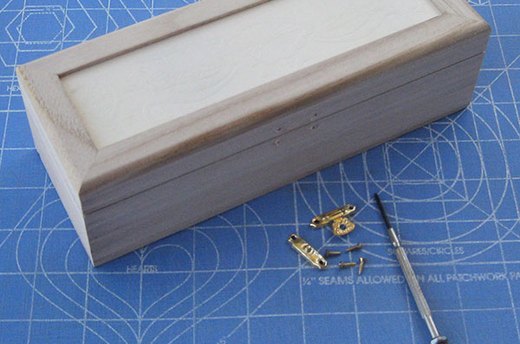 Remove Clasp
Many craft stores have an assortment of unfinished wood boxes. You can use a box in any shape. Just make sure it's seven inches wide on top for the hardware. If the box has a front metal clasp, remove it before painting.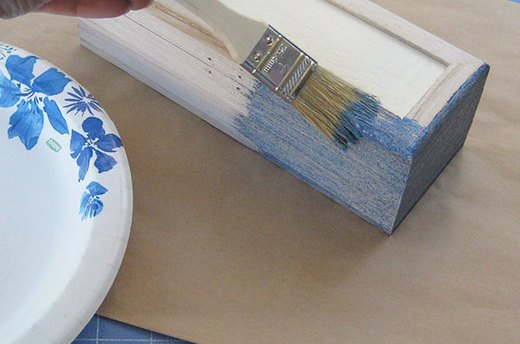 Paint the Box
Paint the box using any color of acrylic paint. To add a decorative touch, use a paint that has glitter already mixed in.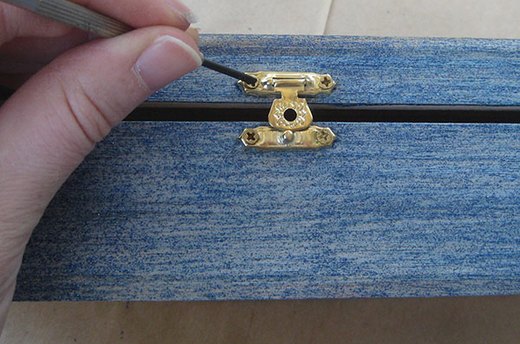 Re-attach Metal Clasp
Once the paint has completely dried, re-attach the metal clasp.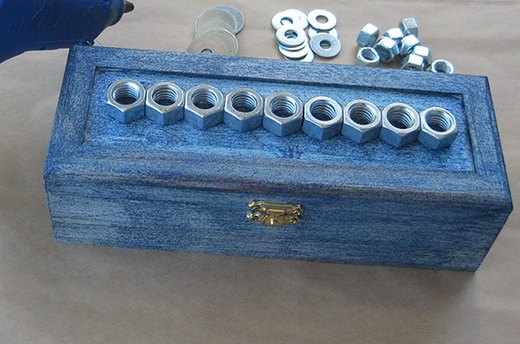 Glue First Row of Hex Nuts
The base of your menorah is made from nine 1/2-inch hex nuts. Using a hot glue gun, attach the first one to the top center of the box. Glue four additional nuts to each side.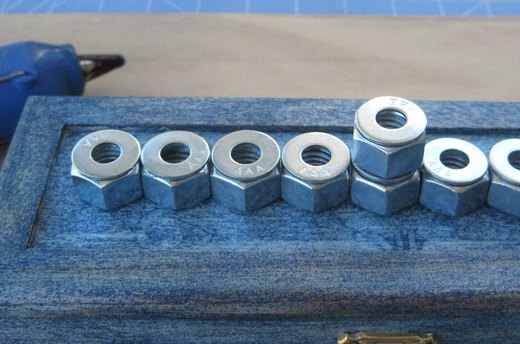 Build Up the Center
To start building the center of the menorah, which will hold the shamash candle, glue one more 1/2-inch nut on top of the center piece, along with another 1/2-inch washer.
Glue Second Row of Hex Nuts
Now glue one 3/8-inch nut on top of all nine washers. This is what will hold the candles.
Add Washers for Decoration
For a decorative touch, you can add any size of washer to the corners or along the bottom. Other decoration ideas include rhinestones, stickers and sequins.
Storing the Candles
The best part of using a small box for your menorah is that you can store all the candles inside.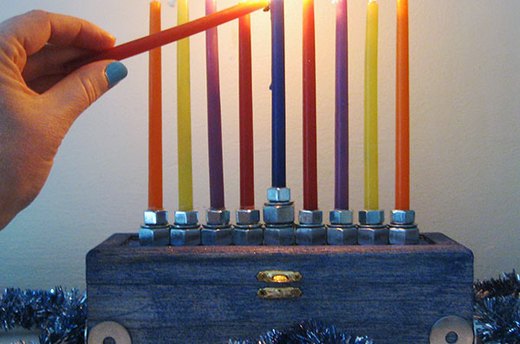 Lighting the Menorah
When lighting your menorah, the shamash candle, which is the center candle, will be used to light all other candles. On the first night, set one candle to the far right of the menorah. For the next seven nights you'll add one more candle to the left of the previous one. Each night, light the shamash candle and then use that candle to light the other candles. The newest candle should always be lit first, from left to right. By the eighth night, all the candles will burn together.