When the weather is warm and you're ready to head outside for a picnic, it's important to pack the essentials. In addition to your favorite snacks and beverages, you're going to need a picnic basket that can hold it all (not to mention a picnic blanket to sit on). A picnic basket can be used for everything from dining alfresco with friends to lunch at the park with your kids to a romantic picnic on the beach.
Whether you want to pack a light snack, sandwiches, wine and cheese, or a full meal, you need a sturdy picnic basket. There are lots of choices when it comes to finding the right picnic basket, including baskets made of wicker or canvas and ones that are small, medium or large, as well as easy-to-carry picnic backpacks. The one you choose will depend on several factors.
What To Consider When Purchasing a Picnic Basket
​Size:​ Picnic baskets come in various sizes. When deciding what size to get, consider the size of your family or how many people you typically like to picnic with. If you have a large family or several friends who will be sharing your food, a large picnic basket that can hold enough food for everyone makes the most sense. If you tend to picnic alone or with one other person, skip the bulkier baskets and go for one that's more compact and subsequently easier to carry. There are also collapsible picnic basket options to free up storage space.
​Material:​ Classic picnic baskets are typically made of wicker, which is always charming and feels like something straight out of a fairy tale (literally ... we're looking at you, Little Red Riding Hood). Unfortunately, wicker picnic baskets can be challenging to keep clean and have a higher risk of needing replacement. If you want a picnic basket that isn't as bulky and takes up less space, consider one made of canvas.
​Insulation:​ Insulated picnic baskets help keep your food and beverages cool or warm for longer. There are two types of insulated picnic baskets: wicker and a more modern collapsible basket. Both have thermal foil lining to maintain the temperature of food and beverages, but instead of wicker, the collapsible basket is typically made of durable polyester and comes in various colors and designs. These can double as reusable grocery bags. Of course, to keep your food cold, you'll need to add ice packs or pack ice inside zippered bags to keep everything dry. It's also important not to pack the basket completely to the top to ensure that air is able to circulate around the food.
​Accessories:​ Many picnic baskets come equipped with all the accessories you need for a picnic, including flatware, cups, cutlery, cotton napkins, wine glasses, a blanket and sometimes even a corkscrew. Picnic baskets that include accessories are typically priced higher, so if you don't think you'll use them, you plan on bringing your own silverware or you prefer disposable accessories, buying a basket without them will make the most sense.
Scroll on to check out the best picnic baskets in 2022.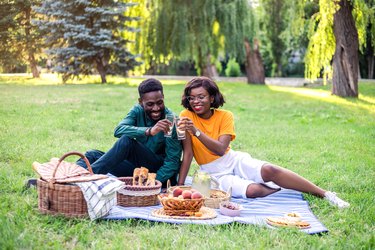 The Best Overall Picnic Basket
Liqing Large Picnic Basket
If you're looking for a picnic basket that's sturdy, insulated, and can carry enough food and beverages for your entire family, this is the one. A carry handle with a soft grip makes it portable, which is of course essential for a picnic basket. The insulated basket can hold up to 50 pounds of food, beverages and ice packs. Internally, your items can stay warm or cold for more than six hours. A support bar design ensures that the basket will stand upright. The bottom of the basket features four feet pillars so you can set it on the ground without worrying about it falling over or moving around. There are nine fun colors and designs to choose from (because picnic baskets don't have to be boring).
​Dimensions:​ 17" x 10.5" x 11"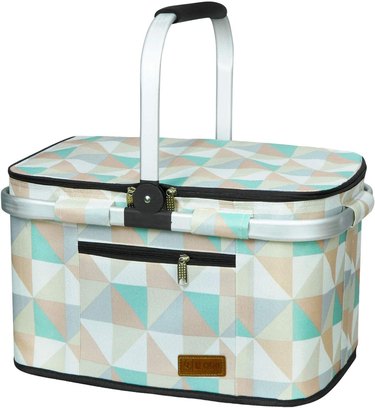 The Best Value Picnic Basket
Singes Insulated Picnic Basket Cooler
It's one of the most affordable options on our list, but this collapsible cooler bag doesn't skimp on features. With full insulation and a leak-proof lining, you can feel confident knowing that your wine and cheese will stay chilled until it's time to be served. The foldable basket is sturdy, made with abrasion-resistant fabric and an aluminum alloy frame that can bear a large amount of weight, and it has two handles with soft grips to make carrying a bit easier.
​Dimensions:​ 16.5" x 9.1" x 9.1"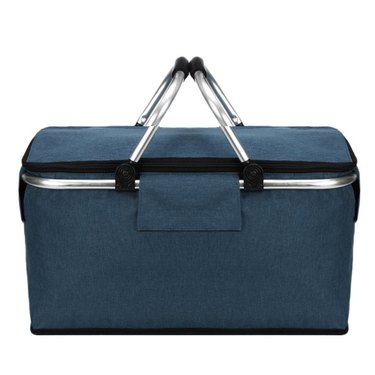 The Best Wicker Picnic Basket
Picnic Time Blue and White Stripe Picnic Basket
Picnicking will feel a whole lot fancier with this high-quality traditional wicker picnic basket. It's a bit of a splurge, but its classic, chic vibe is so worth it. This woven willow picnic basket is sturdy and charming with a machine-washable blue and white striped liner. The basket's flat lid design can double as a cutting board—you just need to supply the cheese, cheese knife, flatware and a bottle of wine ... or two.
​Dimensions:​ 7.5" x 13" x 8/14"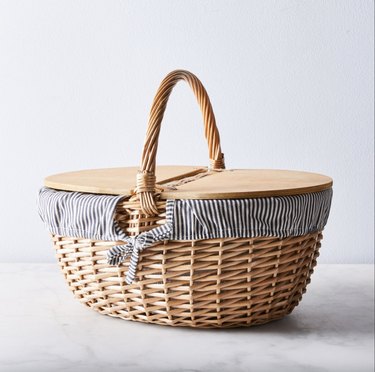 The Best Insulated Picnic Basket
G Good Gain Insulated Wicker Basket Set
There are three options with this sturdy, handmade wicker picnic basket: With an insulated cooler compartment for two people, without an insulated cooler for two people, and without a cooler for four people. We love the cooler option in this picnic basket set because it doesn't take up the entire basket, but it's big enough to keep your food and beverages chilled. All options come with picnic accessories, including stainless steel cutlery, porcelain plates, real wine glasses, linen napkins, a waterproof picnic blanket and a bottle opener. The red check liner adds to the charm of this picnic basket.
​Dimensions:​ 16.5" x 10.2" x 7" (with cooler bag), 16" x 12" x 7.5" (without cooler bag), 17.5" x 12" x 7.5" (4-person)
Not only does this picnic backpack offer hands-free carrying, but it also comes with an array of picnic accessories that you won't have to worry about packing. Included is a bamboo chopping board, stainless steel flatware, metal salt and pepper shakers, a cheese knife, a corkscrew/knife with a wooden handle, linen napkins, a detachable waterproof pouch, a picnic blanket, a wine bottle holder, two or four wine glasses, and dishwasher-safe melamine plates. The backpack can be purchased with supplies for two or four people, and it comes in six stylish color options.
​Dimensions:​ 15.35" x 11.42" x 6.3" (2-person), 16.3" x 12.7" x 7.9" (4-person)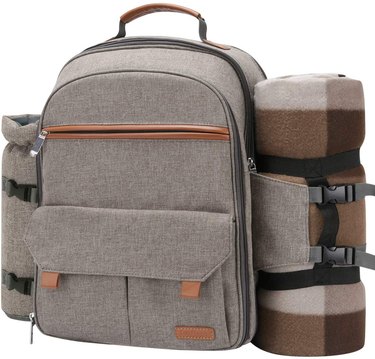 The Best Collapsible Picnic Basket
Breakwater Bay Collapsible Picnic Basket
Since you probably don't have picnics on a daily basis, this nautical-style collapsible basket with side support that folds completely flat is the most convenient storage solution that doesn't take up too much space. The lightweight aluminum frame and sturdy handles with a padded grip make it easy to transport. A front pocket provides extra storage and thermal insulation keeps your food warm or cold. The space-saving picnic basket comes in either black or navy.
​Dimensions:​ 10.5'' x 18.5'' x 11.5"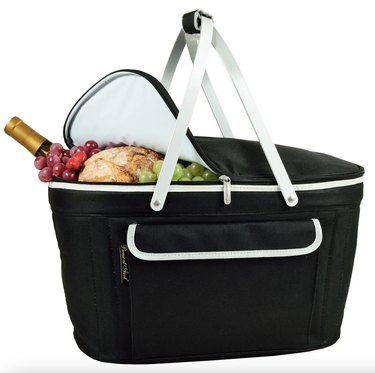 Picnic Time Promenade Picnic Tote
Is it a bag? Is it a basket? It's both. This stylish picnic tote allows you to carry all your picnic essentials without announcing to the world that you're heading to a picnic. It's a less conventional picnic basket that has many of the accessories you need for your perfect picnic, including two plates, two sets of flatware and two wine glasses. There's plenty of space for the accessories, food, snacks and beverages inside. Made of a canvas body, a woven wicker bottom and leather handles, this lightweight tote has a collapsible interior, so it's easy to store when you aren't using it. The tote comes in three design options.
​Dimensions:​ 14" x 11" x 13.5"