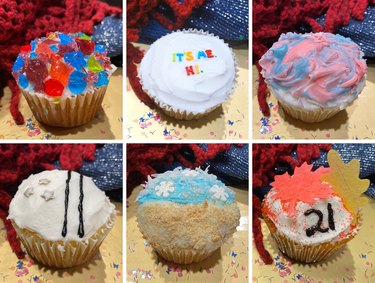 My best friend and I are certainly not professional bakers, but we ‌are‌ unashamed 30-something fans of Taylor Swift. I know, I know—join the club. Like most of the world, we've been streaming ‌Midnights‌ on a loop and marveling at T-Swift's seeming inability to create an album that doesn't break records, and yes, we somehow managed to beat the odds and secure tickets to her upcoming Eras tour. We've also been craving a creative way to celebrate some of our favorite tunes and the inspiration they provide. Cupcakes felt appropriate, especially with the pop icon's birthday approaching on December 13.
With this in mind, we challenged ourselves to create 13 original Taylor-Swift-themed cupcakes, each based on an individual song or lyric. (We didn't limit ourselves to ‌Midnights‌ but instead considered the pop star's entire discography.) With a bit of planning and a whole lot of belting along to Taylor Swift songs as we decorated, we pulled it off.
If you're feeling inspired to DIY, these amateur-friendly cupcakes make a fun and delicious project for a Swiftie-themed birthday party (especially if it's a 22nd birthday party!), a bachelorette party for your favorite Taylor-loving pal, a slumber party or even just a cozy Sunday afternoon.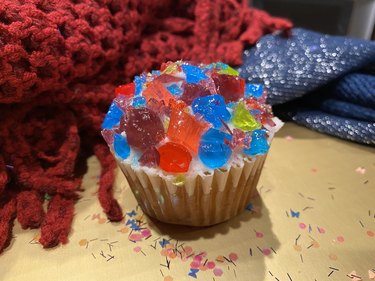 First up: one of the most fun cupcakes on our whole T-Swift baking docket. Our inspo was, unsurprisingly, the bedazzled vibes and colorful jewels that the title of this song and its lyrics allude to. To make our "Bejeweled" cupcake, we smashed up Jolly Ranchers in a bag (a blender or food processor might work here too but approach the hard candy carefully) and stuck them onto plain vanilla buttercream. Talk about shimmer!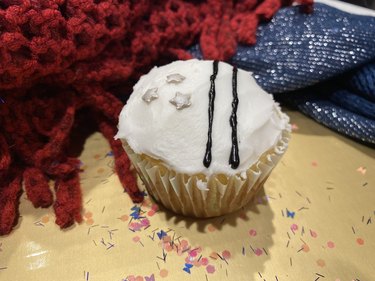 "Cardigan" stole hearts when it was released on Taylor's ‌Folklore‌ in 2020, and true Swifties know that an actual sweater based on the one in the "Cardigan" music video was temporarily available for purchase. We wanted to subtly nod to the design of this sweater by including two simple black stripes and three silver stars.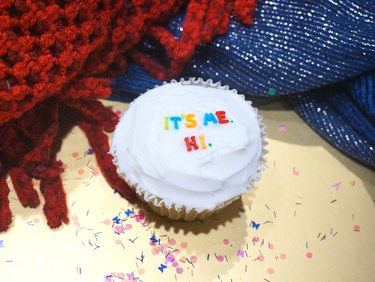 If you haven't heard "Anti-Hero" on the radio or on socials at least 15 times a day as of late, you just haven't been paying attention. I've had it stuck in my head nearly nonstop since the release of ‌Midnights‌—luckily, it's one of those songs that somehow doesn't get old. The catchy chorus, which kicks off with, ‌"‌It's me, hi, I'm the problem, it's me" served as our inspo for this cupcake. We managed to track down a tub of tiny edible alphabet letters during our journey to Michaels, which seamlessly fit into the aesthetic.
4. "Wildest Dreams (Taylor's version)" cupcakes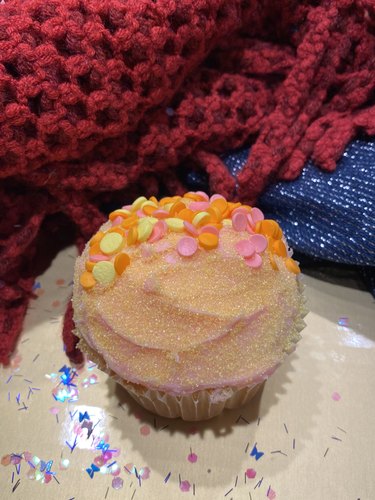 "Say you'll remember me standing in a nice dress staring at the sunset." It was this line from "Wildest Dreams" that stood out as we brainstormed decor ideas, hence the sunset-inspired colors we incorporated throughout. Yellowish-orange shimmer added a dash of magic in homage to the "dreamy" element of the song.
5. "All Too Well" (10-minute version) cupcakes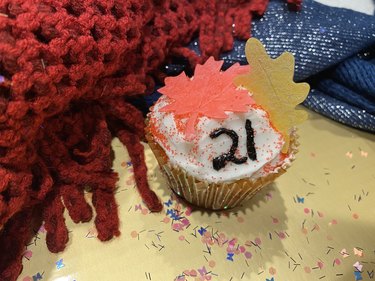 I'm happily married, but scream-singing to "All Too Well" immediately makes me feel like I'm reprocessing my ill-fated high school and early college relationship. My husband simply leaves the room when I turn on the song in an attempt to avoid falling accidental victim to my dramatic hand motions and flailing interpretive dance moves. Taylor's 10-minute version of the song has given Swifties even more wonderfully cathartic lyrics to embrace—including "It's supposed to be fun turning 21," which inspired the numbers on our cupcake.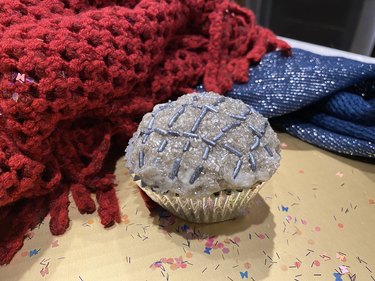 We'll admit it: The "Mirrorball" cupcake was not our magnum opus, but we managed to shake it off and do a bit of damage control with additional layers of frosting and the inclusion of a silver sprinkle design meant to resemble—you guessed it—a mirrorball. We can report that while it wasn't our neatest cupcake of the bunch, its abundance of frosting made it completely delicious.
7. "Snow on the Beach" cupcakes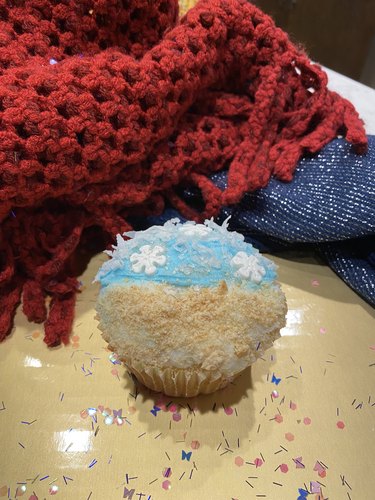 Oh, was this one fun. "Snow on the Beach," which Taylor Swift recorded alongside Lana Del Ray, offers a vivid image that simply begged to be represented in cupcake form. We used food coloring to create sky-blue frosting and created sand with crushed graham cracker crumbs. For the "snow on the beach," coconut flakes and mini candy snowflakes from a holiday-cookie-decorating set did the trick.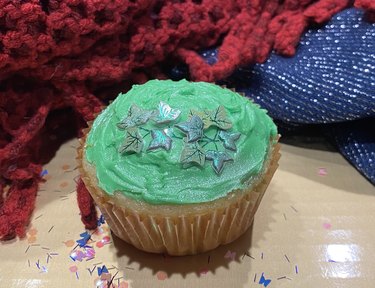 Let's forget the fact that "Ivy" (a favorite from ‌Evermore‌) is about infidelity and focus on how simple and adorable this cupcake turned out. Green food coloring gave us the perfect vibrant hue, while a tiny strand of ivy from the scrapbooking and sticker section of Michaels made for one of the very few nonedible elements of our cupcakes. If you prefer not to have any paper or plastic elements on your T-Swift baked goods, consider using a leaf stencil with dark green sprinkles or edible glitter.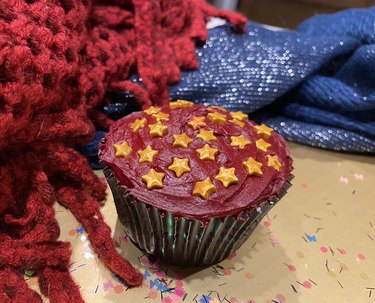 We think "Maroon" is an underrated track from ‌Midnights‌ with tons of visual inspo to draw from—so for this project, we focused on the line, "Looked up at the sky and it was maroon." Red velvet cupcakes are a perfect fit here along with maroon frosting made from lots and lots of red food coloring and a white buttercream base. A pocketful of edible gold stars rounded out the image of a deep maroon sky.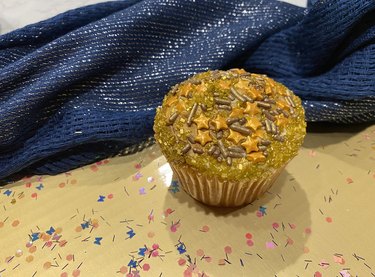 Our motto for the "Gold Rush" cupcake was "just make it look like the color gold threw up onto some frosting." We think we stuck to the motto pretty well. Edible gold glitter, gold sprinkles and even a gold food coloring spray made the whole kitchen (and our hands for a solid 24 hours post baking) shimmer with pop star vibes.
11. "Lover/New Year's Day" cupcakes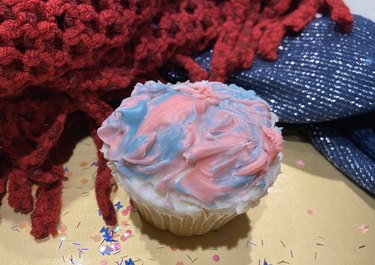 Initially, we'd planned to make a cupcake honoring "New Year's Day" from ‌Reputation‌, a song that ranks in my top 10 T-Swift tunes. The idea was to drip pastel candy mix atop plain white buttercream to create the image of candle wax melted on the floor after a New Year's party, which loyal Swifties will recognize as a line from the song. Once we finished, though, we realized that we'd unintentionally created a swirled candy wax color scheme that looked nearly identical to the cover of ‌Lover‌. We scratched the idea of adding edible confetti to round out the "New Year's Day" theme and called it a combo!
12. "Champagne Problems" cupcakes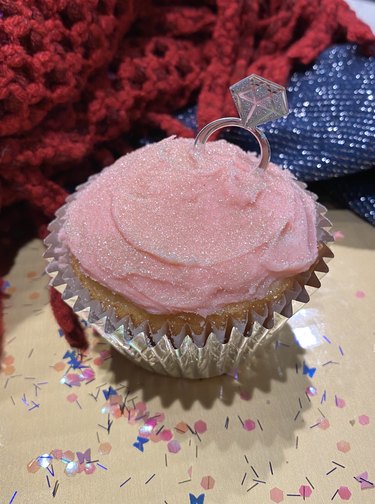 Tay's song "Champagne Problems" tells the story of an ill-fated marriage proposal, hence our inclusion of an engagement ring (another rare nonedible element—we could only find paper rings, which is fitting if you're familiar with another of Taylor's catchy love tunes, "Paper Rings"). We recommend opting for a light champagne flavor if you're making these cupcakes yourself—but maybe tell people they're actually inspired by "Love Story" (‌Fearless‌ deserves a little love too!) if you're bringing them to a bachelorette bash.
13. "Lavender Haze" cupcakes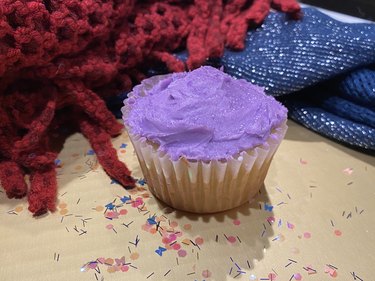 We'll end with another gem from ‌Midnights—‌"Lavender Haze," a term Taylor says she first heard on an episode of ‌Mad Men‌. It refers to the feeling of being happily stuck in an overwhelming "love glow" or honeymoon period, when nothing else seems to matter but the person you're falling for. We mixed up purple food coloring to create a lovely lavender frosting and topped it off with edible shimmer dust. Even if you're not in love with a human being, you've surely felt that "lavender haze" while gazing at a particularly delicious-looking baked good.
By the time we'd rounded out all 13 Swiftie-inspired cupcakes, we'd kitchen karaoked our way through Taylor's entire discography and covered our bodies in food colors of various tinges, seemingly permanent glitter (seriously, there's still glitter mysteriously falling from our hair several showers after this baking venture), melted candy wax, frosting and rogue cupcake batter.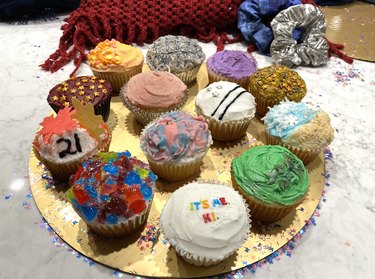 Whether you're planning a shindig with a Taylor Swift theme, hoping to build upon your DIY cupcake-decorating skills or even just creating a sweet surprise for the biggest Taylor Swift fan in your life, we hope you feel "Enchanted" after reading about our sugary journey.
When inspiration strikes, put on your red lipstick, grab a Polaroid camera to snap a few pics of your progress and start baking. If you make a mistake in the kitchen (and we made plenty during our adventure), you can always "Begin Again (Taylor's Version)."