It's not easy to choose a wedding theme that fits your personality. But if your hair falls in waves, you have more rustic accents in your home than any other material and you feel as if your soul sings whenever you run through wildflowers, then you are 100 percent destined for a bohemian wedding. From verdant wreaths and feather garlands, floral centerpieces and — of course — wood details, a boho bride outfits her big day with natural elegance. These DIYs will help you create the low-key wedding of your dreams.
Silk Floral Monograms on the Front Doors
Your event space will be the main way to give out the boho vibes. So why not start by greeting your guests with floral monograms featuring the words "Mr." and "Mrs.?". It's an oh-so-subtle, but beautiful way to welcome guests to your special day.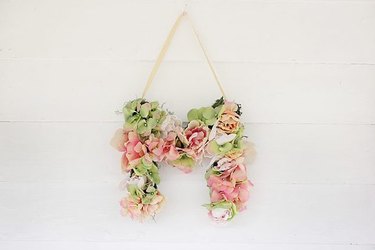 Olive Wreaths for VIPs
If you'd rather steer away from a floral overload, or you just want to add a few pops of greenery around your space, try hanging olive wreaths to designate certain important people. For example, place wreaths on the chairs of your wedding party to give them the VIP treatment.
Glitter Feather Garlands for Every Table
No space is boho-friendly without a few feathers, right? Right. So make this golden DIY feather garland and string it around the edge of each table for an emboldened approach to the must-have.
Table Numbers Inscribed on Smooth Wood
While this burned wood sign would look great in a new house built for two, it also would make for great table numbers. With all-white tables and chairs, the tree slices make for the perfectly imperfect rustic element.
Gold-Handled Flatware for the Feast
Next, it's time to deck out all of the table tops, starting, of course, with DIY gold flatware. The bright detail adds a glam element to your boho palette while still feeling subtle. The utensils also look great when paired with ...
Fresh Floral Napkin Rings on Every Plate
...these fairytale-like napkin rings! Just don't be surprised if a few mysteriously go missing after the party has died down.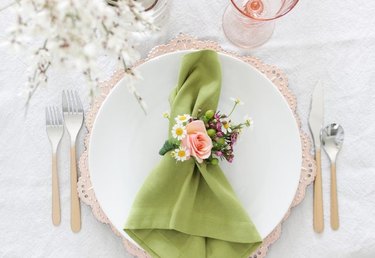 Floating Candle Centerpieces to Top off Every Table
Finally, it's time to set the mood and decorate the middle of those tabletops with eye-catching pieces that tie the whole look together. These candle centerpiece ideas will do the trick!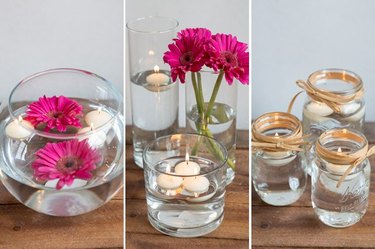 Pine Cone Jars at the Gift Table
Bleach a few pine cones and collect them in glass jars to continue your theme to the gift table. It's a free-spirited look that still comes with a fun dose of drama.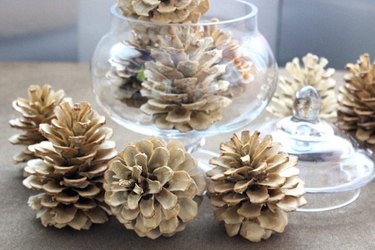 Wood-Wicked Candles by the Guestbook
Everyone loves to bestow their well-wishes and words of wisdom to the couple of the moment, and these wood-wicked candles can accompany the heartwarming guestbook as its pages are filled.
A Watercolor Cake for the Main Event
Now the real centerpiece: your gorgeous wedding cake! Rather than go all white-frosting-and-frills, use watercolors to paint your cake. It not only makes your memorable pastry feel very one-of-a-kind, it also adds a talking piece to an already gab-worthy event.
A Floral Crown Fit for the Dance Floor
There's a reason why you've seen the floral crown pop up everywhere lately: it's a gorgeous excuse for some added effect. Though the bohemian bride is subdued in the makeup and hairstyle departments, she's bold when it comes to the beautiful floral crown. Wear one as you take over the dance floor.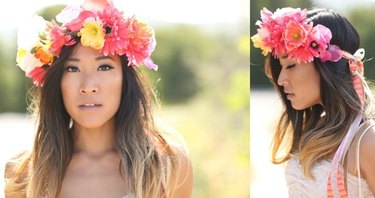 Scented Soap Bars for Thank You Gifts
A lot of work goes into your big day, but so does a lot of love. Which is why it's important to thank your guests for making the event everything you hoped for with a little homemade goodness via these DIY scented wax bars.
A Burlap Banner for the Perfect Exit
This DIY burlap banner says it all: string this up on the car that you and your new spouse will leave in, and you can bid farewell to your perfect boho wedding celebration in style.