For most of the year, Mexican American makeup artist Judith Batista does face painting at kids' parties throughout the Los Angeles area—using her makeup brushes to create everything from dynamic full-face depictions of Sonic the Hedgehog to graceful butterflies whose wings create a mask.
But when fall comes around, Kahlovera—as she is known professionally—delves into her true passion: creating stunning Día de los Muertos sugar skull face makeup and body art. Hundreds of clients book her weeks in advance for private sessions in her studio, or wait in huge lines at festivities held for the Day of the Dead, the Mexican holiday in which families honor dead loved ones with flower-framed shrines and altars, or ‌ofrendas‌, as well as sugar skulls, marigolds and graveyard visits featuring special food, music and candlelight.
Judith's work has been featured in photo shoots, music videos and even Mexican tequila ad campaigns—and it's no wonder: She's a second-generation painter (thanks, Mom!) who creates unforgettable looks with skill and soul. First comes the skull makeup base (which can be as simple as white makeup or include teeth and bones). Then come the amazing add-ons: bold flowers and plants like marigolds, calla lilies and cacti; animals such as hummingbirds in flight; colorful swirls and flourishes; and sometimes even glued-on crystals and jewelry to accentuate eyes and cheekbones. The effect is gorgeous and, well, otherworldly.
But Judith's magic doesn't end there: For Day of the Dead newbies, Judith also drops serious knowledge about the ancient holiday's joyous, life-affirming message, at a time when the holiday has entered pop culture (thanks largely to the blockbuster Disney animated movie ‌Coco)‌ and is on everything from mugs to T-shirts‌.‌ She often bonds with clients.
"When clients are in my chair, they get a little history of where Día de los Muertos came from and why it matters," Judith says. "Even if they sit in my chair just wanting to look glamorous, they end up speaking about someone special they lost."
We spoke to Judith about her art, inspiration and the healing powers of Day of the Dead.
How did you get your start in face painting?
‌JUDITH:‌ A high school teacher who knew I could draw asked me to face-paint kids at a community center. I'd never done it before, but she convinced me it was easy. It wasn't! The kids were like moving targets. But I loved it, and I later worked as an art instructor for the school system's after-school program. I started my face-painting business after that.
Where do you get your inspiration?
‌JUDITH:‌ I'm inspired a lot by the face-painting artists I work with. We all push each other to be better. And I'm inspired by my community: Street art of L.A., and Mexican folklore, traditional costumes and art. But my main inspiration is my mom. She was an artist and always encouraged me to create—we'd go to the fabric and bead supply stores, and I could pick out anything I wanted, then she'd show me how to put things together. One of my favorite childhood memories is waking up to the smell of oil paint and finding her working on a painting in the next room. The way she combined colors, the way she painted flowers—that's all made its way into my work somehow.
What's it like, working face to face with someone in your chair, sometimes for hours?
‌JUDITH:‌ It's very intimate. I was at Disney Animation Studios, doing sugar skull makeup on staff, and a woman I was working on asked me to paint mangos and bamboo on her. At first, I was taken aback and thought, "What's that got to do with Day of the Dead?" Then she told me how in her Filipino culture, elders like to tell kids scary folk tales, and how her late grandfather used to tell them to her. Mangos and bamboo reminded her of him, and she wanted to honor him. She totally understood the meaning of the holiday. It showed me that the Day of the Dead is really made for all humans. Everyone needs it.
What else do you want people to know about Day of the Dead?
‌JUDITH:‌ That it's not Mexican Halloween. It's not scary. It's a 3,000-year-old tradition that started with the Aztecs and converged with Catholicism. It's a time to reflect and indulge in the memory of your loved one. When I lost my mom to a terrible illness in 2017, I felt as if everyone around me moved on after a while and I didn't. I learned to suppress my desire to talk about it constantly so I could get on with life. With Day of the Dead, I can let all that out. My cousins and I go to her grave, sing her favorite songs and eat the snack she used to make us kids—torta with frijoles, with Spam and queso fresco—and celebrate her existence.
How can someone who is new to the holiday celebrate it? What are some dos and don'ts?
‌JUDITH:‌ Don't make it gore. Don't wear Day of the Dead makeup and costumes on Halloween. Although, to be honest, I've kinda always wanted to dress up as a nun for Halloween and I'm sure that would offend some people! If you're going to buy a sugar skull or other Day of the Dead decor, don't get it at the dollar store; spend a little more and support a Mexican artisan. But the main thing is to find your own way to honor your loved ones who passed away. An example is setting up an altar, or ofrenda, to honor a loved one. Although there are some traditional things that are usually included—such as marigolds, candles (to help ancestors find their way back to you) and pan de ‌muerto‌ (which nourishes them)—you can simply include things that remind you of them: a tie, glasses, a bottle of cologne. Your altar may not look like my altar. Be true to the person, your culture and yourself, and you're already doing it right.
Some fascinating facts about Día de los Muertos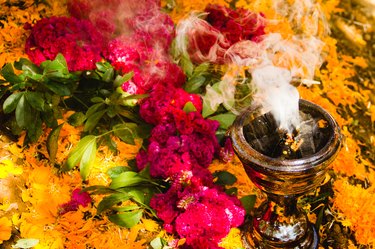 •‌The roots of Día de los Muertos‌ go back to indigenous pre-Hispanic traditions, in which death was viewed as a next phase of life, and mourning was deemed disrespectful. Loved ones' temporary return to the land of the living from the underworld of Mictlan was celebrated with monthlong ceremonies and feasts.
•‌Ancient celebrations‌ took place in August but were blended with Catholic All Saints Day/All Souls Day holidays in November after the Spanish colonized Mexico.
•‌La Catrina‌, the female skeletal figure in a fancy dress associated with the holiday, and usually paired with a male counterpart, originated as a famous drawing mocking upper-class Mexican women who emulated European culture. Eventually, La Catrina began to be associated with the pre-Hispanic goddess of the underworld, Mictlantecutli.
•‌Prehispanic altars‌, or ofrendas, honoring the dead included real skulls. They were replaced with brightly painted sugar skulls after the Spanish arrived.
•‌Sugar skull makeup‌ was popularized sometime after La Catrina was introduced. The makeup is meant to honor a dead loved one.
•‌In 2008, UNESCO‌ ‌inscribed Día de los Muertos‌ on its List of Intangible Cultural Heritage of Humanities.