The Boy Who Lived was born on July 31, 1980, but the world became obsessed with all things Harry Potter in the late '90s. Decades later, faithful fans still celebrate Harry's birthday every year and use their favorite franchise as a party theme year-round. Sending out invitations is the easy part. It doesn't take long to become overwhelmed once you get into the planning process. Harry Potter party ideas are everywhere, so where's a muggle to start?
Get inspired with these 10 magical ideas that are so delightful that even Aunt Petunia would approve of them. OK, maybe not Aunt Petunia, but you get the idea!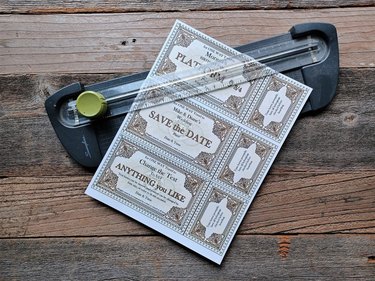 1. Create Party Zones With House Themes
Any true Harry Potter fan has strong opinions about Hogwarts houses and knows how distinct Gryffindor is from Hufflepuff, Ravenclaw or, gasp, Slytherin. Break the party area into four zones and decorate each one with its house in mind. For example, make the kitchen the Hufflepuff house. Decorate food tables with yellow and black and hang printed pictures of notable Hufflepuffs on the walls, including Cedric Diggory and Newt Scamander.
Hogwarts house banners: $23.99 at Amazon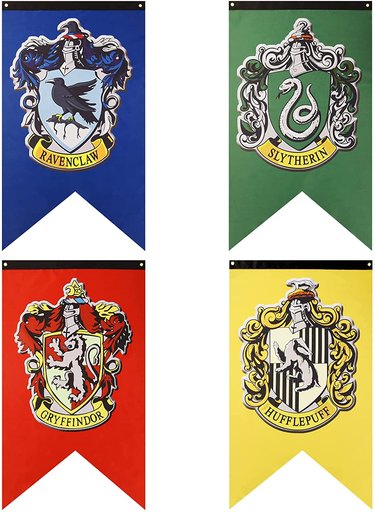 2. Organize a DIY Wand Station
It doesn't matter whether the party guests are 10 or 50; everyone who willingly shows up at a Harry Potter party wants to have their own magic wand. A pretzel stick simply won't cut it. Sadly, there's no recreating Ollivander's dusty, towering shelves crammed with wand boxes in your living room … but your guests can get a little bit of the Ollivander experience by creating their own wands at the start of the party. Load up a table with plain wands and craft supplies to decorate them, including acrylic paints (which dry quickly) and things that don't need any drying time, like markers, washi tape and leather cords in different colors.
Paintable wands: $11.00 for 10 at Etsy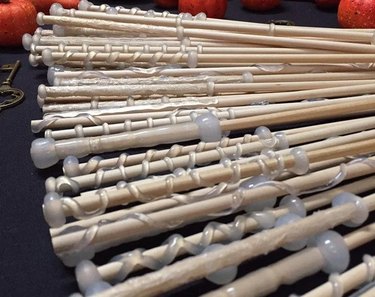 3. Decorate With Flying Hogwarts Letters
Considering how much dangerous stuff was constantly happening there, it's kind of funny how many of us dreamed about receiving a Hogwarts acceptance letter.
Alas, we never did. We can hang Hogwarts letters as party decorations, though. Make them into a banner to hang from mantels and doorways or create multiple strings of letters and hang them overhead in the party's entryway to mimic the flurry of letters that overwhelmed the Dursley house.
Hogwarts letters: $20.29 for 15 at Etsy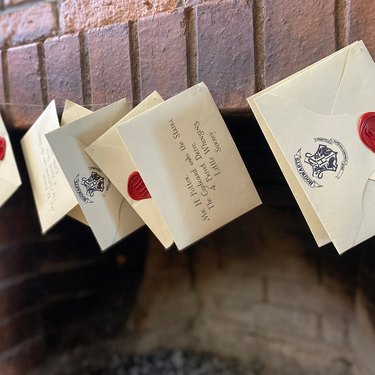 4. Create Ambiance With Floating Candles
There's no more magical place in Hogwarts than the Great Hall when it's decked out for an event. You might not be able to bewitch your living room's ceiling to cover it in starlight, but you can capture some of the Great Hall's magic by suspending candles just above eye level throughout the party space. Get the look by hanging flickering, flameless candles from the ceiling with strands of fishing wire.
Flameless taper candles: $14.99 for 12 at Amazon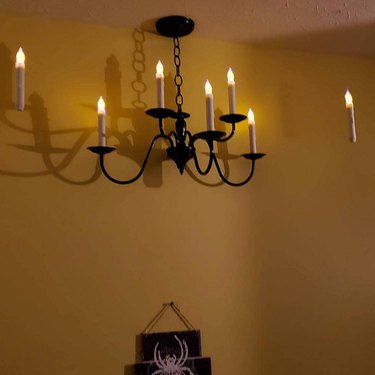 5. Organize a Butterbeer Taste Test
After 25 years of Harry Potter, fans have had plenty of time to create and tweak their own butterbeer recipes. Instead of simply serving tankards of the stuff, let your party guests do a little judging. Make a few slightly different varieties and serve butterbeer "flights" with small servings of each batch. For example, make a hot version, a basic cold recipe and another cold version that's spiced with ginger and cayenne. Or, for an adults-only party, spike batches of butterbeer with different kinds of liquor, like vanilla vodka and bourbon. Let party guests vote on their favorite butterbeer.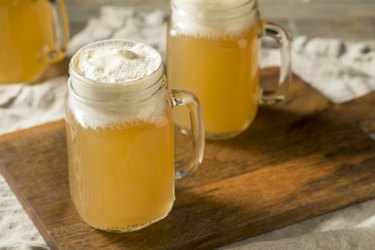 6. Play With TikTok Memes
If the guests at your Harry Potter party are teens or young adults, they're probably going to be on TikTok at some point during the event. You might as well capitalize on that by setting up a dedicated party area where kids can film their own versions of popular TikToks related to Harry Potter. Provide a bunch of basic Harry Potter photo booth props and accessories, like fake glasses and scarves, that they might need for their videos.
Printable Harry Potter props: $5.34 at Etsy
7. Spotlight Less Famous Characters' Fave Foods
Hagrid's "HAPPEE BIRTHDAE HARRY" cake, sorting hat cupcakes, and Ferrero Rocher golden snitches are classic fare at Harry Potter birthday parties, and franchise fans will always be happy to see them.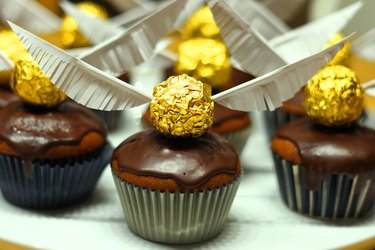 But don't stop there – create an expansive dessert buffet that highlights some lesser characters. For example, put out a bowl of candied pineapple as a nod to Professor Slughorn's penchant for crystallized pineapple.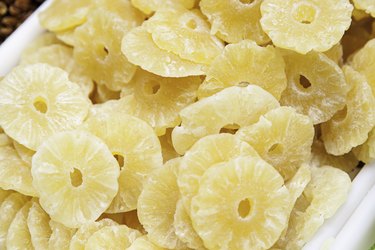 You can also layer jam and frosting between slices of pound cake to make a dessert version of tea sandwiches, a la something you might find on Dolores Umbridge's desk (shudder). Fill bowls with different chocolates and label them with something like "Lupin's Dementor Cure."
Printable food labels: $4.50 at Etsy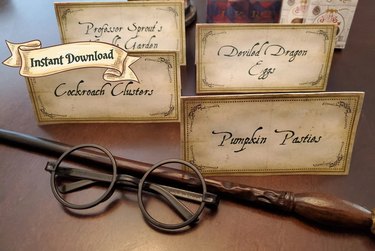 8. Pay Tribute to Newer Franchise Additions
The Harry Potter universe has grown beyond Harry, Hermione and Ron's adventures. You might want to acknowledge some of the newer additions to the franchise at your party, such as serving Harry Potter party food that's inspired by the menu at the Leaky Cauldron restaurant in Orlando's Wizarding World of Harry Potter park. Or, pay tribute to the "Fantastic Beasts" series with a party game inspired by adorable nifflers. Hide shiny fake coins throughout the party area. The guest who finds the most coins wins a small prize, like a set of stickers.
Fantastic Beast stickers: $9.99 for 50 at Amazon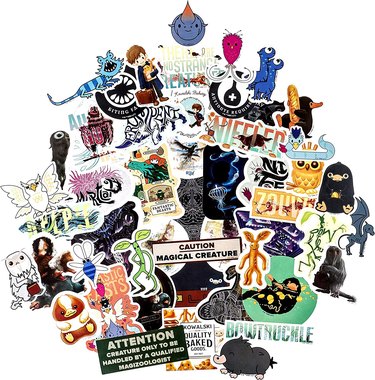 Harry Potter fans all want to go to Hogwarts, so why not hold a mini class as a party activity? For a little kid's party, hold a potions class using vials and jars of brightly colored juices. Have little wizards carefully measure and mix their "potions" and then drink their results. A herbology class will also be a hit with guests of all ages. Provide pots, soil and a bunch of seedlings in plastic containers from the nursery. Whenever someone pulls a plant out of a plastic container to plant it, play the sound of a screaming baby mandrake. Guests can mix and match their plants, label them and take them home after the party as favors.
Harry Potter plant signs: $4.99 at Etsy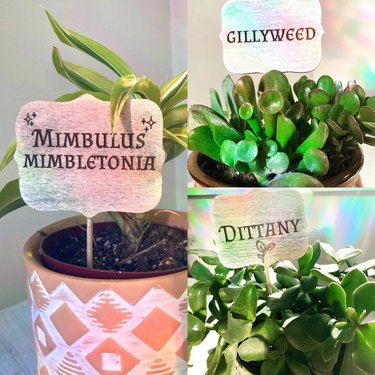 10. Send Guests Home With Treats
Instead of sending everyone home with a bagged party favor, let them have one last Harry Potter experience on their way out the door: shopping at Honeydukes. Make your own chocolate frogs in a few different varieties (milk chocolate, dark chocolate with peppermint, etc.), buy some Bertie Botts Every Flavor beans and make batches of homemade cockroach clusters with chocolate, nuts and dried fruit. Set up a miniature candy store with a Honeydukes sign near the party exit with a sign instructing every witch and wizard to choose some on their way out.
Bertie Botts Every Flavor Beans: $11.50 for 6 at Amazon