Lights, camera, action! We've got a great backyard movie night idea up our sleeves, and we've saved the best seats in the house for you. If you're feeling like it's a drive-in movie kind of night but you don't have one nearby, we can help you create such a fun backyard drive-in movie experience that you will never want to drive out. Complete with comfy car seating, ambient lighting and a delicious concession stand, get ready for a treat because your weekend movie night will never be the same again. So, grab some popcorn and a few Whoppers because shhhh, the show is about to begin.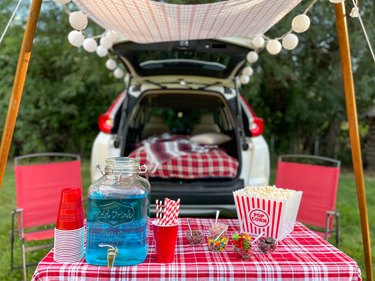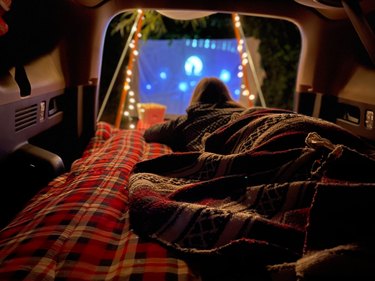 Things You'll Need
Air mattress

Blankets and pillows

Oilcloth, vinyl tablecloth or tarp

2 suction cup hooks

Tape measure

Scissors


Grommets, setter and anvil


Hammer

2 wooden poles

2 screws

Drill


Guy rope

Metal stake


String lights

Popcorn, candy and soda

White sheet

Clothespins

Portable projector
1. First things first: make a comfort zone
Move over recliner movie theater seats—the humble air mattress has moved to town. Create a comfy outdoor movie night nest in the back of your car with an inflatable air mattress, some soft blankets and loads of fluffy pillows.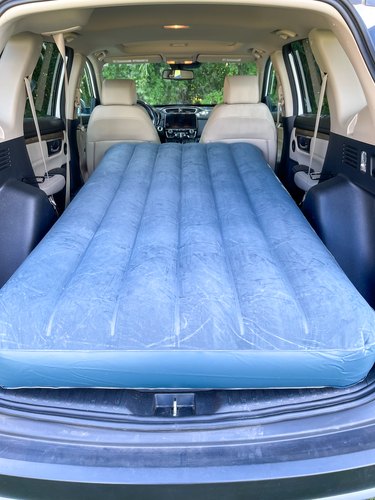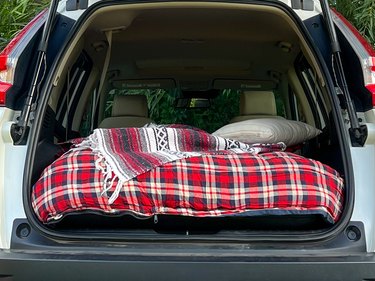 2. Turn a small space into an outdoor movie party place using an awning. (Yes, we did say awning.)
An awning will not only define your space, bring some color into your backyard movie theater and create that drive-in movie ambiance but it'll give you a little protection from unexpected rain sprinkles during the show. You can use a vinyl tablecloth, some fun oilcloth (buy this by the yard at most fabric stores; it comes in loads of fun colors that'll go with most any color scheme) or a waterproof tarp.
To get started, open the trunk or hatchback on your car, attach two suction cup hooks to each side and measure between the hooks to determine the width of your oilcloth and the grommet placement on each corner of the oilcloth.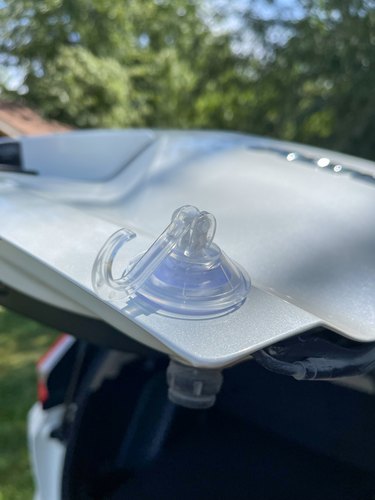 After you've cut the oilcloth to the correct size to fit your space, find a solid surface and grab a hammer, four grommets, a setter and an anvil (this usually comes with the grommet kit) to reinforce the corner holes in the oilcloth.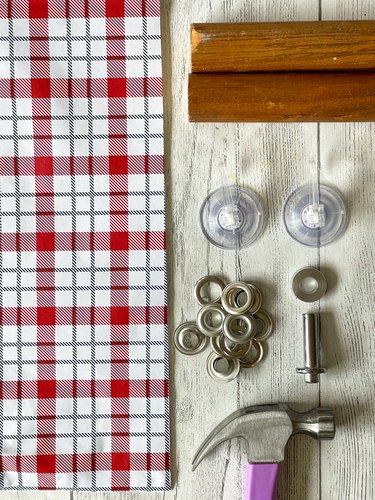 Use the barrel of the grommet to mark a hole 1 1/2 inches in on each corner of the oilcloth and cut out the hole you marked. If you're lucky, the barrel will be sharp enough that when you apply pressure and twist at the same time, it will create the perfect hole for you.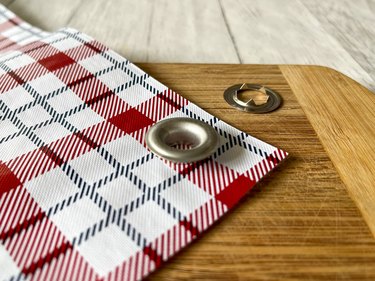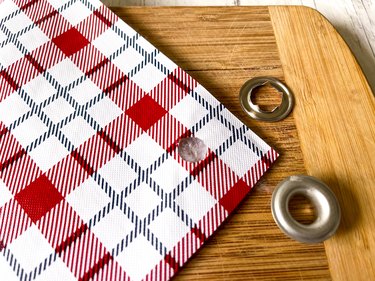 Next, place the anvil on a solid surface and position the barrel of the grommet on top of the anvil with the small part of the barrel facing up.
Insert the small part of the barrel through the hole you created in the oilcloth. Place the washer over the barrel with the teeth facing down.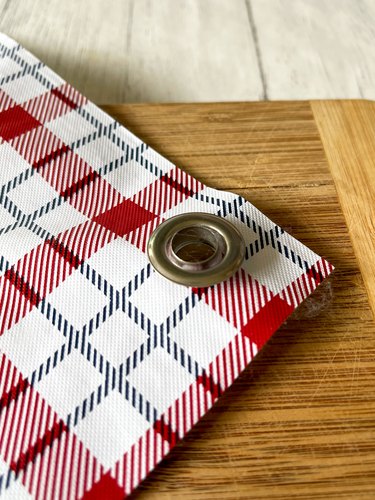 Position the setter into the barrel and hammer the setter forcefully to bend the barrel over the washer to hold the grommet in place. Repeat this process on all four corners of the oilcloth.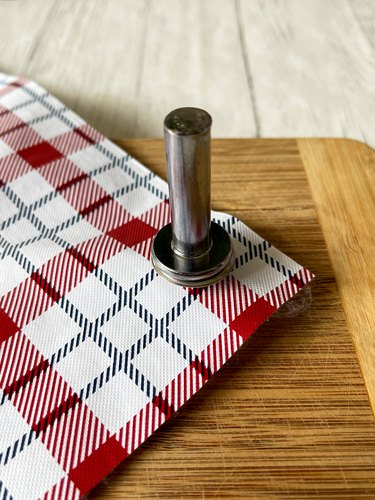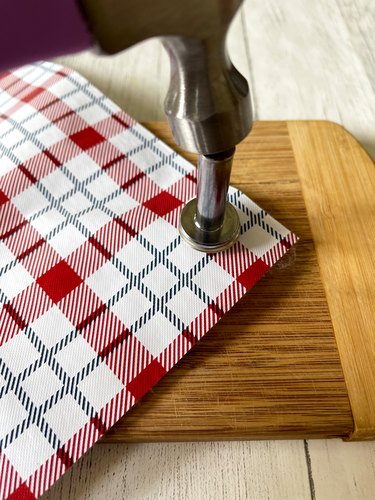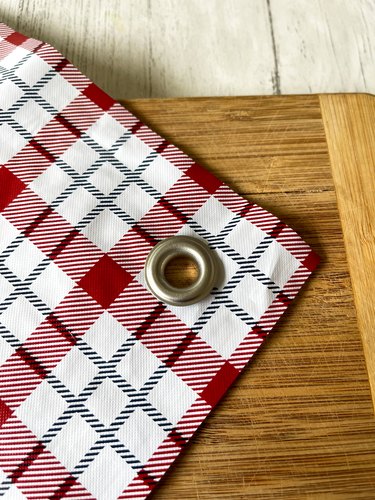 Now that your awning is ready, you'll need to get two wooden posts ready. We used two wooden dowel curtain/closet rods that can be purchased at most hardware stores. Use a drill to put a screw into one end of each wooden post and sharpen the other ends.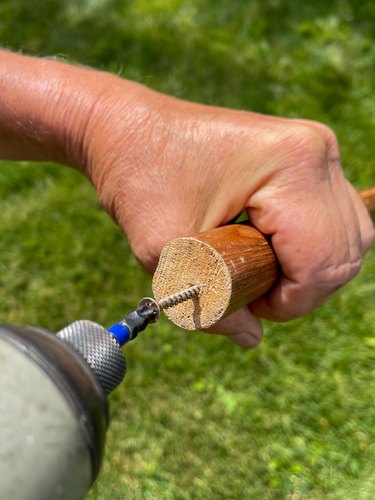 To attach the awning to your car trunk, place the grommets over the two suction cup hooks you placed on your car trunk.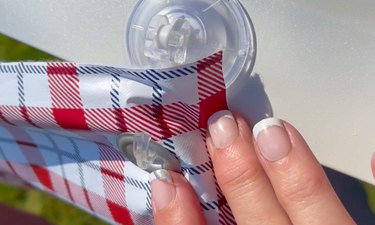 Push the sharp ends of the wooden posts into the ground at an angle.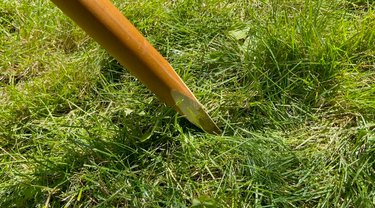 Place the two opposite grommets onto the screws in the end of the wooden poles.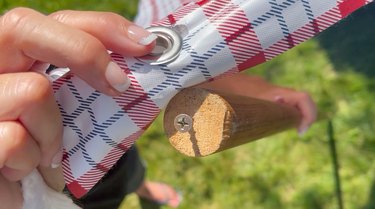 Hook one end of the guy rope onto the screw and pull the guy rope down at an angle to hold the wooden posts in place.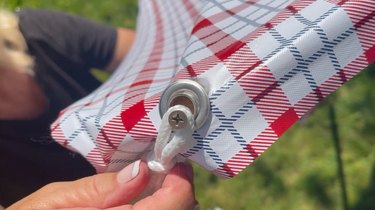 Secure the bottom of the guy rope in the ground with a metal stake.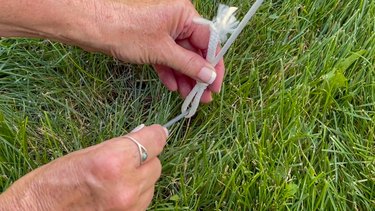 A fun way to bring a bit of cinema magic to your movie night party is by adding some outdoor lighting around the awning to illuminate your outdoor movie theater (and help you see the concession stand treats, of course!).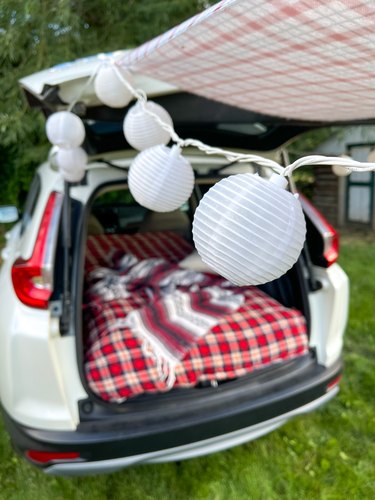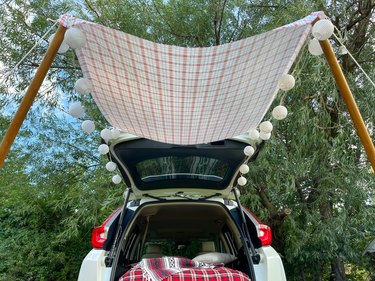 4. Set up a concession stand
Seriously, your outdoor movie theater wouldn't be complete without some delicious movie night snacks and refreshing drinks. Create a DIY family movie night popcorn bar for your hungry moviegoers. It's the perfect sweet and salty treat, and it's super quick and easy to set up. Simply pop a big batch of popcorn and set up a few bowls of your favorite confections and let the popcorn topping begin.
But there's no need to stop there. If you happen to have a fire pit in your backyard, you could even set up a s'mores station with everything you need to create the tastiest s'mores or a hot dog roasting depot full of toppings and condiments to design the most delicious dog of the night.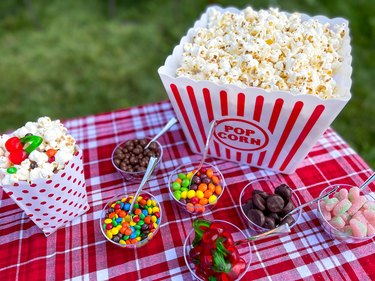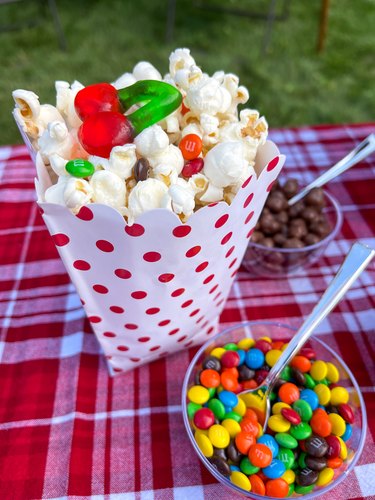 For a delightful cold drink, concoct some "cinema soda" with your favorite fruity drink and something fizzy. Pour it into a large drink dispenser with plenty of ice cubes and for added entertainment, serve the soda in some colorful cups with flashy straws.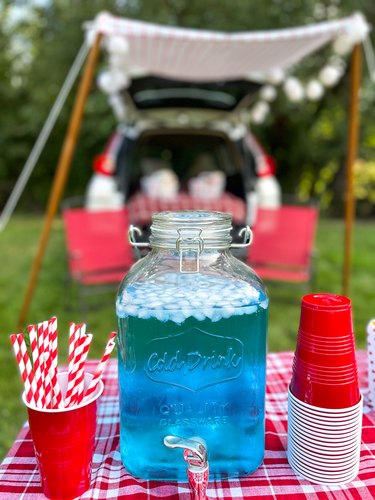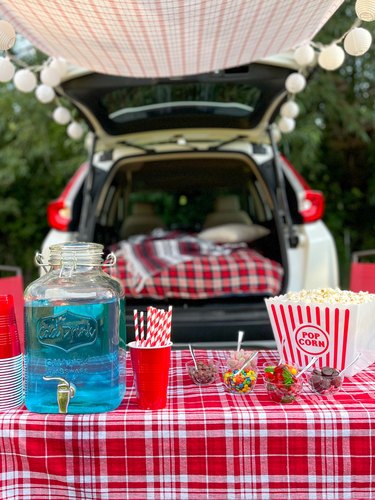 Tip
To help keep the delicious treats organized and to hopefully reduce spillage, head over to your local dollar store or thrift store to find a few sectional baskets with handles. They are perfect for transporting all the concession stand goodies back to the car. If you're really lucky while shopping, you might even find a few movie party favors, like these popcorn tub glasses.
While you're at the store, grab a few small flashlights so your moviegoers can find their way to the restroom or back over to the concession stand for seconds on snacks during the show.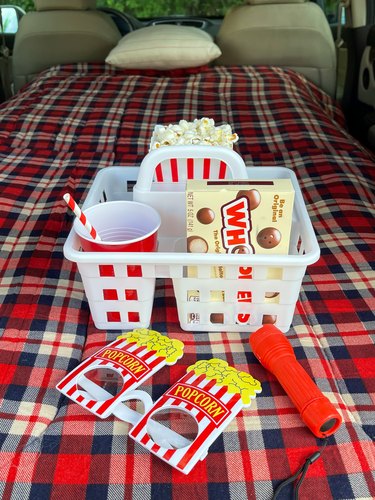 For added seating at your drive-in backyard movie theater, add a few chairs and a small folding table.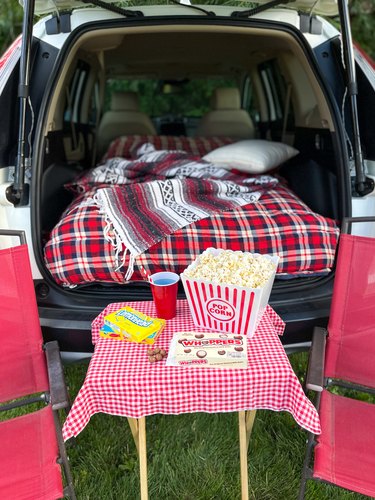 5. Go big (screen) or go home
Now that you have the comfy seating and concession stand set up, it's time to get the big screen and the projector set up. The simplest and most affordable movie screen is a white flat sheet hung up in the trees using clothespins. You can also use your garage or a blank wall outside if they're easy enough to project a movie on. If you'd like to get more elaborate, check out our tutorial on how to make a backyard movie screen.
To project your movie onto the big screen, you can use any projector that you'd use in your inside home theater to project large images onto a projector screen. Projectors range in price from $50 all the way up to thousands of dollars. You might want to do a bit of research to find the projector that is right for you. Most projectors with the right connecting cables will hook up to a computer for movie streaming or even a DVD player or VCR so you can play all those old family favorites.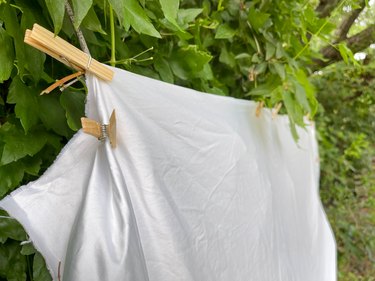 Tip
Keep in mind that most movie projectors are not made to be outdoor projectors, so arranging your outdoor space to include some sort of protection for your projector is crucial. Even if you just place it under the awning or under your concession stand table, this will allow for enough temporary protection if it starts to rain during your backyard movie night.
Once your projector is set up, sit back, relax and get ready for showtime!