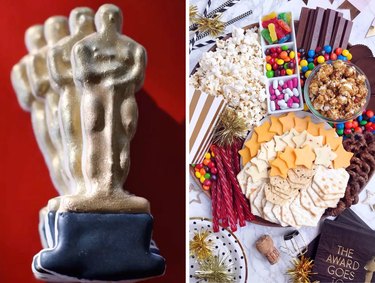 Very few of us will actually become bona fide Hollywood stars—but that doesn't mean we can't enjoy a dose of star treatment, especially when the Oscars roll around! Tinseltown's biggest night is the perfect opportunity to gather with fellow pop culture and performing-arts-obsessed pals, enjoy snacks with a touch of glitz and glamour, snap photos on the (homemade!) red carpet and embrace healthy competition with star-studded touches.
With a bit of planning, you can bring the pomp and circumstance of Oscars night to your living room—and we've gathered Oscars viewing party inspiration from across social media to get you started. Choose your favorite bedazzled look, finalize the guest list and get ready for an Academy Awards-inspired event you'll never forget.
1. Roll out the red carpet (or tablecloth!)
Borrow a red rug or tablecloth to set the scene and then let your guests strut their stuff on the "red carpet" pre-Oscars. For inspo, check out this TikTok from @itsnikeyhere, who created a DIY red carpet with nothing more than a table covering and a few paper stars. Of course, the paparazzi (aka you holding an iPhone) can't be avoided, so build your own photo booth and snap shots of friends as they step inside. One of our favorite touches? Homemade props featuring celeb faces to pose with!
2. Think gold, drink gold
Gold is at the heart of Oscar night decor—and tasty beverages are at the heart of so many fun get-togethers! Combine both with a golden mocktail recipe like this one, the Golden Blitz, from @drinkingsocial on TikTok. The drink combines ice, pineapple juice, lemon juice, orange juice and a healthy dash of edible gold glitter to create a shimmery sip fit for the stars. Of course, you can always add alcohol to the eye-catching drink mixture if mocktails aren't your thing!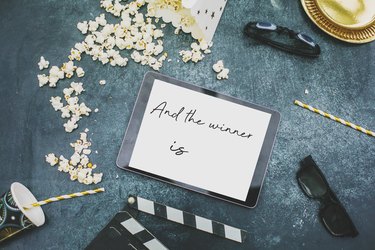 Embrace your competitive side during the show by bringing out Oscars-themed games. SincerelyAugustCo on Etsy carries myriad Oscars-themed games, like Oscars trivia, classic Oscars bingo, themed crosswords and word searches. There's even a game called Emoji Pictionary that asks players to decode the name of a nominated movie based solely on a series of emojis. Commercial breaks never felt so fun!
4. Design a movie theater charcuterie board
Snacks are an absolute must for your Academy Awards viewing party. Scratch that—snacks are an absolute must for any party, ‌period.‌ Give your watch party charcuterie board a movie spin by taking a cue from @domestikateblog on Instagram. Her snack board is filled with typical movie theater snacks, like popcorn and candy, along with "star-studded" cheese and crackers. Take things to the next level by offering guests different popcorn seasonings to accompany their popcorn along with individual popcorn buckets or bags to fill with goodies.
The Oscar ballot is a time-honored tradition, and this downloadable version from jjohnsonPerspective on Etsy is especially fun because it can be personalized with your last name or the title of your event. See that extra blank space in the bottom-right corner? Use it (or the back of your paper) to add a few fun, silly extra categories like "Best Gown" or "Number of Times Actors Forgot to Thank Their Spouse..."
Ask guests to come dressed up as Oscar nominees or nominated movies like @gayvansdragrace did on TikTok. (Personally, we would love to see someone's take on dressing as ‌Triangle of Sadness‌.) Make it a competition by offering prizes to your guests when "their" movie wins an Oscar. For an extra dash of fun, ask guests to build their costumes from things they already have around the house—no extra purchases allowed!
7. Bake your own little gold men
No Oscar party is complete without an homage to the Oscar statue itself, and these creations from baker @mulberrytreats on Instagram are truly a prize. We love the addition of frosting and edible gold shimmer to capture that Hollywood dazzle. Use a trophy-shaped cookie cutter like this one from Top3DPrint on Etsy to get started with your own awardworthy bake. Before you dig in, take time to practice your Oscar acceptance speech in the mirror, cookie in hand. What?! It could happen!
8. Recreate epic Oscars swag bags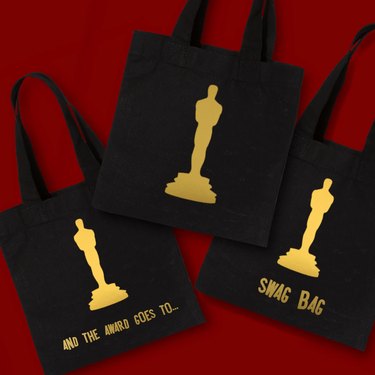 Send your viewing-party guests home with swag of their own in the form of handmade Oscars-themed tote bags from Etsy crafter SpotlightCardshop. What you fill your swag bags with is up to you, but foolproof options include boxed movie theater candy, bags of popcorn and maybe a few spa items to help guests relax after a longggg Academy Awards ceremony.
Feeling especially ambitious this awards-show season? Want to steal the show at your own party? Take a cue from TikToker @orlyshani and create a DIY copycat version of your favorite Oscars gown! Orly, who's all about DIY fashion, shows off the process for recreating Jennifer Lopez's iconic mirror gown using glued and sewn mirror patches on a plain black garment. A project like this will certainly require extra prep time, but can you imagine the payoff on Oscars night? Keep your phone nearby—Beverly Hills' top designers might be calling on your services after seeing this homemade number!
10. Throw a literal "Oscars" party
If you're looking for something a bit different, might we suggest drawing inspiration from @jennigayda on TikTok and throwing a literal "Oscars" party? This party featured pictures of Oscar Martinez from ‌The Office‌ along with Oscar Mayer hot dogs. You could take things one step further and ask guests to dress up as famous Oscars. Think: Oscar Wilde, Oscar the Grouch or even the gold Oscars statue itself. When the telecast wraps up, throw your own at-home version of the Vanity Fair after-party by pouring a few more beverages and finishing leftover snacks.
Whether you're celebrating in New York, the Midwest, across the globe or just down the road in West Hollywood, we hope these ideas help you mentally transport to the Dolby Theatre and bring a dash of golden Hollywood magic into your home on Oscars night.
The Oscar for "Best Director of an At-Home Viewing Party" goes to...you!