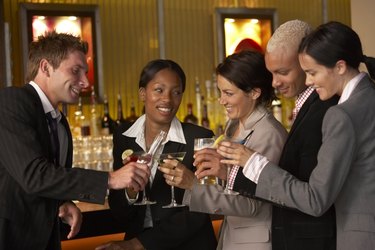 Technically speaking, a cocktail reception is any kind of party where cocktails are served to guests, while an hors d'oeuvre reception is a gathering at which hors d'oeuvres are offered, with a focus primarily on food. However, it's very common for hors d'oeuvres to be served at a cocktail party and vice versa. As a result, if you're throwing either type of reception, you may want to provide both food and drink to meet the expectations of your guests.
Cocktail Reception 101
At the very least, a cocktail party serves cocktails to guests. Usually, cocktail receptions occur before or after dinner, and a large meal is not served. Cocktails include an alcoholic ingredient combined with another liquid, like liqueur, juice or soda. However, a cocktail party might also offer beer, wine or other libations to its guests. Cocktail parties also commonly offer hors d'oeuvres for guests to snack on as they toast and talk.
Hors D'oeuvre Reception 101
If you enjoy snacking on many different types of foods, an hors d'oeuvre reception will definitely satiate your appetite. Hors d'oeuvres are usually served buffet-style or passed on trays by service staff. In French, hors d'oeuvre literally means "out of the ordinary" and has long referred to a course of light food served prior to or in between heartier courses. Libations are also often served at hors d'oeuvres parties alongside the food.
Cocktail Reception Tips
There are a few different ways to serve cocktails and other drinks at a cocktail reception. You can offer guests a staffed bar, where a bartender, host or friend mixes drinks for guests to order. You can also have a self-service bar, allowing guests to mix drinks themselves. You will need to decide whether to offer a full bar, with popular liquors and mixers, or a limited bar geared toward a few classic drinks, like margaritas, mojitos or martinis.
Hors D'oeuvre Reception Tips
Unlike a seated dinner party, an hors d'oeuvre reception will serve food either buffet-style -- on large plates or trays stationed on a long table or on multiple tables -- or passed on trays by a host or service staff. Typically, it's best to serve hors d'oeuvres that are easy to eat standing up. Finger foods are the easiest to eat of all, allowing guests to hold a drink in one hand and a snack in the other, without having to bother with a fork and knife. Chips or crudités accompanied by one or more dips make easy-to-serve and easy-to-eat hors d'oeuvres for any party. A platter of cubed or spreadable cheeses alongside crackers or fruit is another great option. For fancier, servable hors d'oeuvres, opt for meat kabobs, bacon-wrapped dates or bruschetta.