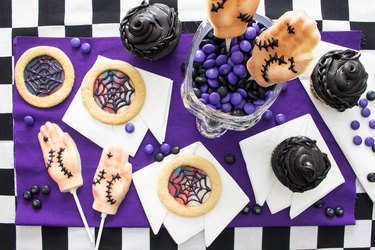 Whether you're planning a themed party or watching the new season of ‌Wednesday‌ with friends, you're going to adore the Addams family theme ideas below: Stained glass Nevermore Academy cookies, white chocolate Thing lollipops and raspberry-filled cupcakes inspired by Wednesday Addams herself. They're creepy, kooky and altogether ooky!
The best part is that you don't need fancy supplies or ingredients to make these themed treats. The stained glass cookies are made with crushed Jolly Ranchers and sugar cookies, which can follow any recipe you please (including vegan or gluten-free versions). Meanwhile, the Thing lollipops consist of white chocolate, edible dust and royal icing. The size and shape will depend on the mold you use, but any hand mold will do! Finally, the cupcakes are vanilla and are filled with raspberry sauce, which you can buy or make at home. Top them off with black icing and braided licorice for a nod to Wednesday's braids and you have yourself an eerily delicious treat.
Needless to say, these Wednesday-inspired goodies are so good that they'll be sure to inspire ‌all‌ the finger snaps. Let's get making!
Things You'll Need
Chilled sugar cookie dough

Jolly Ranchers

Circle cookie cutters

Black royal icing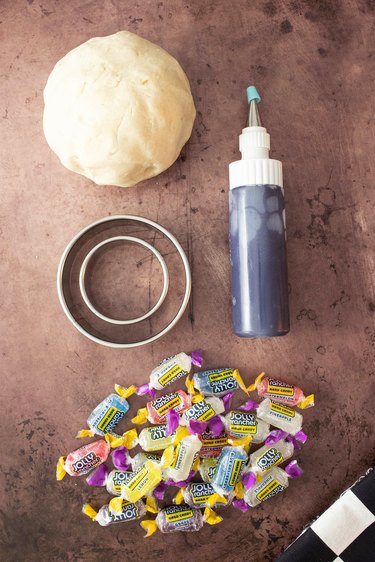 Tip
To recreate the window seen in ‌Wednesday‌ on Netflix, use clear Jolly Ranchers (pineapple) on one side and a combination of pink, purple, yellow and/or blue Jolly Ranchers on the other side.
Roll out the cookie dough on a floured surface. Cut out circles using a cookie cutter or Mason jar lid.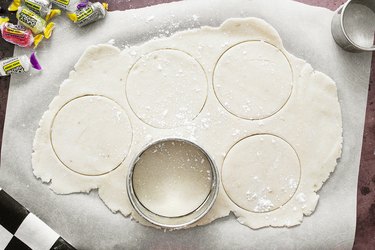 Place the circles on a parchment-lined baking sheet. Using a slightly smaller cookie cutter, cut out the center of each circle. This will create a ring shape. Re-roll the scraps and repeat to make as many circles as possible.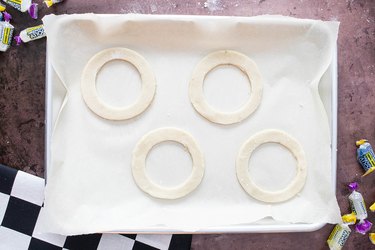 Chill the dough for one to two hours in the refrigerator. This will help the cookies keep their shape.
Just before you take out the dough, crush the Jolly Ranchers using a mortar and pestle. Another option is to put the candies in a resealable bag and crush them with a meat mallet or rolling pin. Be sure to do this on a nonbreakable surface (i.e., not tile).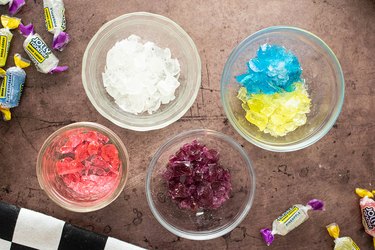 Preheat the oven to 325°F. This may be lower than the temperature listed on your recipe, but a low temperature is best for ensuring the cookies keep their shape.
Transfer the chilled cookie dough to a new nonchilled sheet by picking up the parchment paper. This will help you avoid placing the cold cookie sheet in the oven, which can cause it to warp.
Fill 3/4 of each circle with crushed Jolly Ranchers. Place the sheet in the preheated oven.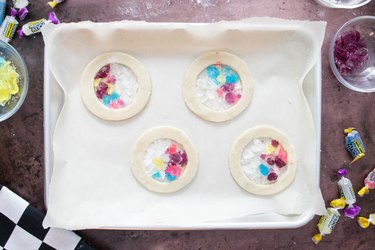 Bake for 11 to 14 minutes or until the candy is melted and the cookies are golden brown on the edges.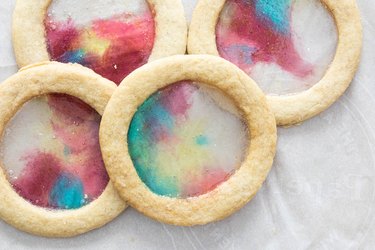 Tip
When you take the cookies out of the oven, keep the larger circle cookie cutter on hand. If the cookies have spread, you can reshape them with the cookie cutter while they're still warm.
3. Add details with stained glass icing
Once the cookies have completely cooled, it's time to create the spiderweb design using black royal icing. The first step is to pipe straight diagonal lines across the candy "glass" as if you were cutting a pizza.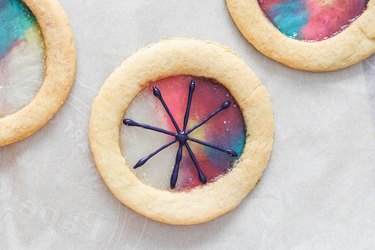 Next, between those straight lines, add curved lines, making sure they connect with each other. This will create a spiderweb design.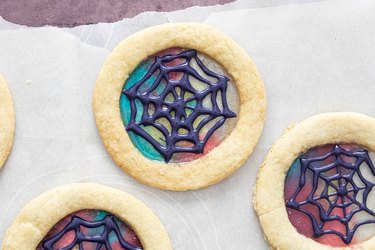 Project 2: White Chocolate Thing Lollipops
Things You'll Need
White chocolate chips or bars

Lollipop sticks

Red edible dust

Brown edible dust

Dusting brush

Black royal icing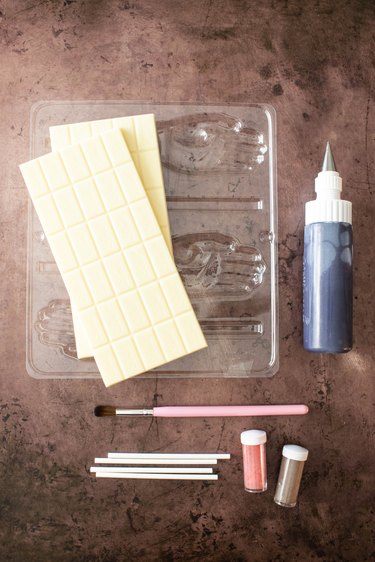 Tip
If using white chocolate bars, be sure to chop them into evenly sized pieces before melting.
How to make White Chocolate Thing Lollipops:
1. Make the hand lollipops
To melt the white chocolate, place it in a microwave-safe bowl. Warm it in the microwave at high heat for 60 seconds. Mix and heat for another 30 seconds, repeating until melted. The bowl will be very hot, so be sure to use an oven mitt when handling the bowl.
If you don't have a microwave, create a double boiler on the stove top with a stainless steel bowl and small pot.
Place the lollipop sticks in the mold. Let the white chocolate cool until it's warm but not hot. Next, add to the mold, tapping it gently to remove air bubbles.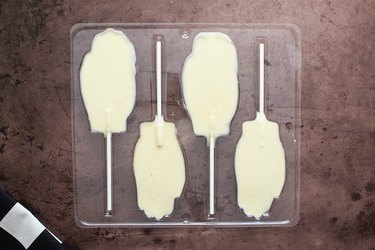 Carefully place the mold in the refrigerator until the white chocolate hardens. This may take about an hour depending on the depth of your specific mold.
2. Decorate the lollipops
In a small bowl, combine equal parts red and brown edible dust. You can also use maroon or burgundy edible dust if you can find it. Lightly brush the dust on the white chocolate hands, focusing on the indentations and curves. This will give the hand more depth.
Finally, create stitches with black royal icing. Ooky!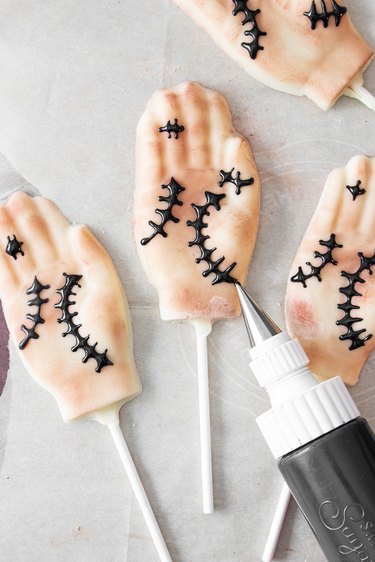 Project 3: Wednesday Cupcakes
Things You'll Need
Vanilla cupcakes

Raspberry sauce or jam

Black icing

Black licorice laces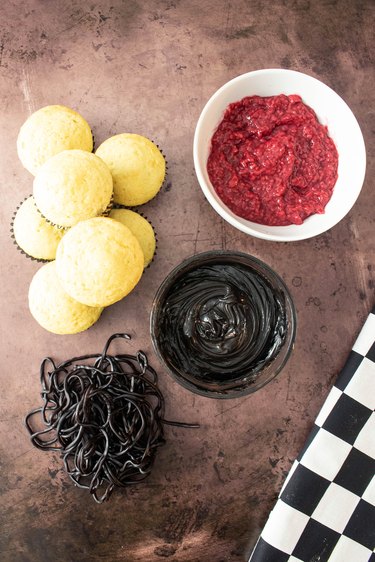 Tip
To make black icing, combine chocolate icing with a few drops of black food coloring. Avoid using vanilla icing, which will require more food coloring to achieve a black shade. Adding too much food coloring will change the texture and flavor of your icing.
How to make Wednesday Cupcakes:
Using a knife, hollow out the center of each cupcake. Trim the bottom of the hollowed portion so that the top is flatter.
Fill the cupcake with raspberry sauce and then replace the top of the cupcake.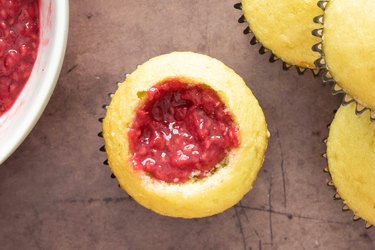 2. Decorate your Wednesday cupcakes
To finish the cupcake project, pipe black icing on top.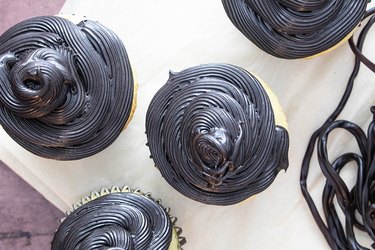 Braid three strands of black licorice lace and then wrap them around the cupcakes.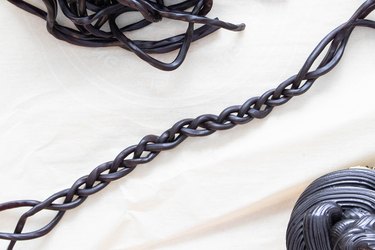 How to Style a Wednesday-Themed Party
Things You'll Need
Stained glass sugar cookies

White chocolate Thing lollipops

Wednesday-inspired cupcakes

Purple and black candies

Skull-shaped candy dish

Black and white checkered tablecloth

White square paper napkins

Bone folder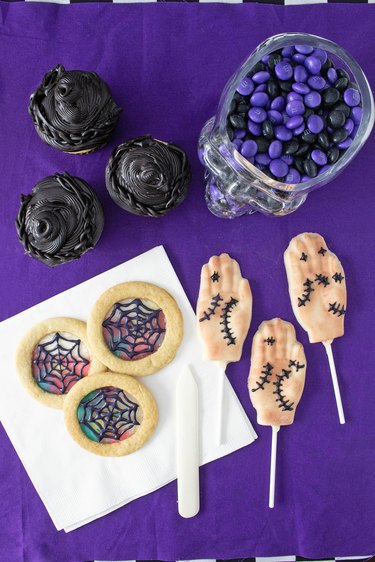 Fold a paper napkin in half to create a triangle. Using the bone folder (or a ruler), press the napkin along the fold. This will help hold its shape.
Fold the right and left corners downward to create a "collar" shape. Press along the fold to keep it in place.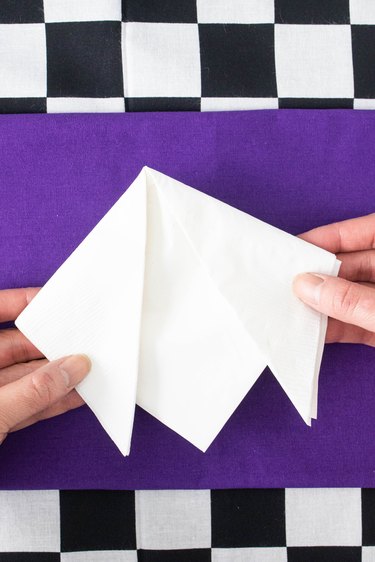 To style your Wednesday-themed table, fill a candy jar with purple and black candies, such as M&M's. Place the Thing lollipops into the candy dish and then place the cupcakes and cookies on top of the napkin collars.