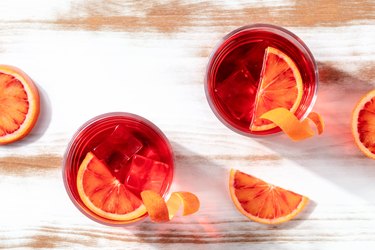 Planning a bachelorette party, birthday gathering, bridal shower or more casual get-together with your best pals? Coming up with a theme that's fun and fresh is half the battle. We're firm believers that refreshments are at the heart of any great party, so why not ‌really‌ make them the center of attention by opting for a theme that celebrates beloved beverages?
We've taken the inspiration-scouring off your plate and rounded up some of our favorite drink-themed party ideas from across social media to get those creative juices flowing (pun intended!). From the ultra-trendy Aperol spritz to rosé, whiskey and nonalcoholic options, there's a party theme ahead to suit everyone.
Grab the garnishes and get ready to plan!
If you've spent any time at all on the internet (or in a cocktail bar) lately, you know it's all about the Aperol spritz. This trend-forward drink immediately sweeps sippers away to the Italian coast with its refreshing combination of prosecco, soda water and bitters—not to mention orange slice garnishes to round things out. Instagrammer @carats&cake highlights an unforgettable Aperol spritz–themed bridal shower, which features a bright and dreamy color scheme, a DIY Aperol spritz bar, an on-site pizza oven straight out of Italy and—of course—plenty of orange slices. How dreamy!
Searching for a beverage theme that's totally timeless? It's impossible to go wrong with a tea party. TikToker @kee_to_wellness offers glimpses of an elegant yet updated play on the classic theme with an outdoor tea party baby shower. Tables are topped with dainty floral teacups, tasty teatime finger foods and sweet teapots! We think this would also make a lovely birthday party theme for someone who adores Alice in Wonderland.
Whether you're planning a summer party or simply trying to bring a dash of summertime vibrancy to the drearier months, a lemonade-themed party fits the bill. @elenaroussakis on Instagram shows off some of the cutest lemonade party decor around, complete with colorful cupcake toppers, a jolly lemon garland, wrapped bottles with straws and a full container of fresh lemonade. Yum!
This might not be the most uncommon party theme (particularly for bachelorette or bridal shower festivities), but it's beloved for a reason! The rosé aesthetic is totally adorable with its blush pink hues and sugary sweetness. TikToker @moalbiston proves that you don't have to throw a lavish bash to enjoy a fun theme: She highlights a low-key but decidedly delightful rosé-themed beach picnic for a bride-to-be. There are pink candles, flower crowns and rosé galore. We wish we'd been invited!
People who love Diet Coke ‌really‌ love Diet Coke. Why not make it a party theme for the fanatic in your life? Set up a bar cart with pyramids of Diet Coke cans (in both caffeinated and caffeine-free varieties, of course), let the silver and red hues be your color guide and order (or DIY!) a batch of Diet Coke cookies like these gems from talented baker @urban__sugar on Instagram. We're calling it now: Diet Coke parties are the next big thing.
TikToker @vasquezmama threw her husband a 30th birthday party with an awesome theme: whiskey! We love how she incorporated whiskey barrels as appetizer table bases and incorporated party decorations reading "aged to perfection." Of course, there was also plenty of whiskey—including a bar with all sorts of garnishes for making your own old-fashioneds. So fun!
7. Frappuccino Festivities
For the coffee lover in your life, consider a Frappuccino-themed party with Starbucks decor galore. @abbys_creations_and_events on Instagram shows off some awesome and definitely DIY-able ideas, including a fun banner, coffee cupcakes and even a personalized Starbucks birthday piñata. Oh, and don't forget the coffee party favors! Guests will love this theme a ‌latte‌.
Who doesn't love a brunch party? No brunch-time gathering is complete without mimosas, so consider centering your next event around that unbeatable combo of champagne and orange juice. We love Instagrammer @crispcollectiveig's idea for a "Mom-osa" bar made with printable signage, striped straws and fruity garnishes—perfect for a Mother's Day brunch or even a "just because" gathering for your mom!
Whether you're going all out for a loved one's special occasion, crafting something subtle in your kitchen bar or just looking for an excuse to perfect your Aperol spritz cocktail recipe, we hope these beverage-themed party ideas will provide you with plenty of fresh inspiration for an unforgettable gathering. Sip away!