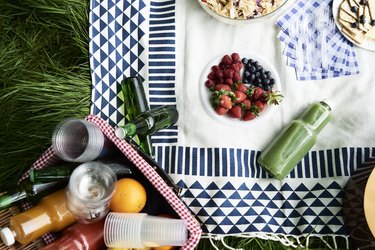 Picnics are all about the food-filled basket and great company, but to complete your perfect picnic, you need a picnic blanket. A picnic blanket gives you a place to comfortably sit on the ground when dining alfresco without getting dirty or wet. Picnic blankets are designed for the outdoors, so while some of them aren't waterproof, the ones that are can be placed on any type of surface without the worry of moisture soaking through.
A picnic blanket isn't just ideal for enjoying an actual picnic, it's also essential for parents of young kids who spend a lot of time at parks, farmers' markets and other fun outdoor events. It can act like a home base for outdoor adventures or even as a place to take a nap outside.
What To Consider When Purchasing a Picnic Blanket
​Material:​ An outdoor picnic blanket's material can make or break its comfort level. Water absorption is a big factor to consider when buying a picnic blanket. Since food and drinks are involved, there's always a chance of spillage, plus you never know when the ground will be wet or damp, so it's important to be prepared. A water-resistant or waterproof picnic blanket will likely be a bit thicker than the typical picnic blanket.
If you're looking for a blanket that's warm and cozy, one made of wool or fleece will be your best bet. Cotton and acrylic materials are also soft to the touch but won't make you sweat if you're picnicking in warmer weather. Picnic blankets for the beach are usually made from lightweight materials that can easily shake off sand or dirt like nylon or polypropylene.
​Size:​ If you plan on sharing your picnic blanket with more than one other person, you'll need one that's large enough to comfortably fit everyone (that includes your dog, too). Of course, the larger the blanket, the bulkier it'll be, which will take up space. The compact, foldable picnic blankets are lighter, but they tend to be smaller.
​Convenience:​ If you have kids or don't like to spend too much time gathering your things after a picnic, you should choose a picnic basket that's easy to fold and carry. Tote blankets with handles or shoulder straps that close via velcro are the easiest to transport. The ease of care is also an important factor. Not all picnic blankets are machine-washable, so if that's an essential, be sure to check the washing instructions.
​Style:​ It's totally possible to find a picnic blanket that fits your personal style. There are lots of different styles and designs to choose from, but if you want a specific style, like one with a waterproof backing or a compact tote blanket, your options will be a bit more limited.
Below you'll find our top picks for the best picnic blankets of 2022.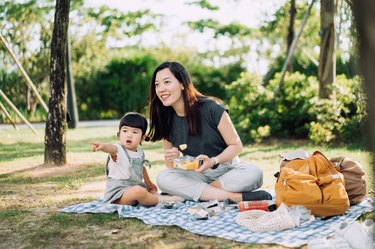 The Best Overall Picnic Blanket
Scuddles Picnic Tote Blanket
When you're heading out for a picnic, chances are your hands are going to be full. A picnic blanket tote is a smart way to free up some hands space, as it folds into a carrying case with a handle. This striped blanket has a waterproof PEVA backing that keeps out moisture and can easily be cleaned. The top layer is made of soft-to-the-touch woven acrylic, and there's foam padding in between the outer layers for added comfort. It's great for the park, beach, concert and farmers' market. There are six colors and eight sizes to choose from.
​Dimensions:​ 52" x 57", 58" x 76", 60" x 60", 60" x 75", 60" x 77", 60" x 79", 61" x 77"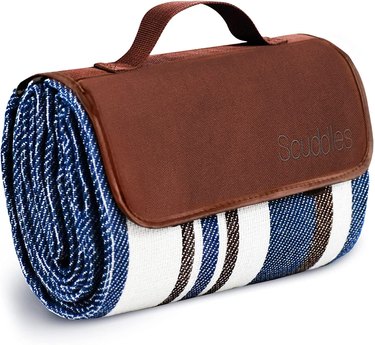 The Best Budget Picnic Blanket
Coghlan's Picnic Blanket With Stuff Sack
This picnic blanket is an affordable way to keep yourself and your belongings dry while enjoying a picnic in the backyard, park, beach, campground or music festival. It's even great to take on a hike. Durable ripstop polyester repels water—whether it's damp ground or spilled wine. There are pockets on each corner where you can place sand or rocks to weigh the blanket down, as well as loops to tie it down with stakes if needed. The camping blanket comes with a stuff sack to make it super portable.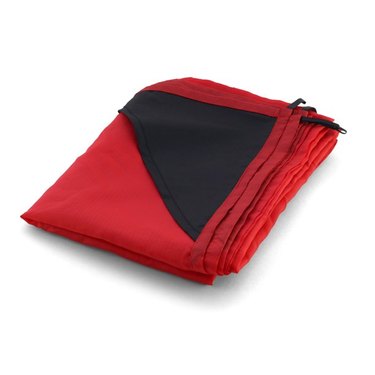 The Best Waterproof Picnic Blanket
Zomake Waterproof Picnic Blanket
The last thing you want to deal with after a picnic is a blanket full of crumbs, sand or debris that won't come off. The bottom of this picnic mat is made of aluminum foil, making it sandproof and ideal for wet grass or any other surface that has the potential for remaining wet throughout the day. The foldable blanket has a carry handle and is lightweight for easy portability. It comes in three designs as well as three large sizes that can accommodate two, four or six people.
​Dimensions:​ 59" x 59", 59" x 79", 79" x 79"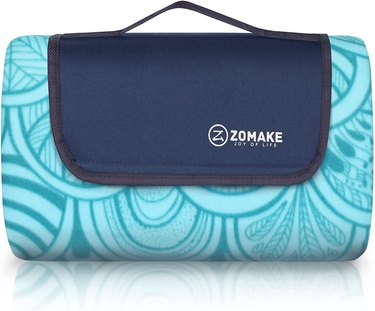 The Best Compact Picnic Blanket
If you're a camper, hiker, or you just want a compact picnic blanket that'll fit in your bag and even in the palm of your hand, REI's Matador Pocket Blanket is an excellent choice. The high-quality packable blanket is sized to fit two people. It's made with waterproof material and it has built-in corner stakes, weighted corners and sand pockets to keep it in place on windy days. It's even easy to refold for transport thanks to a handy pattern that shows you where to fold so it'll fit inside the attached storage pouch. The blanket comes in three colors: black, green and red.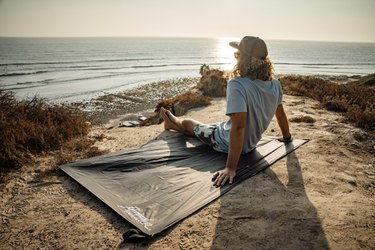 The Best Oversized Picnic Blanket
Portable And Extra-Large Picnic and Outdoor Blanket
This comfy blanket is large enough to hold four adults, but once it's folded, it shrinks down to a size that's portable. The extra-large picnic blanket has a faux leather handle for easy carrying with matching straps that make it look fancier than it is. Made of polyester fabric with a soft fleece top layer, the beach blanket is waterproof for any messes that might happen during your picnic. Because the fabric is so warm and cozy, the blanket is most comfortable if used during the cooler months.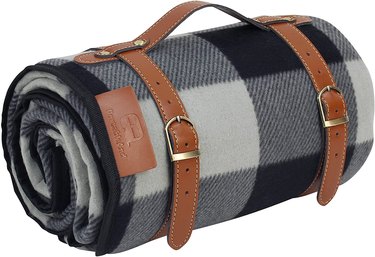 The Best Tote-Style Picnic Blanket
Food52 x Kate Roebuck Outdoor Picnic Blanket Tote
You're going to love how this chic, water-repellent picnic blanket opens into a roomy blanket for two adults and zips right into a tote with a built-in pocket. The leafy pattern was designed by artist Kate Roebuck who draws inspiration from nature, which is perfect for a picnic blanket that'll be used in that exact setting. Made of 100% polyester, the blanket is machine-washable, making clean-up quick and easy.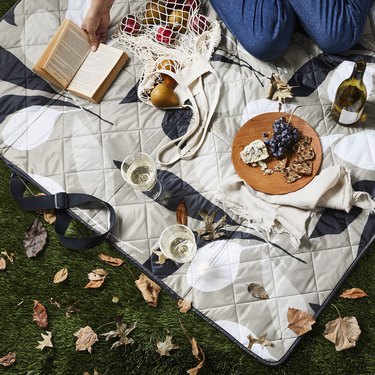 The Best Multipurpose Picnic Blanket
El Paso Designs Mexican Park Blanket
This authentic, hand-woven Mexican blanket can serve many purposes, and it's so inexpensive that it doesn't make sense ​not​ to have one around the house. Of course, it makes for a great picnic blanket at the park or beach, and it also works well as support in a yoga class. It can be used as home decor or as a blanket to keep you warm. Even though the blanket isn't waterproof, it's machine-washable, so any moisture or debris can easily be cleaned. Choose from 16 vibrant colors.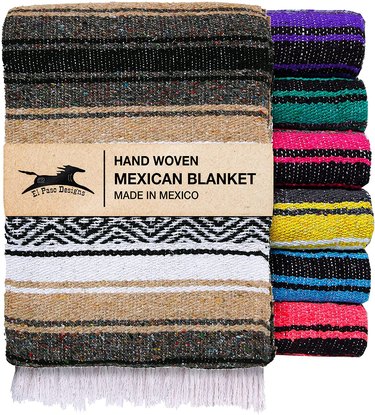 The Best Picnic Blanket for Kids
Sedona House Outdoor Picnic Blanket
This picnic blanket has all the bells and whistles: It's thick with three layers of material, durable, large enough for four adults, water-resistant, sandproof and it folds into a convenient tote with a handle. But the best part of all is the fun watermelon design that kids will love (and grown-ups, too). Kids can eat their watermelon while sitting on this watermelon blanket because sometimes a little fun is exactly what we need.