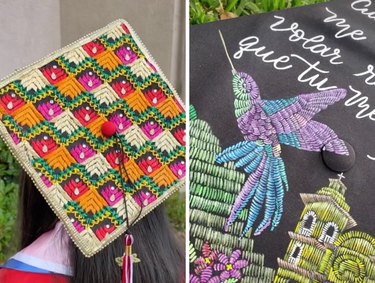 In a sea of graduates wearing identical gowns, a colorfully decorated graduation cap helps you stand out. This is helpful for family members trying to find you in the crowd, of course. More important, though, customizing a grad cap provides a creative way to celebrate accomplishments, embrace creativity and emphasize individuality. Oh, and did we mention it makes a perfect prop for graduation day photos?
The grad cap decoration frenzy is nothing new, but it has trended toward more and more unique designs in recent years. Looking for inspiration? We've got you covered. Whether you want to DIY your cap with a cheeky graduation quote (think: "Worth the hassle for the tassel"), deck out your mortarboard in stickers or create a one-of-a-kind wearable art piece to display post-graduation, this roundup of grad cap decoration ideas from social media should spark your imagination...and maybe help you procrastinate studying for finals just a ‌little‌ longer.
If you're a fan of sewing or embroidery, graduation is the perfect time to put those skills on display in a meaningful, beautiful way. Take a cue from TikToker @sinning_again, who creates a gorgeous embroidered grad cap complete with floral designs and graduation year. The finished product could pass for wall art!
If you want to feel regal on graduation day, @klumsy_kayla's TikTok is a must-see. Her DIY method for making a queen-worthy cap uses glitter paper, a hot glue gun and a plastic crown. Add a feather boa around the edge for even more majestic vibes.
3. Heritage-Honoring Grad Cap
Covering your grad cap with fabric will definitely make it stand out from other painted and bejeweled caps in the crowd. It also makes for a meaningful way to honor your culture. TikToker @sukhhpreeet25 demonstrates this beautifully, using ornate embroidered fabric and gold trim to acknowledge her Punjabi heritage.
4. Inspirational Grad Cap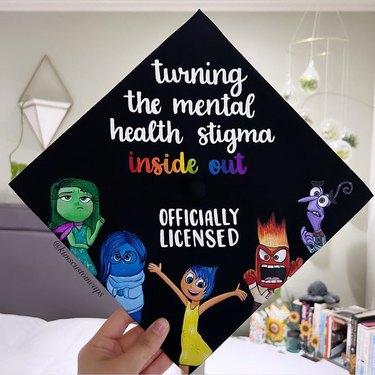 Maybe funny graduation cap designs aren't your thing. You can take a more serious route by decorating your cap to reflect the obstacles you've overcome to reach graduation day. Take this topper, for example, created by @kimscustomcaps for a graduating social worker who wanted to acknowledge mental health challenges (with an assist from some beloved Pixar characters). If you're proud of conquering hurdles in your quest for a degree, share it loudly and proudly!
We're totally mesmerized by this hand-painted graduation cap from TikToker @artbysusieq, whose colorful completed project is meant to resemble embroidery. Of course, let's face it: We don't all have this level of painting skill, but the design itself is inspiring, and the technique is totally worth attempting if you're feeling extra crafty leading up to the big day.
Tip
Turn your customized grad cap into wall art! An 11 x 11 shadow box frame should be large enough to hold a standard grad cap. Show off the cap at your graduation party, then display it as a keepsake for years to come.
Want to make 'em laugh on graduation day? Get creative and funny by incorporating a cheeky message like TikToker @abigailmariee24, who decorated a graduation cap for her not-so-punctual sister using a stack of tardy slips from throughout the school year. The (hilarious) cherry on top? Lettering that reads, "At least I'm not late to graduate!"
7. Custom Tassel Grad Cap
Even if you elect to keep your mortarboard plain, adding a custom tassel charm gives your graduation hat a personal touch. Grads often use them to honor late loved ones, as TikToker @maiamills29 demonstrates, but there's nothing stopping you from making a custom tassel with a picture of your pet, best friends or whoever you want to celebrate on your graduation day.
Song lyrics, movie quotes and lines from books or poetry can all provide deeply meaningful inspiration for a grad cap. Alternatively, take the comedy route like TikToker @sammandthe and quote everyone's academic icon, the great Elle Woods from ‌Legally Blonde:‌ "What, like it's hard?"
Warning
This is your friendly reminder to double-check your school's graduation day policies before altering your cap! High school graduation policies in particular might not allow caps to be decorated.
9. Subtle Glamour Grad Cap
If you're aiming for a grad cap look that's subtly stylish and elegant, draw inspiration from @cou.tinhoz_clozet's Instagram post. Using trim with sequins and beading along just two edges of the cap gives it subtle glamour and visual interest without looking at all childlike.
Now that you've seen some of social media's most impressive and unique grad caps, it's time to decide: Which of these graduation cap decoration ideas feels most like you? Do you want to go for funny, sentimental or stylish? Settling on a final design direction might be difficult, but you can do it—you're about to be a graduate, after all!