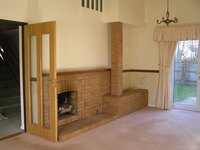 As wood burns, smoke releases through the chimney, but soot can seep onto a brick fireplace face and stick there because of its tiny crooks and crevices, creating black marks on the stone. Cleaning soot regularly ensures a cleaner looking fireplace.
Things You'll Need
Liquid soap
Salt
Sponge
Stiff-bristle brush
Spray bottle
All-purpose cleaner
Bucket
Cloth
Trisodium phosphate
Table Salt
Mix 1 oz. of liquid soap with 1 oz. table salt. Place drops of water into the mixture until it forms a thick cream.
Spread the salt mixture over the soot on the brick with a sponge. Allow the mixture to remain on the brick for 10 minutes.
Scrub the brick with a wet, stiff bristle brush, removing the soot stains.
All-Purpose Cleaner
Spray water onto the soot on the brick fireplace with a spray bottle.
Mix 1/4 cup all purpose cleaner into a gallon of water.
Dip a stiff bristle brush into the cleaning mixture and scrub the soot stains.
Wet a clean cloth and wipe over the brick, removing the soot and soapy residue from the brick.
Trisodium Phosphate
Fill a gallon bucket with hot water. Pour 1/2 cup of trisodium phosphate into the water and stir to dissolve.
Wet a stiff bristle brush with the cleaning mixture. Apply the mixture to the soot on the brick, scrubbing the area clean.
Rinse the soot and cleaning mixture from the brick with a sponge and warm water. This is an acid solution and can be harmful to skin and other objects.