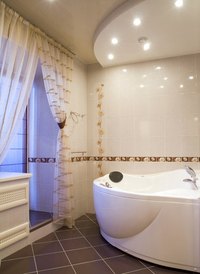 Mold thrives in moist environments, making the bathroom walls and ceiling a particularly favorable environment for mold to grow in. Mold is unhealthful and left unchecked can spread throughout the home, threatening your family's well-being. Remove mold from bathroom walls and ceilings as soon as you discover it to keep it from seeping behind walls and creating not only an even worse health hazard, but a far more difficult and costly removal problem.
Things You'll Need
1/4 cup trisodium phosphate
Bucket
Sponges
Chlorine bleach
Rags
Towels
Breathing mask
Mix 1/4 cup of trisodium phosphate with a bucket of warm water. Place a large sponge into the mixture and squeeze out the excess water. Wash the bathroom walls and ceiling with the cleaning solution.
Pour undiluted chlorine bleach on a rag and wipe over the ceiling and walls. Allow the bleach to work on the mold for one to two hours.
Rinse the bleach from the walls and ceiling with a wet sponge. Be sure to remove all bleach from the bathroom surfaces.
Dry the bathroom walls and ceiling with towels, removing all moisture.