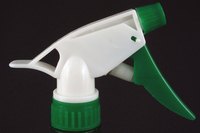 Hard water film splashes and sticks onto your glass shower doors and bathtubs quickly, leaving you with a large problem that develops in a matter of days. Especially in homes with hard water, these alkaline-based deposits leave cloudy residue all over your shower. Cleaning one to two times per week, or as needed, will remove the hard water film and keep the shower looking clean.
Things You'll Need
Spray bottle
3 cups white vinegar or lemon juice
Tub and tile cleaner
Lemon oil
Oven cleaner
Dryer sheets
Cleaning cloths
Pour 3 cups of white vinegar or lemon juice into a spray bottle. Both work well as they are slightly acidic.
Spray the shower doors and bathtub with the liquid and wipe off with a damp cloth. Continue until you clean away all hard water film.
Spray a commercial tub and tile cleaner or an oven cleaner onto the hard water film if any buildup remains. Scrub with a damp cloth until all hard water film is removed.
Soak a clean cloth with lemon oil and rub over the film. Wipe the shower with a wet rag after the film is removed.
Dry your shower thoroughly with a clean cloth.
Dry the shower doors and tub after each shower to prevent new film from accumulating.