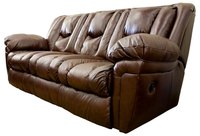 Leather furniture in your home can be a costly investment, and one that you should be eager to protect. But after spending such a large sum, you want your luxury your way. Often new leather comes with little give, feeling a little hard to the touch when you sit down on it for the first few weeks. If you want that soft worked-in feeling fast, you can soften up the leather using natural oils and chemicals that reach into the pores of the leather and add a healthy moisture.
Things You'll Need
Blow dryer
Cotton rags
Neatsfoot oil or mink oil
Lanolin oil
Professional leather conditioner
Apply a little light heat with the dryer to open up the pores of the leather, which will allow the oils to sink in fully.
Apply a generous amount of neatsfoot oil or mink oil to a clean cloth. Wipe across the surface of the leather gently in a circular buffing motion. Be sure to cover the entire surface.
Repeat the previous step with a generous amount of lanolin oil.
Wipe off any excess oil with a separate clean rag. Let the oils sit for about a day before using the furniture.
Finish off the furniture with a professional leather conditioner, preferably one that contains a little bit of beeswax, which will provide a protective coat for the leather and also waterproof it.