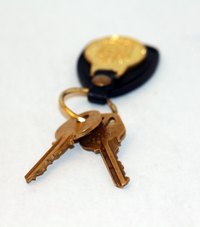 Losing keys can be a really stressful situation. When keys are lost, your best bet is to simply retrace your steps until you find them. However, a more effective solution for finding keys once they are found is by applying Radio Frequency Identification (RFID) Technology to your keys. You can then find your keys with the simple push of a button.
Tag your keyfobs or keyholders with an RFID tag. Usually the tag will come in the form of a sticker that you can attach. Some Keyfobs are the RFID Tag themselves, in which case you should attach your keys to it.
Place the RFID scanner for the tags in a conspicuous place, such as a hook on a wall. This will make the RFID tagged-device emit a beeping noise. Note that some finders may require you to assign a number to the RFID-tagged keys. Refer to your finder's manual to determine if this is the case.
Press the button for your keys on the RFID scanner. This will make the RFID tagged-device on your keys emit a beeping noise.
Repeat Step 3 while following the noise until you find your keys.