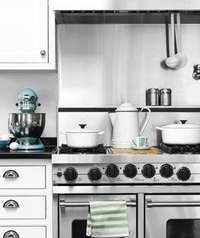 It's almost impossible to cook with grease and not splatter. Somehow, even unknown to us at the time, grease finds its way to nearby surfaces and appliances to be discovered later. It adheres to these surfaces with such a determination that removing it seems to be a mind-boggling task. Fortunately, cleaning grease off of appliances is an easily accomplished chore that can help restore order in the kitchen.
Things You'll Need
Cornstarch
Vinegar
Baking soda
Dish soap
Pine-Sol
Soft clean cloth or sponge
Sprinkle cornstarch onto a soft, dry clean cloth. Wipe the stained surface until all of the grease is gone.
Mix equal parts vinegar and water and dampen a cloth with it. Wipe the affected area until there is no more grease.
Sprinkle baking soda on the grease-stained appliance and wipe it off with a damp cloth or sponge.
Use grease-dissolving dish soap on a clean damp cloth and wipe the appliance free of grease.
Pour a small amount of Pine-Sol onto a clean cloth and use it to scrub away any grease.