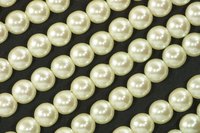 A pearl necklace can be kept looking great for years when you treasure and keep it clean. Careful cleaning can help extend the life of your pearls, even if their not the "expensive" ones. Pearls are created when clams or oysters coat objects with a pearlescent film called "nacre." Straight from the creature, they are shiny and beauiful. The quality of a pearl can be figured by the thickness of the nacre coating -- the thicker the coating, the more costly the pearl, as it becomes more durable.
Dust your pearls down with a lint-free, microfiber cloth. With this in mind, you want to take care of your pearls to avoid scratching or ruining the nacre coating and removing the beauty of your pearls. Don't use hard pressure, but softly "buffer" your pearls with the cloth.
Apply mild soap and water to a soft cloth if your pearls are quite dirty or have harsh residue from perfume, makeup or lotion. Wring out the cloth and wipe the pearls gently. Rinse the cloth with water, wring it out again and wipe down the pearls again to remove any soap residue.
Store pearl jewelry in a soft, closeable bag, away from other jewelry that can nick and scratch these precious stones. Take great care in handling your pearls to avoid causing long-term damage to the surface.