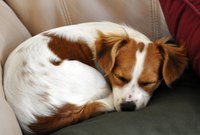 Pets and carpets are a bad combination. If you have both, you probably have carpet odors. The problem is especially bad in the summer, when the heat can make the whole house smell. It's unpleasant for you and embarrassing for visitors. Fortunately, you can get rid of carpet odors with baking soda and a vacuum cleaner. Baking soda absorbs and chemically neutralizes odors. Unlike chemical cleaners, baking soda is perfectly safe for your pets and family. It won't harm your carpet or the environment.
Things You'll Need
Sprinkle baking soda directly onto the carpet, covering the whole area with a thin layer.
Leave overnight. The baking soda will absorb the odors from the carpet.
In the morning, vacuum the carpet thoroughly to pick up all of the baking soda. Your house will smell fresh and clean.