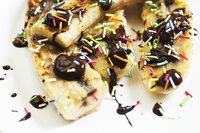 Making dessert on the grill is a piece of cake when you make grilled bananas. Grilling bananas brings out their sweetness, but for an even sweeter treat, make grilled banana splits by layering ice cream and grilled bananas and adding other toppings. The grill caramelizes the sugars in the bananas, leaving attractive grill marks and a slight crunch.
Preheat the grill if you aren't already using it. If you are barbecuing and the grill is hot, cook the bananas after you've cooked everything else.
Cut unpeeled bananas lengthwise.
Place the banana, cut side down, on the hot grill. Grill for about 2 minutes or until grill marks appear.
Turn each banana half over and grill for another 5 minutes. Remove them to a serving platter and allow them to cool for a few minutes before serving. You can either remove the banana peel at this point or serve in the peel where the banana can be scooped out and eaten.