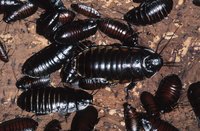 Roaches are tough creatures, and once they become established they are difficult to get rid of. Keeping roaches from invading your home is much more pleasant than having to deal with an infestation. A combination of exclusion and giving a roach no reason to linger is usually sufficient to keep the creatures at bay.
Things You'll Need
Caulk
Cleaning cloths and sponges
Cement
Building materials
Rubber door seals
Glass, metal or ceramic storage containers
Vacuum cleaner
All purpose cleaning spray
Mesh food cover
Caulk gaps and cracks around windows no matter how small. Squeeze the caulk into the gap or along the crack and remove excess with a sponge.
Seal any spaces around pipes with cement or the appropriate building materials for your property, such as plaster.
Examine your walls and ceilings for any other possible cracks or gaps and seal with the appropriate materials, usually plaster.
Fit rubber seals on the bottoms of external doors. Running under the door is a popular method of entry for roaches.
Clean your kitchen thoroughly, vacuuming all crumbs from underneath and behind furniture and appliances.
Place all dry pantry food in storage cans or jars. Loose food looks like roach food to a roach. Also, cover fruit. However decorative a bowl of fresh fruit may look, it can attract pests. Use an insect-proof mesh cover.
Maintain strict cleanliness in the kitchen. Scraps of food on dirty dishes make a good roach dinner. Wash or at least rinse dishes immediately after use and wipe up any spillages. Introduce meal times for pets and do not leave their food lying out.