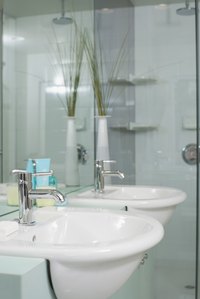 Forgo the cabinet full of expensive household cleaners. Instead, buy a large bottle of vinegar and keep it on hand. Vinegar kills germs, removes soap scum and mildew, cleans windows without streaks, cleans toilets and even removes some carpet stains, to name a few. When deciding which type of vinegar to buy or use -- the two most popular for cleaning are white distilled and apple cider -- know that most of the time it does not matter which one you use. There are a couple things to consider when buying and cleaning with vinegar.
Decide if you are going to use white distilled vinegar or apple cider vinegar. White distilled vinegar is a bit less acidic than apple cider vinegar but it still cleans effectively and is safe to use on most surfaces. It is also usually cheaper and available in a larger container at many supermarkets.
Use apple cider vinegar to help get rid of smells while cleaning. White distilled vinegar also absorbs smells, but apple cider vinegar has a more pleasant aroma. Also, sometimes apple cider works better at cleaning certain items than white distilled, such as gold jewelry.
Dilute as necessary. Whether you are using white or cider vinegar, homemade cleaning recipes often call for you to add water or use with other ingredients such as baking soda.
Wipe down the surfaces or rinse items with water after cleaning with either white or apple cider vinegar.