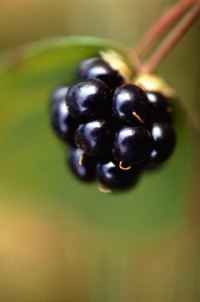 Blackberry liqueur doesn't call many drinks home -- but when it does, it's sorely missed when it's not around. An important ingredient in drinks like the rum runner and the blackberry martini, blackberry liqueur gives both sweetness and tartness to cocktails. But not to worry, if your bar is lacking blackberry liqueur, you might already have good substitutes nearby.
Kindred Spirits
Tweak cocktails calling specifically for blackberry liqueur with other blackberry-flavored liqueurs. Two of the best substitutes are blackberry brandy and blackberry schnapps. Blackberry brandy's flavor may be a little more sour and blackberry schnapps is more syrupy and sweeter, but both will do in a pinch -- just counter the brandy's sourness with a little simple syrup or sugar, and pour less schnapps than what the recipe calls for.
Syrupy Solutions
Cocktails already chock full of alcohol could benefit from a non-alcoholic blackberry syrup. Substituting blackberry liqueur with blackberry syrup, either the coffee drink or the dessert kind, will give cocktails the required fruitiness. Syrups tend to be thicker, so heat them or dilute them with water beforehand so they blend more easily with the other liquids. Blackberry pancake syrup will also work -- only add a small splash so its sweetness won't overpower the drink.
Elbow Grease
If you already have blackberries in your kitchen, you are almost halfway to another non-alcoholic blackberry liqueur substitute. Muddle blackberries with a little bit of sugar for a rudimentary paste to spoon into drinks; muddling them with simple syrup or sugar and water will produce a makeshift blackberry juice. Some drinks will be sweet enough that they only need the actual blackberries -- just muddle them beforehand in the shaker tin and pour the other ingredients on top.
Still Life
When all else fails, you can make your own blackberry liqueur -- all you need are vodka, blackberries, sugar, water and time. Mix together 1 part water and 3 parts each of sugar and 80 proof vodka until the sugar has dissolved, then add 3 parts whole blackberries. Bottle the mixture and let it infuse for up to two weeks or when the berries' color begins to fade. Strain out the blackberries and store until it's cocktail time.