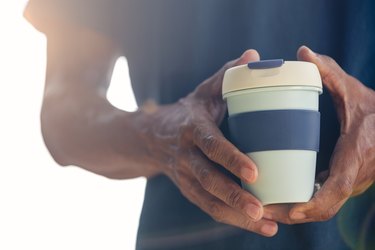 For anyone who takes their morning coffee or tea on the go—or who just likes to have a hot or cold beverage in tow—a travel coffee mug is an essential accessory. These tumblers maintain your drinks' temperature for an extended time, and they make it easier to skip all those pricey beverages from the coffee shop. And, since they're reusable coffee cups, they cut down considerably on the disposable plastic lids and paper cup waste you produce.
Of course, there are lots of products available these days. The best travel coffee mugs don't just do a great job keeping your hot drinks hot and your cold drinks cold, they also don't leak or let their contents splash out, they're comfortable to hold and easy to sip from, they're a breeze to clean and—ideally—they have a nice look so you feel good carrying yours around.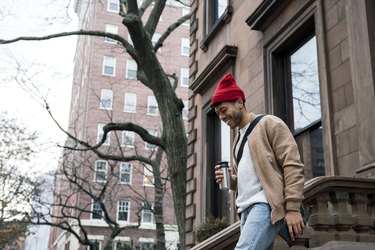 What to Consider When Purchasing a Travel Coffee Mug
​Size:​ A serving of coffee or tea is 6 ounces. Typical travel coffee mugs have a 16-ounce capacity, so they hold nearly three servings. But you can get 8-ounce or 12-ounce products, as well as larger ones. Consider your storage space if it'll live in a kitchen cabinet. Also, if you plan on toting around multiple servings of hot coffee for a while, you may want a product that's exceptionally good at retaining heat or that's microwave safe for easily reheating your beverage. Plus, confirm that any travel mug you're considering fits in standard car cup holders.
​Lid Style:​ Flip lids and push-button lids are nice if you want to be able to open and close the drink hole with one hand. Thumb-sliding lids, twisting lids, straw lids and other types are available too, so think about which one suits you best. Also, some lids are leak-proof—usually twisting closed and having a secure closing mechanism for the hole—and these are great if you want to, say, toss your full tumbler in a purse or bag. Some others are spill-proof or splash-proof, meaning liquid won't slosh out of the drink hole, but they aren't secure enough to put in a bag.
​Material:​ Stainless steel travel mugs are common, and they're a good choice. They're durable, usually provide good insulation and are sometimes dishwasher-safe. But they aren't microwave-safe, some may impart a slight taste into your beverages, and they tend to be among the most costly. Other options include plastic, silicone, ceramic, glass and even bamboo. Their ability to retain heat can vary widely (plastic and silicone tend to be the least effective in this respect), some will be dishwasher and/or microwave safe and others won't, and obviously some are more fragile or more durable than others.
​Features:​ Look at the design of any given travel coffee mug. Is it aesthetically pleasing to you and made to be easy to hold? Do you prefer one with a handle? If it doesn't have one, a rubberized nonslip grip is nice on stainless steel and other tumblers. A travel coffee cup that's vacuum-insulated will be better for heat retention. Do you want a product that's dishwasher safe, or do you not mind hand washing yours? Can it go in the microwave? And again, do you want a leak-proof or a spill-proof vessel?
These factors—along with your budgetary considerations—will help you select the best travel coffee mug for your preferences.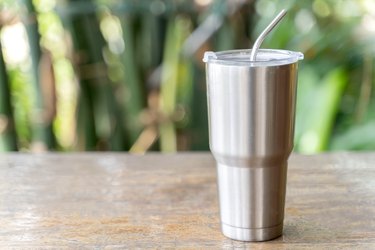 The Best Overall Travel Coffee Mug
Contigo West Loop Travel Mug
This is an easy top pick for travel tumblers. In addition to the elegant, tapered design that provides a comfortable grip, this stainless steel travel mug is both leak-proof and spill-proof thanks to its auto-seal technology. Its superior temperature retention and vacuum insulation keep beverages hot for up to 7 hours or cold for up to 18 hours. The push-button lid facilitates one-handed drinking and it's top-rack dishwasher-safe (but the body should be washed by hand). And even at its good price, it also has an above-average capacity of 20 ounces. Or, you can opt for an extra-large model that holds 24 ounces. You can also choose from seven different colors, and this piece fits in standard cup holders.

The Best Budget Travel Coffee Mug
If you're looking for a travel tumbler at the low end of the price spectrum, this one's a smart choice. It's a full-size 16-ounce product, so you're not sacrificing capacity for the savings, and it fits in vehicle cup holders. Made of durable, BPA-free plastic, it has double-wall insulation that keeps your drinks hot for about 2 hours, which is impressive for a plastic travel coffee mug. The quarter-turn closing lid does a good job preventing leaks and spills—but be aware that the hole doesn't close—while the textured nonslip sleeve (which comes in lots of color options) provides a secure grip. And, because it's microwave- and dishwasher-safe, it's quick and easy to reheat your drink and clean out the cup.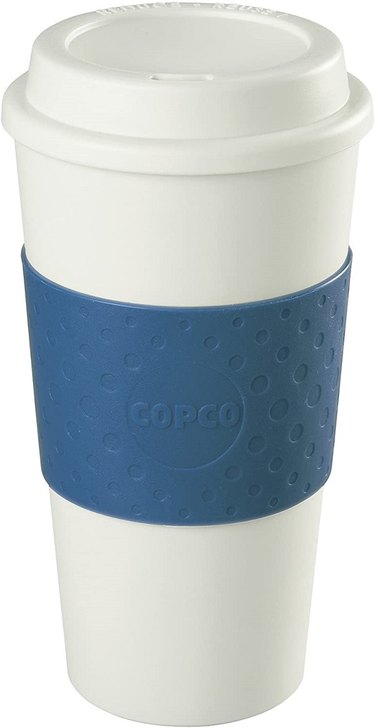 The Best High-End Travel Coffee Mug
For those willing to shell out for a luxury travel coffee mug, you can't go wrong with this smart one. It's a lightweight, streamlined, advanced model with a 12-ounce capacity and a touch panel that lets you set your desired drink temperature. You can even link the vessel to your phone via the Ember App. It'll tell you when your drink is at your ideal temperature, so there's no worrying about burning your mouth on scorching-hot beverages. Just push on the leak-proof lid, and you can sip from any side of the tumbler. The ergonomic design and attractive matte finish make it easy to hold, and it'll fit right in your cup holders. It comes with a small base for recharging the battery, which has about a 3-hour life.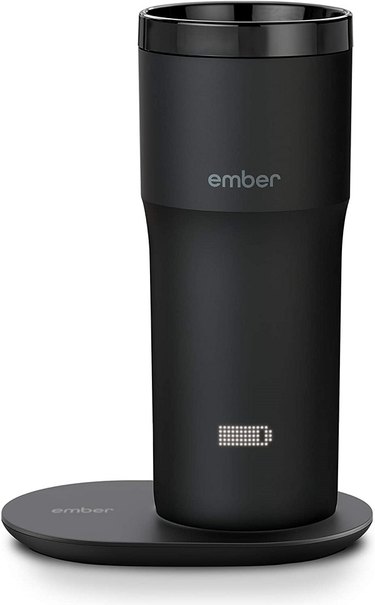 The Best Travel Coffee Mug for Hot and Cold Drinks
A lot of travel tumblers excel at keeping hot beverages hot or at keeping cold ones cold, and only do a so-so job at the other. Do you regularly switch back and forth between hot coffee and iced coffee, or between other hot and cold drinks? The vacuum-insulated Zojirushi stainless steel mug is a reliable option for maintaining the temperature of both for at least 6 hours—but even up to 12 hours if you preheat or pre-chill it. Full-size ice cubes fit through the wide mouth too, and the locking flip-top cap is easy to use, prevents leaks and keeps the mouthpiece clean. This model holds 16 ounces and has an elegant design that's comfortable to hold and that fits in most cup holders, and you get to choose from a number of different colors.

The Most Durable Travel Coffee Mug
If you want a travel cup that's sure to last a long time—even if you often take it along on hikes, camping trips, tailgating parties and more—this is the one you want. It holds 14 ounces and is made of 18/8 stainless steel, and its Duracoat coating (which comes in many different colors) won't scratch, peel or fade. This sturdy, durable piece can withstand drops and take a beating. The double-wall vacuum insulation provides good temperature retention for at least a couple of hours, and it won't build up exterior condensation. The tightly sealing lid prevents most leaks and spills, but note that the drinking hole doesn't close. There's a handle that accommodates even the widest hands, and for convenience at cleanup time, just stick it in the dishwasher.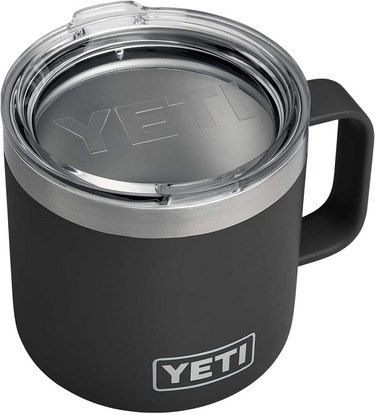 The Best Travel Coffee Mug Design
If the appearance of your travel coffee mug is a big consideration, this one not only has a simple, beautiful design, but also comes in 30 different colors, patterns and prints that range from classic and elegant to fun and crazy. Yet, there's substance here to go along with the style, too. This 16-ounce stainless steel tumbler has triple-layer insulation that keeps hot drinks hot for at least 11 hours and cold drinks cold for at least a staggering 26 hours—though these times can even be extended by preheating or pre-cooling the mug. It fits in most cup holders, and the wide mouth lets most ice cubes pass. Also, the leak-free, spill-free top and sweat-free body mean you can toss the tumbler in a bag or purse. Just keep in mind that it takes two hands to twist the lid on and off, and this product isn't dishwasher-safe.