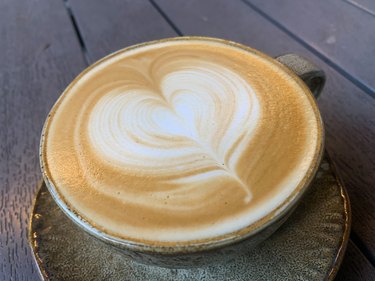 If you want to enjoy lattes, cappuccinos, macchiatos and other beverages that feature milk foam at home, a milk frother is a great kitchen tool to have on hand. Combined with an espresso machine or coffee maker, you can play barista in your kitchen and skip the trips to your favorite coffee shop to overpay for your drink of choice.
Of course, many espresso machines have a built-in steam wand that heats milk and creates foam, too. But if you don't have one and don't want to make a significant investment in a quality product, picking up one of the best milk frothers on the market is a much more affordable option.
What to Consider When Purchasing a Milk Frother
​Style:​ There are three basic types of milk frothers: manual, handheld and countertop. Manual frothers are the cheapest and require a bit of effort on your part. Handheld frothers are relatively small and either battery-operated or plug-in, making them easier to use and a little more costly. Countertop automatic milk frothers are the easiest of all, but also typically the largest and most expensive. One important thing to keep in mind: Most countertop electric milk frothers heat the milk while creating foam, while manual and handheld models only froth. So, unless you want cold foam for an iced beverage, you must first heat the milk separately with a manual or handheld model.
​Features:​ If you go with a higher-end countertop frothing appliance, you'll have some more feature options. For example, some let you customize the temperature the milk gets heated to, and some let you customize the texture and consistency of the foam they produce. More features and more customization capabilities generally mean a higher price tag, obviously.
​Type of Milk:​ If you're particular about your foam, investigate how well a given product handles your milk of choice. The fat content of milk affects how creamy a foam it produces. So, dairy like half-and-half and whole milk create the richest foam, and any quality frother will do. But if you drink reduced-fat or skim milk, some frothers work better than others. And if you use soy milk, oat milk, almond milk or another non-dairy alternative, it's harder to get as creamy a foam, so look for a product that specifically handles it well.
Along with your budgetary considerations, these factors should help you pick out the best milk frother for your prep and beverage preferences.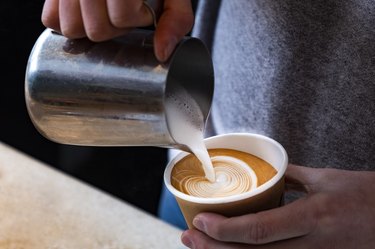 The Best Overall Milk Frother
This is a great kitchen accessory from the manufacturer of another immensely popular piece of kitchenware, the Instant Pot. This compact automatic milk frother also steam-heats milk, offering four different settings: warming without foaming, light warm foam, thick warm foam and cold foam (which produces a silky microfoam). So, you can make all sorts of hot and cold milk-based beverages with the touch of a button. It works quickly and quietly, too, and the cool-touch handle and exterior keep you safe.
It's an excellent price point for the quality and customization options in the countertop category, which certainly helps make it a top pick. The pour spout makes it easy to dispense the hot milk and foam, and it also offers nicely controlled pouring for latte art when you want to get fancy. Additionally, it handles nondairy alternatives as well as it handles milk. A nonstick interior and dishwasher-safe lid and whisk make cleanup a breeze as well.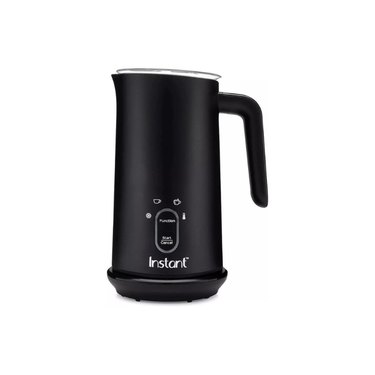 The Best Manual Milk Frother
Fino Milk Frother and Foam Pitcher
If you just want a manual milk frother that doesn't require electricity and that's simple to operate (and clean), this is the product for you. You need to preheat the milk if you're making a hot drink, but this model whips up a luxurious hot or cold milk foam in a minute or less using a whisk that's similar to the plunger in a French press. It's a double mesh aerator that produces particularly fluffy results, and it does well with the full range of non-dairy milk alternatives, too.
With a 14-ounce capacity, you can prepare foam for a few drinks at the same time. The handle and aerator knob are both comfortable to grip. Stop or keep plunging as you please for total control over the texture and consistency of your froth. And this attractive stainless steel product is top-rack dishwasher-safe for easy cleanup.
The Best Handheld Milk Frother
This very affordable handheld, battery-powered milk frother is a pleasure to use. In fact, it was one of the first products in this category, and it has remained a bestseller throughout all the years since it was introduced. The motor has been obsessively honed over time to hit the ideal speed and torque for creating milk foam, and it performs exceptionally well whether the milk is hot or cold, with low-fat and nonfat milk, as well as with all the nondairy alternatives.
It takes about 30 seconds to whip up a beautiful rich foam with this product, and you can easily stop and start it with its one switch for control over the texture and consistency. The stainless steel shaft and whisk head are sturdy and durable, and the shaft is even reinforced to prevent bending. The two AA batteries required for operation are included and pre-installed, and it comes with a 2-year warranty.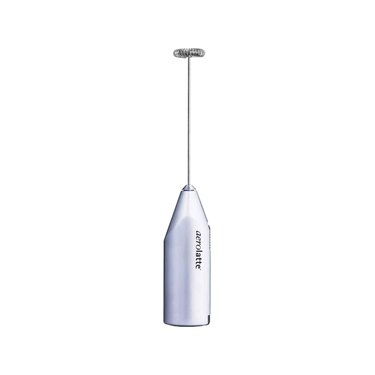 The Best Countertop Automatic Milk Frother
Nespresso Aeroccino 4 Milk Frother
For an automatic milk frother that gives you customization options for the makeup of your foam, choose this beloved Nespresso model. It has four functions: One to make cold foam, one to just heat milk, and two to make foams of different densities (airy or velvety smooth).
This countertop milk foamer is a reliable choice for any type of dairy milk, and if you froth soy milk, almond milk, cashew milk, oat milk, hemp milk or other non-dairy alternatives. It's dishwasher-safe, and it's a durable product that should last you a long time. That helps justify the somewhat high price tag. The ergonomic handle is comfortable and provides a secure grip, plus the pour spout is perfectly designed for creating latte art.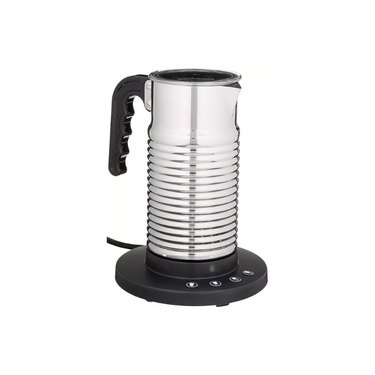 The Best Budget Milk Frother
PowerLix Handheld Milk Frother
If you're looking for a budget-friendly milk frother that's well made and delivers beautiful foam, go with this handheld model. It's a slender, lightweight, ergonomically designed, highly portable product at a bargain price. It works well with any type of dairy or non-dairy milk, and you can get a nice, fluffy foam in as little as 15 to 20 seconds. And even though it's powerful, it's quiet too.
The stainless steel wand is sturdy and durable, and you can count on this accessory to hold up much better than a lot of other budget products do. It's easy to wash after use; just put the frothing end in a cup of warm soapy water, turn it on for a few seconds, then rinse it off. And it's worth mentioning that this is a great kitchen gadget for making more than coffee drinks. For example, use it for making matcha and milkshakes, blending cocktails, beating eggs, whipping cream, emulsifying salad dressings and more. Just note that the two AA batteries required are not included.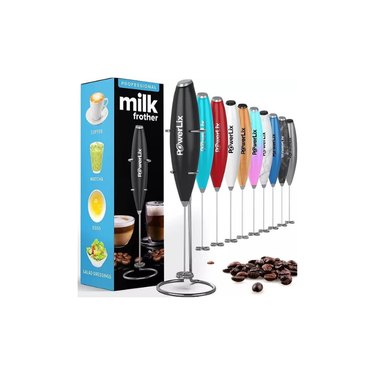 The Best High-End Milk Frother
For those willing to go to the upper reaches of cost for an automatic milk frother to get a high-performance ​and​ beautiful product made with superior craftsmanship, this is a great choice. The sleek, retro 1950s design is aesthetically pleasing and fits right in with any luxury kitchen. And you can choose from several classy colors for the best fit possible.
But this milk frother definitely isn't just style, as it has plenty of substance to help you achieve upscale café-quality beverages. There are a whopping seven different functions and two whisk attachments, for everything from making delicious hot chocolate or cold froth to customized foam options for frothed milk of different densities.
It's a large-capacity model, too. Heat up to 20 ounces of milk at once, or froth up to 8.5 ounces at a time. The milk container is removable and dishwasher-safe, and it has convenient measurement markings etched on the inside. Other nice features include the cord wrap for neater storage and the nonslip feet to keep it secure on your counter.