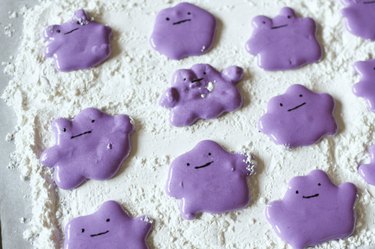 If you ask me, cold winter weather is worth it for the soothing drinks alone. I've always loved sipping hot cocoa or lattes in the comfort of my home while snow falls peacefully outside. And while traditional mini marshmallows are a fine addition to these cozy wintertime beverages, I've often wished I could dress up my drinks with flavored specialty marshmallows—but they can be tough to come by. The solution? DIY, of course! Enter: my very own recipe for ube marshmallows.
Making homemade marshmallows might sound intimidating, but these ube marshmallows require just a few ingredients: water, sugar, gelatin, ube extract and cornstarch. To take my marshmallow recipe to the next level, I dreamed up a Pokémon-themed design that would make Pikachu proud: Ditto-shaped 'mallows. Other beloved Pokémon, like Mew, Bulbasaur or Squirtle, might have required a bit more expertise and shaping, but the fact that Ditto is essentially a blob makes him an accessible design choice for beginners. The gamers, anime enthusiasts and Pokémon fans in your life will be especially impressed, but these Ditto marshmallows will delight just about anyone.
Video: Ube Ditto Marshmallows in a Matcha Latte for Ultimate Cozy Vibes
For a perfect pairing, I whipped up a matcha latte to accompany my adorable marshmallows. The addition of a green matcha background reminds me of spotting Pokémon in the wild (and catching 'em all!). Ready to create your own batch? Let's get making!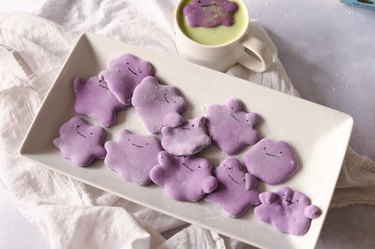 Quick Recipe Overview
‌SERVING SIZE:‌ 16–20 Dittos and one matcha latte
‌PREP TIME:‌ 30 minutes
‌DRYING TIME:‌ 10 minutes
‌TOTAL TIME: ‌40 minutes
Part 1: Ube Ditto Marshmallows
Things You'll Need
Saucepan

Hand or stand mixer

Heat-safe medium-large bowl or bowl of stand mixer

Small bowl

Piping bag

Baking tray

Parchment paper

Toothpick or cookie scribe

One packet gelatin

1/4 cup water

3/4 cup sugar

1/4 cup water

1 tsp. ube extract

Food coloring (black)

Cornstarch, for dusting
How to make Ube Ditto Marshmallows: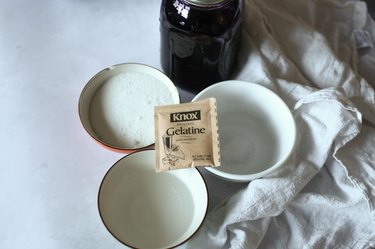 Measure all the ingredients into separate bowls. This will reduce your work and time later.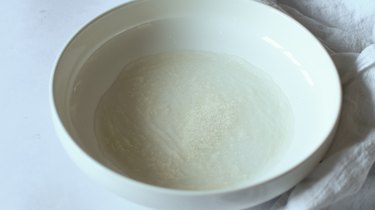 In a large heat-safe mixing bowl (this means no plastic, as you'll be pouring hot liquid into it later) or the bowl of a stand mixer, pour 1/4 cup cold water and then sprinkle one envelope of gelatin on top. Set it aside to let the gelatin soak up the liquid.
Tip
Blooming gelatin ensures your finished product is smooth and doesn't have any clumps!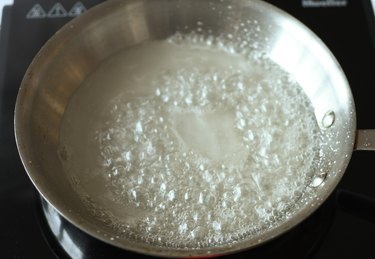 In a saucepan, add 1/4 cup water and all the sugar. Turn the heat to medium and let it cook for a few minutes until the sugar fully dissolves.
When the mixture starts boiling, check the temperature using a candy thermometer. Once it reaches about 240°F/115°C, remove the sugar and water mixture from the heat.
4. Whip bloomed gelatin and sugar syrup
On a medium speed, whip the bloomed gelatin while slowly drizzling in the hot sugar syrup.
Tip
If you're feeling especially creative, take this recipe further and make your own Pokémon hot chocolate bombs. Shape the cocoa bombs as Pokéballs, fill the inside with completed Ditto marshmallows and let your creations melt in hot milk to reveal a fun surprise for whoever's sipping, Pokémon fan or not!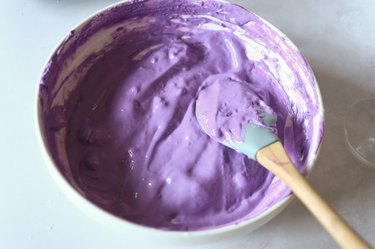 Add ube extract and whip for about 10 minutes or until the mixture is thick and glossy and has doubled in size and reached soft peaks. It should be easily spreadable.
Be careful not to overwhip or the resulting marshmallows will fall apart and be hard to spread.
6. Transfer marshmallow mix into piping bag
Reserve about 1 Tbsp. of marshmallow mixture and set it aside in a small bowl for later. Transfer the remaining marshmallow batter into a piping bag.
Tip
The marshmallow mixture will start to set over time. If it's too thick to pipe, place the piping bag in a microwaveable bowl or cup and microwave at two- to three-second intervals. If you microwave it too much, it will be too liquidy. If this happens, let the piping bag rest for a few minutes.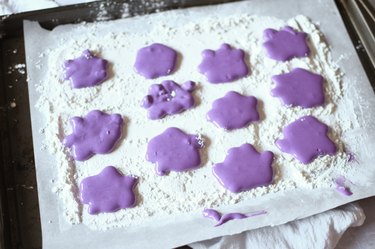 Line a baking tray with parchment paper and then coat the entire surface with cornstarch. Pipe the Ditto shapes on top. Again, if the marshmallow mixture starts to set while in the piping bag, pop it in the microwave at two- to three-second intervals.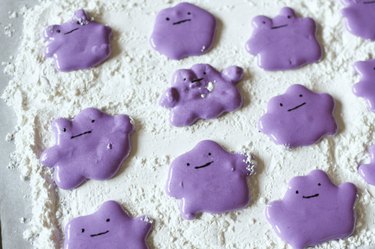 Melt the reserved 1 Tbsp. of marshmallow mix in a microwave for three to five seconds and then stir in black food coloring. Use a toothpick or cookie scribe to draw on Ditto's face.
9. Coat Dittos in cornstarch
Fully coat the Dittos in cornstarch and let them sit for about 10 minutes. Brush off the excess.
Things You'll Need
Small, heat-safe bowl

Mug

1 tsp. matcha powder, sifted

1/4 cup water, hot

1/4 cup milk of choice, warmed

Sweetener of choice
How to make a Matcha Latte:
Measure out the ingredients.
2. Whisk matcha and hot water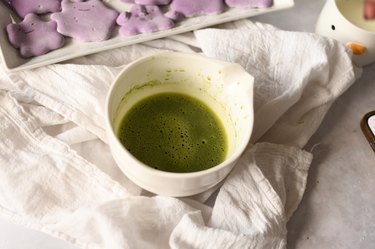 Whisk together the sifted matcha until frothy. Stir in the sweetener of your choice.
Tip
Make sure not to add too much sweetener since the marshmallows will melt into your drink and make it sweeter!
3. Pour matcha into warmed milk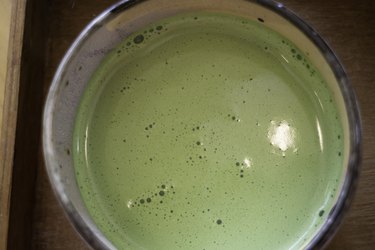 Add the frothed matcha to your mug along with warmed milk. Add extra water, milk or sweetener to taste. Plop on a Ditto marshmallow and enjoy! Store the marshmallows in an airtight container. Keep it in a cool, dry space for up to one month.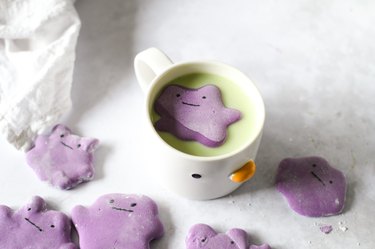 When paired with these Pokémon marshmallows, any hot beverage will feel cozier than a hug from Snorlax. If that weren't enough, you now have the skills for making all sorts of marshmallows at home—so get creative, get mixing and bring your sweet ideas to life.