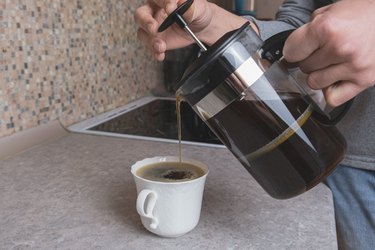 For many coffee lovers and aficionados, there's just no better way to prepare coffee at home than in a French press. The best French presses deliver a more flavorful, full-bodied, bolder and richer cup of coffee than drip coffee makers with paper filters. And they do it in a lightweight and more compact product, while using a simple immersion brewing process that only takes a few minutes. Moreover, it doesn't require any special barista skills or knowledge about the coffee brewing process. That being said, all you have to do is add just-short-of-boiling water to coffee grounds, let it steep and then depress a plunger.
The bottom line: French presses are one of the best types of coffee makers. It's no wonder they've remained such a popular home-brewing method since the first design was patented back in 1929 (though the concept goes back to early nineteenth century France).
There are plenty of products available today in various styles and at a wide range of prices. So, know what to look for when you're buying one, and check out a buying guide or two to find some recommendations for top picks.
What to Consider When Purchasing a French Press
‌Material:‌ Most French presses are very similar in design and operation; they have a carafe for the coffee grounds and water, a plunger with a mesh filter you push down to separate the grounds from the coffee, and a lid with a pour spout. The carafe material is the biggest difference, with three main choices: glass, stainless steel and ceramic.
Glass is the most common. It works well and is generally the lowest priced, and it can go in the dishwasher. However, it doesn't keep the coffee as hot for as long as other materials, and it's breakable. Stainless steel often costs a little more and usually can't go in the dishwasher, but it's basically indestructible and retains heat much better—especially if it's double-walled. Ceramic is good at keeping coffee hot if you pre-heat the inside and it's attractive, too. It's less fragile than glass, but it can crack, chip and break. It can go in the dishwasher, but it's not recommended, as it increases the risk of damage and it usually runs pricier than other materials.
‌Size:‌ Consider how many cups of coffee you want to be able to prepare at once. Standard French press capacity ranges from about 1 cup to 6 cups. Is it just you, or will you usually serve a few people? But even if it's just you and you drink coffee for hours into your day, you still might not want a larger-sized French press. None keep coffee as hot for as long as a drip coffee maker with an insulated carafe and a hot plate. But, if you don't mind reheating your coffee as time wears on, go ahead and make a large batch to last through the day.
‌Price:‌ Because they don't have all that much variation in design, features, capacity, etc., there's not as significant a price range for French presses as there is for more complex or sophisticated kitchen gadgets. Still, you can spend around $15 for a budget-friendly one, or you can spend over $100 for a high-end model. Most come in at around $25 to $50. The material and size are two main factors in pricing, but others like the brand, features like extra insulation or double filters, and even included accessories (e.g., coffee scooper, milk frother) also affect the cost.
Keeping these things in mind will help you pick out the best French press for your needs and preferences.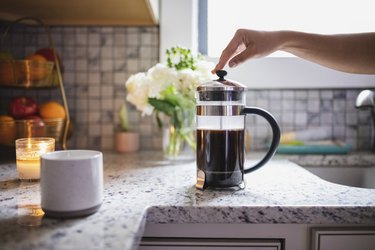 The Best Overall French Press
This high-quality glass French press is a great pick at a reasonable price for the quality and performance. The patented double micro-mesh filter basket does an exceptional job keeping grounds out of your coffee—a primary concern with French presses—and the plunger descends easily and smoothly. The glass is 40 percent thicker than most other glass products, making it superior for heat retention and less fragile. The protective frame and handle are made of sturdy, BPA-free, BPS-free, phthalate-free, food-grade plastic, and you can brew up to 4 cups (32 ounces) of coffee at once. The whole thing is dishwasher-safe, too.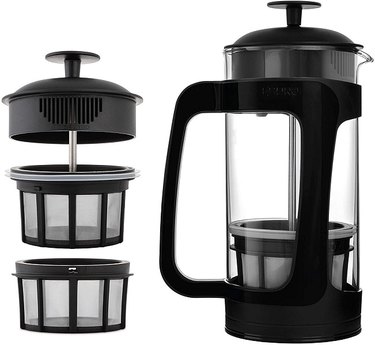 The Best Classic French Press
Bodum Chambord French Press
For another great overall French press with a traditional design and aesthetic, this is an easy product to recommend. It has a heat-resistant borosilicate glass beaker, a stainless steel frame and plunger, and a BPA-free plastic handle. Bodum has been a highly regarded name in French presses and other coffee makers since the 1940s, and this model is offered at a great price for the category and brand. Choose from four sizes, ranging from 12 ounces to 51 ounces. The fine mesh filter is great at extracting maximum flavor and preventing coffee grounds from making their way into your beverage. Cleanup is a breeze too, as everything can go right into the dishwasher.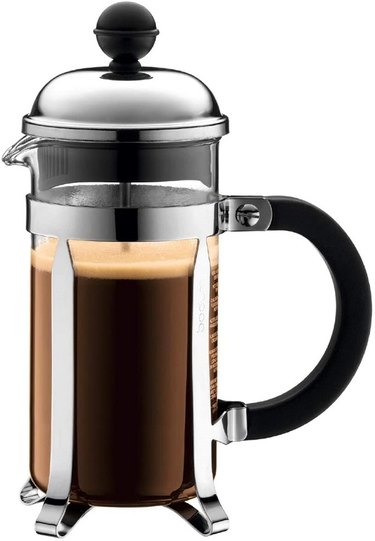 The Best Budget French Press
Bodum Brazil French Press
Here's another budget-friendly option—and a good one for beginners—from this longtime leader in French presses and other coffee makers. The 12-ounce model is the lowest priced, but you can also opt for a very affordable 34-ounce or 51-ounce version. This heat-resistant borosilicate glass French press with a BPA-free polypropylene base, handle and lid has a sleek, attractive look. But it also boasts a smoothly operating plunger, a highly effective stainless steel mesh filter and decent heat retention. It's dishwasher-safe, but keep in mind that while it does have a large protective base, it doesn't have the same protective frame around the glass that many other products in this category have.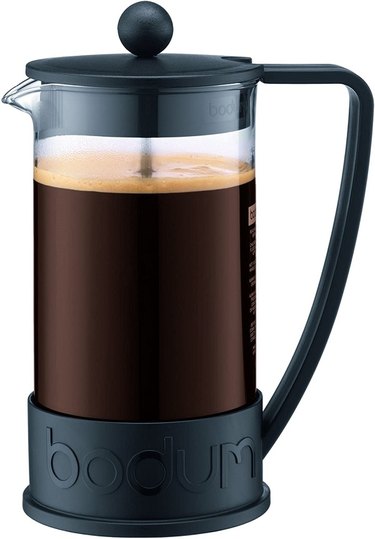 The Best High-End French Press
Fellow Clara French Press
This matte black stainless steel French press is as beautiful as it is high-quality and durable. It has a simple, elegant and modern design, so the piece looks great displayed on your countertop. With its 24-ounce capacity, you can prepare 2 to 3 servings at once, and the heat retention with the double-walled stainless steel construction keeps them hot for an extended time. The enhanced fine mesh filtration means maximum flavor extraction—boosted even more by an added agitation stick—without the grinds or sludge in your mug. The plunger is pleasantly easy and smooth to use, too, and the secure all-direction pour lid offers convenient, mess-free serving. It's not dishwasher-safe, but the interior nonstick finish facilitates easy hand washing. And while this is a pricey product for the category, many other high-end French presses run up to $50 higher.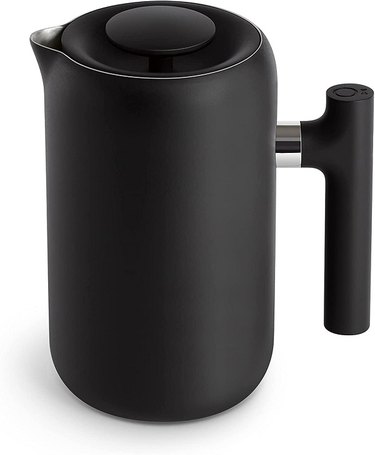 The Best Stainless Steel French Press
Mueller Austria French Press
While the previous entry is a great stainless steel French press, this one is another option that falls within the standard price range (and it's even notably less expensive than many comparable stainless steel products). It offers an ample 34-ounce capacity, plus double-wall stainless steel construction and vacuum insulation that keeps the coffee inside hotter for considerably longer than most French presses. As an added bonus, even at this price point, it comes with a matching stainless steel travel canister that holds enough coffee beans or grounds for two batches. Plus, this model is dishwasher-safe, which isn't usually the case with French presses of this material.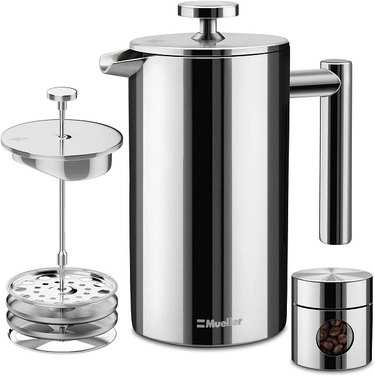 The Best Ceramic French Press
Le Creuset Stoneware Cafetière
Le Creuset is a beloved brand around the world for stoneware ceramic kitchenware, and its French press is just one of countless examples why. It has a beautiful, high-end appearance to match any luxury kitchen, but it offers plenty of substance in addition to style. Make 4 coffee servings at once while enjoying all the heat-retention benefits of a securely sealing ceramic piece. The stainless steel plunger and mesh filter produce top-notch flavor and effectively prevent grounds from getting into your coffee. It's also a durable piece that's chip-, crack-, scratch- and stain-resistant. The cerise model is the classic hue, but as with other enameled stoneware from the brand, you can choose from a number of different colors.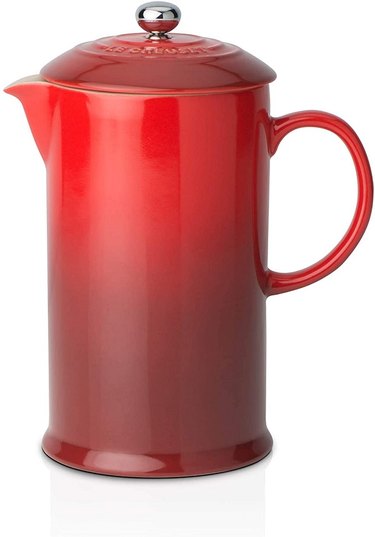 The Best French Press for Easy Cleaning
OXO Brew GroundsLifter French Press
If ease of cleaning is a priority when picking out your French press, you can't go wrong with this one. The unique, innovative stainless steel and silicone GroundsLifter makes it incredibly easy to get the wet grounds out of the beaker. This product also has a borosilicate glass carafe that's reinforced with a well-designed stainless steel frame, a smoothly operating plunger, and a great fine mesh filter for extracting flavor and safeguarding against sediment in your coffee. Plus, there's a drip-free pour spout and one of those soft, comfortable, nonslip handles that OXO is known for. It's a large-capacity piece too, allowing you to make up to 8 servings of brewed coffee at a time.