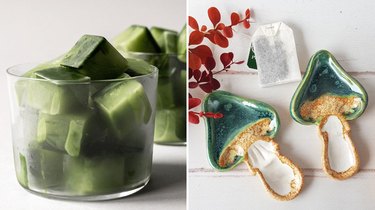 Think you're not a "tea person?" We're firm believers that many folks who make this claim simply haven't met the right tea (or tea accessory!) yet. Even if you ‌are‌ a tea lover, there's plenty to be said for adding something new to your beverage routine. That's why we've rounded up ideas and inspiration to help elevate your next teatime. From DIY tea bags to tasty hacks and infuser variations, there's something on the list for every kind of tea drinker—or soon-to-be tea drinker! Get ready to brew your best cup of tea ever.
Loose leaf tea can feel intimidating to those who are used to store-bought sachets, but there are so many wonderful ways to incorporate loose leaf into your tea routine—including these whimsical homemade tea bombs from @ayazhvoyazh on TikTok, who works with melted isomalt (a sugar substitute), food coloring and loose leaf tea to create sweet and visually stunning "tea bombs" that can be dissolved in hot water for an unconventional sip.
You've heard of wine sommeliers, but did you know that tea sommeliers are a thing? One such tea expert, Jee (known on Instagram as @ohhowcivilized), explains how to step up your beverage game by creating matcha ice cubes with sweetened condensed milk, water and matcha. From there, you can whip up a dreamy and energizing matcha latte by adding milk. Yum!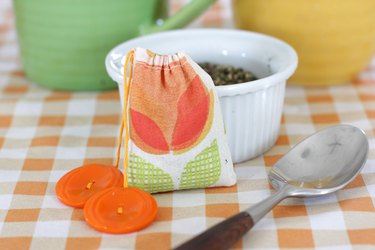 Love tea but not a huge fan of metal strainers or disposable sachets? We've got a craft for you! Our reusable homemade tea bags offer a sustainable option for tea lovers who don't want to create extra waste. You'll need needles or a sewing machine, buttons, appropriate fabric and a simple piece of string to complete this craft. The result is an adorable, personalized tea bag for all your loose tea needs.
4. Handmade Tea Bag Rests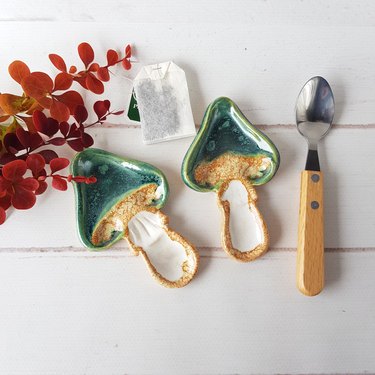 If you're new to the world of tea, you might resort to setting your tea bags on plain ol' plates or even paper towels between steeps. Now's the time to start collecting a few adorable tea bag and teaspoon rests like this handmade ceramic option from Ukranian artist TheArtRoomCeramics on Etsy. Each tea bag rest features a whimsical mushroom design with a nontoxic, dishwasher-safe glaze.
No teatime is complete without coasters to protect surfaces from drips, drizzles and mug stains—why not make your own? TikToker @calistartist offers an easy and aesthetically pleasing tutorial for creating beautiful coasters with pastel-painted tiles, cork pieces and grout. With their simple design, these homemade coasters offer so many opportunities for personalization and creativity.
Creating an elevated teatime is all about trying something new—like this deliciously creative White Russian Boba recipe from @itsforkandspoon on Instagram. If you love a good cocktail and appreciate milk tea, this is a must-try. Make your own version at home by adding a cocktail twist to your favorite tea.
Now that you're an aspiring tea person, you'll need somewhere to store all your prefilled sachets or pouches! Better yet, make your own tea bags and proudly organize them within. Skip Amazon and DIY a storage solution by drawing inspo from crafter @decoupage_foryou on TikTok, who creates a lovely floral box with plenty of space for tea. Forget about cluttered cabinets or messy tea drawers!
8. Personalized Tea Blend
Last and certainly not least, the grand finale for any tea fan: making your own tea blend! You've learned about how to make tea bags, whip up sweet DIY tea bombs and even craft coasters. But creating your very own blend of herbal tea might just be the ultimate teatime glow-up. Don't worry: You don't have to grow your own herbs for your very first attempt. Simply round up a few tea leaves and flowers such as chamomile, rose and lavender. TikToker @brennan.kai uses these and more for a super beginner-friendly tutorial for adventurous tea fanatics.
Whether you're using our roundup of tea tips for your own benefit or seeking homemade gift ideas for the tea drinker in your life, we hope you've found something tea-rific within. Now pull Grandma's teapot out of storage, put in some hot water, fill your teacup and get ready to embrace the many marvels of tea.