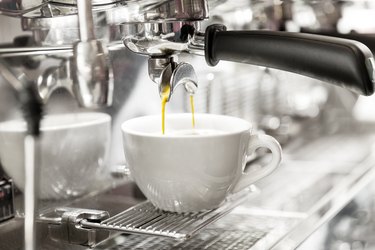 If you want to play barista at home, serving up your own espresso shots, cappuccinos, lattes, macchiatos, Americanos and other espresso-based beverages, it's time to pick up a home espresso machine. While they might seem intimidating—especially if you've observed a barista at work in a coffee shop—models made for home use are less complicated than commercial machines.
There are countless espresso machines on the market today though, with a wide range of capabilities and sold at an enormous range of prices. So, it's important that you know what to look for when shopping around for one to ensure you settle on one of the best espresso machines for your needs and preferences, and one that lets you prepare the espresso and coffee drinks you want.
What to Consider When Purchasing an Espresso Machine
​Functionality:​ You'll need to determine what you want your espresso machine to do. The most basic models only pour espresso shots into a demitasse or other small cup. If you only drink straight espresso, or if you want to purchase a standalone milk frother (which can save you some money), one of these will be adequate. But home espresso machines can do considerably more. Many have built-in steam wands or milk frothers for heating and foaming milk. Some also serve as coffee makers, able to brew large cups and even whole pots. Some have a hopper that holds and grinds the espresso beans, some let you adjust the grind size, some load the portafilter and tamp the grounds for you, and so on.
​Automation:​ Espresso machines are available with different levels of automation, and typically, the more automated one is, the easier it is to use and the more it costs. Manual models require the most effort and practice; you'll have to load the grinds into the portafilter, tamp them down, attach the portafilter to the brewhead, pull a lever to get the water flowing and regularly calibrate the machine. Semi-automatic machines are similar, but use a button or dial and an electric pump to pull the water and give you more consistent shots. Automatic and super-automatic machines vary in their level of automation, but they handle much more on their own. They take a lot of the guesswork out of the brewing process and cut down greatly on the learning curve. There are also highly automated capsule machines that use pre-portioned packets like K-Cups or Nespresso pods.
​Size:​ Since an espresso machine is typically a countertop appliance, you need one that you have the counter space for (or storage space, if you're not going to keep it out). There are compact models and fairly large ones, and generally, the more functionality they offer, the bigger they are.
​Price:​ You can spend under $100 for a budget-friendly espresso machine, or you can spend over $1,000 for a fully automated, high-end product. How much you're willing to pay for your home espresso machine is a big factor. But you can certainly get a great machine for brewing espresso—albeit one with fewer features and less automation—toward the lower end of the price spectrum, and a high price tag doesn't necessarily signal superior quality.
These are the primary things to think about when trying to choose the best espresso machine for your home.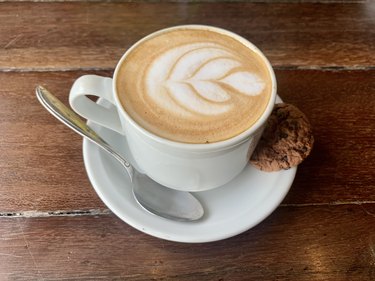 The Best Overall Espresso Machine
Mr. Coffee Espresso and Cappuccino Maker
This model offers a great balance as far as the important considerations go, making it a perfect pick for many people. It's a semiautomatic model that produces nice, consistent shots with a rich crema, it has a user-friendly milk frother, and the interface is simple and straightforward. It's relatively compact in size, and the price point is quite fair for the quality, durability and capabilities of the machine.
A few buttons let you select the beverage you want to prepare, but there's also functionality to customize your drink or set it to manual operation if you prefer more control over your espresso shots. The water reservoir, milk container and other parts are removable for easy cleaning, too.
The Best Espresso Machine and Coffee Maker
Ninja Specialty Coffee Maker
If you want a combined espresso maker and coffee maker—especially a larger one that lets you brew coffee for multiple people—this is an ideal machine. It offers four brew settings: "classic" and "rich" for brewing hot coffee, "over ice" for making iced coffee, and "specialty brew" concentrated coffee pours to use as espresso shots. Easily choose from six sizes, ranging from a 4-ounce portion of coffee concentrate for espresso beverages to a full 10-cup carafe of coffee. The machine comes with a glass carafe, or choose a stainless steel thermal carafe if you're willing to pay more for it.
This machine has a built-in, foldaway milk frother that produces silky foam whether you're frothing cold milk, or you're using it to heat and froth the milk. Whichever functions you're using, this model is easy to operate, with straightforward buttons and indicator lights. The water reservoir is detachable for easy filling and cleaning, and most of the components are top-rack dishwasher safe.
The Best Espresso Machine With Bean Grinder
Breville Barista Express Espresso Machine
Freshly ground coffee beans help you make coffeehouse-quality espresso beverages at home. You can always purchase an espresso machine and a bean grinder separately, but if you want the convenience of a machine with a built-in grinder, this one is a worthwhile investment. It's an automatic model that grinds the beans using a conical burr grinder, it loads the portafilter for you and a dial lets you adjust the grind size. It offers automation and customization options to please anyone.
It also has a finely honed water pressure system and digital temperature control that maximize flavor extraction in your shots, which you can pour single or double. A built-in steam wand lets you heat and foam milk to your liking, and it performs exceptionally well, capable of producing a fine microfoam with any variety of milk or a nondairy alternative. The water tank has a carbon filter that improves taste, too. You also get a number of accessories, like an integrated tamper, a stainless steel milk container, a cleaning disc, a brush and more.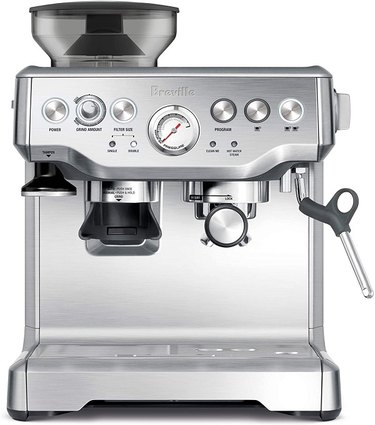 The Best Budget Espresso Machine
De'Longhi Espresso and Cappuccino Machine
If you're looking for a low-cost espresso machine that produces delicious shots with a rich crema and that will last, go for this budget model from highly regarded Italian manufacturer De'Longhi. The 15-bar water pressure system pours exceptional shots, but there are user-friendly controls to let you customize your single or double shots as well. Even at this low price, you get an integrated steam wand for heating milk and creating foam for your lattes, cappuccinos and other espresso drinks.
The machine holds its temperature well, so you can keep pouring quality shots right in a row if you're making drinks for multiple people—something you can't always count on with lower-cost espresso makers. It's easy to fill and clean the removable water tank, which is visible for monitoring, and there's also a removable drip tray to facilitate cleanup; both parts are dishwasher-safe, too.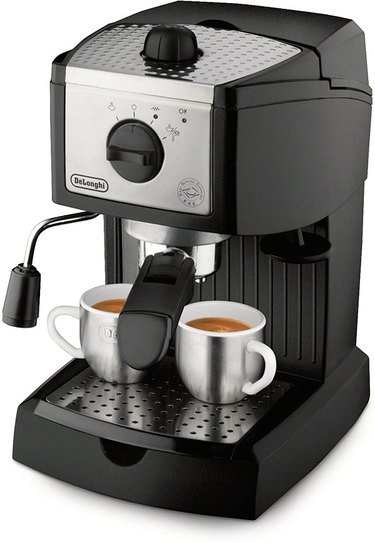 The Best High-End Espresso Machine
De'Longhi La Specialista Espresso Machine
This is a beautiful, thoughtfully designed, highly automated, high-quality, durable automatic espresso machine that fits right in with any luxury kitchen. And while it's certainly not cheap, it's also not nearly as expensive as many other high-end espresso machines. There's a built-in grinder with a sensor that detects when the beans are running low, and it loads the portafilter automatically and then tamps the grounds with the pull of a lever, rather than having to detach the portafilter and use a separate tamper. The grind is adjustable to six sizes.
The advanced dual temperature control system provides optimum flavor extraction from the grounds and allows for efficient milk heating and foaming with the built-in steam wand. Easily produce flat hot milk, microfoam for lattes (and latte art) or wispy froth for cappuccinos in the included stainless steel milk container. There's also a separate hot water spout for making Americanos, tea and more. And the machine comes with a helpful cleaning brush and descaling solution.
The Best Capsule Espresso Machine
Keurig K-Café Coffee, Latte and Cappuccino Maker
If you want a highly automated, incredibly simple capsule espresso machine that's perfect for beginner home baristas, turn to Keurig, the innovator of the capsule coffee machine category. Use K-Cup pods of ground coffee to brew coffee or make shots of espresso (with Espresso Roast K-Cups and the "shot" size setting) with this affordable machine. Just insert the pod and use the straightforward button controls to prepare one of four drink sizes.
The machine heats up and brews quite quickly. There's a built-in frother to heat and froth milk, plus it has a cold setting if you want to whip up something like a foamy iced latte. Conveniently, you can brew up to six cups of coffee without refilling the large water reservoir and it's removable for easy refilling and washing. The spacious area under the brewhead even accommodates a tumbler up to 7.2 inches tall for brewing coffee on the go.