It's officially hot cocoa season! There's nothing better than a classic cup of cocoa on a cold winter night, but we've got a few tricks up our warm, woolen sleeves this season. From hot chocolate ice cream floats to cocoa blended with Reese's Peanut Butter Cups, these three TikTok recipes will have you falling in love with the sweetest seasonal beverage all over again.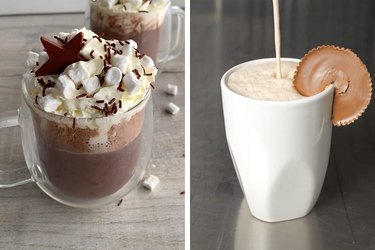 Today's first recipe comes from TikTok creator @fitwaffle, who suggests adding marshmallows to your saucepan ‌as‌ you mix your cocoa, not after‌.‌ @fitwaffle says this creates an extra-frothy hot chocolate. You can still top the cocoa with more marshmallows before taking that first sip, of course!
The second cocoa hack comes from @moderncone: a dreamy hot chocolate float. While it might seem antithetical to scoop ice cream into a hot beverage, we bet the frozen treat adds delicious flavor and creaminess as it melts. And that chocolate sauce paired with cute, colorful marshmallows? We'll take two, please!
The third and final hot chocolate recipe comes from @mai.n.me, who adds steaming milk and Reese's Peanut Butter Cups to a blender. Suddenly, we can't believe we've never tried peanut butter hot chocolate before! Personally, we'd top ours with whipped cream and an extra dollop of peanut butter to round it all out.
Well, we're off to make a steaming cup of peanut butter hot cocoa to enjoy while scrolling through TikTok. Wishing you a sweet and toasty winter with lots of chocolatey goodness!